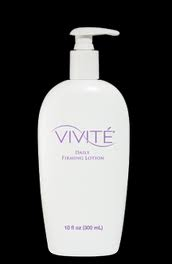 Vivite Daily Firming Lotion Review – Beats Cellulite?
I don't know about you, but summer has a way of sneaking up on me every year.  It may be snowing now, but I'll blink, and all of a sudden I'll be looking at a pool day in June.  For that reason, February is not too early to be thinking about the skin all over our bodies, and how it may look in a bathing suit on the beach.  Vivite Daily Firming Lotion claims to have you covered.
The idea behind Vivite Daily Firming Lotion is that it helps tone and tighten your skin, which will improve the appearance of cellulite.  Fewer dimples, less of an "orange peel" look.  This, along with real hydration will keep skin soft, supple, and touchably smooth.
Vivite Daily Firming Lotion Ingredients and How They Work
The three key ingredients in Vivite Daily Firming Lotion are 15% Glycolic Compound (using GLX Technology), Caffeine, and Olive Leaf Extract.  Well take them one by one to see if they can get us the effect we're after:
15% Glycolic Compound using GLX Technology combines the chemical exfoliation of Glycolic Acid at the proper pH to be effective with natural antioxidants for maximum skin rejuvenation by promoting the skin's own production of hyaluronic acid and collagen.
Caffeine helps reduce puffiness by drawing water out from the spaces between cells.  It also works by increasing circulation.
Olive Leaf Extract is a powerful antioxidant in its own right.  It protects skin against environmental damage caused by free radicals.
The recommended use of Vivite Daily Firming Lotion is twice a day, though this may be too much for some considering the level of glycolic acid used in the formula.  It may be best to start out using it once a day and go from there.
Vivite Daily Firming Lotion Pros and Cons
Advantages of Vivite Daily Firming Lotion
It contains an effective amount of glycolic acid at an effective pH.
There are several favorable Vivite Daily Firming Lotion reviews from customers.
The antioxidants will help nourish and protect skin.
Disadvantages of Vivite Daily Firming Lotion
It's expensive.
While Vivite Daily Firming Lotion is good for your skin and my help it look a bit more smooth and firm, it does not specifically reduce cellulite.
Some customers have been disappointed, especially considering the price.
Where to Buy
You can purchase Vivite Daily Firming Lotion through several online retailers.  Prices vary quite a bit.  We saw the 10 oz bottle selling for as little as $39 and as much as $68.  So make sure to shop around and consider tax and shipping when you do.
Conclusion
Vivite Daily Firming Lotion is a great body lotion with some healthy skin ingredients that can keep your body looking young and smooth.  And while that smoothness and regeneration of skin cells will probably improve the look of dimpled skin, it will not miraculously make cellulite disappear.  With all that in mind, Vivite Daily Firming Lotion is pretty expensive, so it may have to be considered a splurge.
Fight cellulite from the inside out! Read about our top fat burner supplement HCA Fit Garcinia Cambogia which works as a fat blocker and also suppresses appetite.
Have You Used Vivite Daily Firming Lotion?  Leave Your Review Below!
User Questions and Answers
User Questions and Answers
No Questions Have Been Answered For This Article.