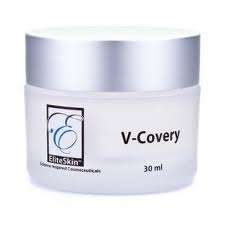 V Covery Neck Cream Review – Discontinued?
V Covery Neck Cream Overview
As we age, years of living and exposure to the elements wreaks havoc on the skin of our necks and chest.  This area is particularly sensitive to sun damage.  This area is also often neglected in our skincare routines.  But this doesn't have to be the case.  V Covery Neck Cream is specifically designed to treat the delicate skin of your neck and decolletage.  Made by Elite Skin, it lifts and tightens your skin, so you're not left with a turkey neck.
V Covery Neck Cream is part of Elite Skin's Complete Age Defying System, which also includes Elite Wrinkle Eraser and Elite Eye Serum.  It appears as though these products are currently unavailable and the company is focusing all its attention on a different product.  The former Elite Skin website is no longer functional, and the products are listed as not presently available on Amazon.  Links for the products take you to Elite Serum, the only product we could find still active from Elite Skin.
V Covery Neck Cream Ingredients and How They Work
The idea behind V Covery Neck Cream is that it firms and tightens the skin on your neck to reduce the wrinkles and sagging that time and damage cause.  The formula is made from three key active components:
Matrixyl 3000 which is a powerful peptide that helps the skin to produce more collagen.  This increases the skin's firmness and helps keep it taut. This makes skin appear smoother while it reduces the look of fine lines and deep set wrinkles.
Lipocare which helps release lipids and break them down.  Then fatty acids are converted to energy which leads to firmer skin.
Essenskin which regenerates skin cell metabolism and balances the skin's ions.  It also restores the right amount of calcium to the skin.  This is especially important for the decollete area.
V Covery Neck Cream Pros and Cons
Advantages of V Covery Neck Cream
It is specifically designed to combat sagging skin of the neck.
It contains targeted ingredients.
V Covery Neck Cream reviews were primarily positive.
Disadvantages of V Covery Neck Cream
It is not available at this time.
There was no money back guarantee when it was.
There is uncertainty as to whether or not it will become available again.
Where to Buy
We haven't been able to find a source for V Covery Neck Cream or the Complete Age Defying System.  The Elite Skin website is gone, and former links to purchase the products lead elsewhere.
Conclusion
We really can't recommend a product that we can't find a way to purchase.  There is no explanation available as to what happened to V Covery Neck Cream, so we really can't be sure what is really going on.  Elite Skin's website is down, but Elite Serum is actively being sold on other sites by what we believe is the same company. If we find new information, we will be sure to update this review.
Have You Used V Covery Neck Cream?  Leave Your Review Below!
User Questions and Answers
User Questions and Answers
No Questions Have Been Answered For This Article.