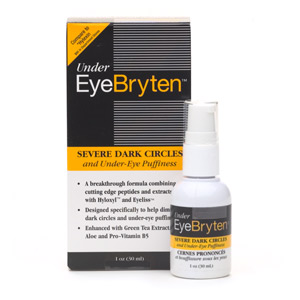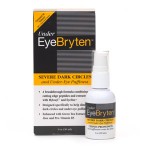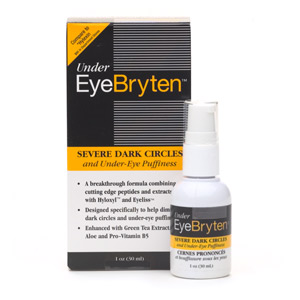 There are two issues that plague people with under eye discoloration – there is the issue of dark circles and the issue of puffiness. Rarely does a wrinkle or eye cream actually address both, but the Under Eyebryten product from Woodridge Labs is designed to do just that.  This post will discuss how exactly this product works, the ingredients, where you can buy it, and more.
Ingredients in Under Eyebryten
It uses a proprietary blend of peptides and extracts along with such patented compounds as Hyloxyl and Eyeliss. Additionally, Eyebryten also has Green Tea Extract, Aloe and Pro-Vitamin B5 too. This means that it really can begin to fade darker circles and reduce puffiness within the two weeks described because it is providing targeted treatments. It does not, however, mean that wrinkles and lines are going to be addressed through the use of this formulation.
Where to Buy
Currently, the Under Eyebryten product is available from the manufacturer's website and through such online vendors as RiteAid and Amazon. It does not come with a product guarantee.
Pro's and Con's
In conducting this review for Under Eyebryten we did find an even number of plus and minus points. Let's look first at the positive factors, which include:
This is a product that is far less expensive than many other under eye treatments;
It uses ingredients known for reducing lines and wrinkles;
It is available in many different venues;
Its packaging is not full of hyperbole and sales language but instead offers explanations of the ingredients and validity of the product; and
It relies on many natural ingredients for its best results.
The negative issues include:
It does not provide a full list of the ingredients in the compound;
There are not complete explanations of the ingredients used in the product;
It is not a suitable formula for the elimination of wrinkles and eye lines.
Best Price
We really appreciated that the limited number of vendors and distributors allowed for the pricing of the product to be kept within a reasonable range. We found the single one ounce bottles priced between $23 and $25 at the most popular distributors of the product.
Recommendation
As a treatment for dark circles and puffiness under the eye we definitely recommend the Under Eyebryten product. It uses reliable ingredients that will slowly and effectively fade darkness from beneath the eye and improve conditions to a dramatic level. As a wrinkle cream, it is not going to offer more than the lightening of the eye area that can decrease the appearance of shallow lines or wrinkles.
Have You Used Under Eyebryten?  Leave Your Review Below!
User Questions and Answers
User Questions and Answers
No Questions Have Been Answered For This Article.