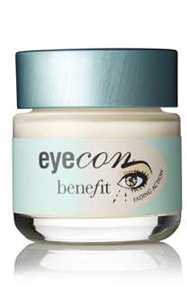 Eyecon Benefit Eye Cream Review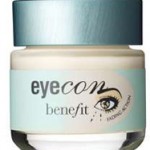 Describing itself as an eye cream that will fade dark circles without also forcing you to empty your bank account, the Eyecon Benefit Eye Cream relies on some innovative ingredients to generate good results. It relies on the bioflavonoid in different types of citrus to attack the dark circles and then uses proprietary skin softening agents to soothe the skin.
Ingredients in Eyecon Benefit Eye Cream
What we liked was that it also had Vitamin A to work like an antioxidant to further the skin against the loss of moisture. The ingredients also indicated that a complex of asiatic acid from the gotu kola plant (centella asiatic) was used as a special acid for the eye. What also appealed to us was the simple fact that this is a formula that can be used right along with the daily makeup regimen that many women follow – meaning you can attack dark circles even as you go about doing your daily business!
Where to Buy
The Benefit line of cosmetics is widely available in department stores, specialty shops and online. You can also visit the manufacturer's website for information.
Pro's and Con's
We found that there were not many "cons" for the Eyecon Benefit Eye Cream. For instance, all we can say in terms of negative issues is:
This is a product that uses an unusual formulation and offers no clinical evidence of results;
This does not correct under eye wrinkles; and
There is no guarantee.
Where the positive issues are concerned, we should point out that:
This is a remarkable product for lightening the skin under the eye without any risks of irritation;
This works with all skin types;
There are no known side effects;
It is a formulation that is light, easily absorbed, and fine when used beneath cosmetics; and
It is very affordable.
Best Price
We found many vendors offering this product for sale, and the prices ranged from $28 to $40 for the .5-ounce tub of cream. As indicated, none offers a guarantee.
Recommendation
We highly recommend the use of Eyecon Benefit Eye Cream by people with all skin types. We approve of it for its high quality ingredients, excellent moisturizing properties, and ability to lighten under eye circles. Though it is not an optimal product for eliminating wrinkles, it will create the kinds of conditions (lighter and more moisturized skin) that are essential to an improved appearance.
Have You Used Eyecon Benefit Eye Cream?  Leave Your Review Below!
User Questions and Answers
User Questions and Answers
No Questions Have Been Answered For This Article.