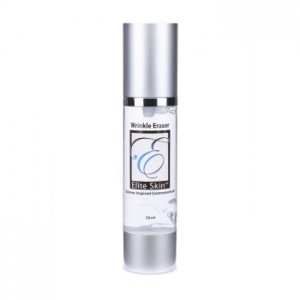 Elite Wrinkle Eraser Review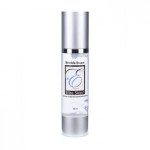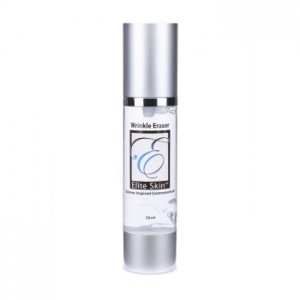 The Elite Wrinkle Eraser relies on a proprietary serum that blends "DNA precursors" with antioxidants to effectively and quickly restore the skin to a more youthful appearance. Its manufacturer indicates that it will minimize the looks of fine lines, puffiness, darker circles, and even improve the firmness of the skin in the eye area.
Ingredients in Elite Wrinkle Eraser
The ingredients demonstrate that this is definitely one of the more pharmaceutical type wrinkle creams since it contains Argireline, Haloxyl, Eyeliss and Hyaluronic Acid – some of which are becoming well known ingredients in compounds often compared to Botox for their effectiveness. The makers of Elite Wrinkle Eraser, however, indicate that their therapeutic formula needs around 30 days for optimal results, and that the most substantial changes come within four months of using the product. The product's official website is incredibly informative and reviews the benefits of the primary ingredients, but does not provide the full list of materials used.
Where to Buy
This is a product found online only and directly from the manufacturer. We could not find any indication of a guarantee available.
Pro's and Con's
There are plenty of pros and cons for the Elite Wrinkle Eraser product. The negative issues include:
There is no clinical data on the formula;
No complete list of ingredients provided;
No guarantee available; and
This is quite expensive.
On the positive side there is:
The manufacturer does list and explain key ingredients;
Provides studies of the main ingredients;
Offers a very informative website; and
The maker is honest and realistic about the amount of time necessary for best results.
Best Price
Any product with limited availability is also fixed in price, and Elite Wrinkle Eraser comes at an average price of $129 per container, with no guarantee.
Recommendation
We appreciate that the ingredients in this product have been shown to fight the signs of aging, but we really wish that they had done independent studies on their own formulation. If you do not mind the higher pricing for this product, we suggest that you give it a 90-day trial to see if you get results. We feel confident that anyone who uses the formula is going to see beneficial results over a relatively short time, but it is the absence of the clinical data, a guarantee, and the high price that make it difficult to give this a recommendation for all buyers.
User Questions and Answers
User Questions and Answers
No Questions Have Been Answered For This Article.