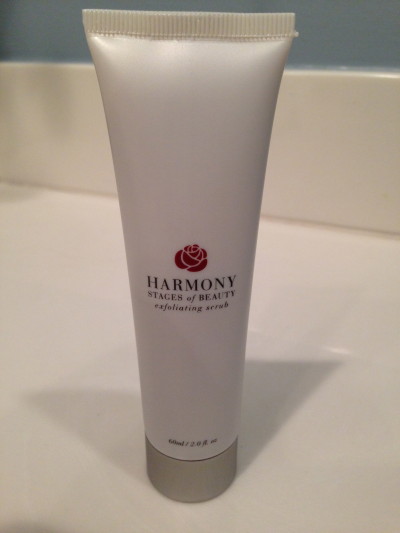 Stages of Beauty Harmony Exfoliating Scrub Review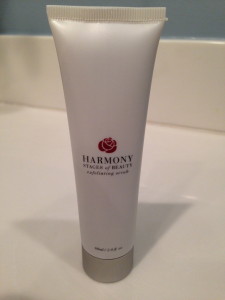 Brighten your complexion as you scrub away dead skin cells with Stages of Beauty Harmony Exfoliating Scrub. A unique blend of pomegranate, bamboo, licorice and mulberry extracts provide fruit derived alpha-hydroxy acids which aid in natural exfoliation. Powerful antioxidants in acai oil promote a more youthful appearance by repairing and protecting your skin.
Stages of Beauty is a boutique skin care line which has age specific products for your 20's, 30's, 40's, 50's (Radiance, Harmony, Elegance & Grace). The Stages of Beauty Harmony line is tailored for women in their 30's and is unique to their skin care needs such as dullness, discoloration, and decreasing collagen production.
I found the Stages of Beauty Harmony Exfoliating Scrub to have an effective blend of anti-aging and protective ingredients, a nice level of exfoliation and a pleasant texture, and in this review I'm going to talk about my personal experience using it over the past few weeks and the importance of exfoliation.
All Stages of Beauty Products Are: Dermatologist Tested for Safety, 100% Fragrance-Free, Formulated for Sensitive Skin, and Not Tested on Animals.
The Importance of Exfoliation
An exfoliating scrub is an important component of an effective anti-aging routine, especially starting in this age group, because once you hit your 30's, your skin's ability to regenerate itself drastically increases from 14 to 32 days! Your skin needs encouragement to remove dead cells which will allow fresh, new cells to be revealed for a more youthful appearance.
And if you're like me, investing into your anti-aging routine, exfoliation is key because by removing the layer of dead skin, it allows your anti-aging products to penetrate at a much deeper level rendering them to be more effective and getting the most bang for your buck. Stages of Beauty Harmony Exfoliating Scrub addresses exactly these issues.
My Experience with Stages of Beauty Harmony Exfoliating Scrub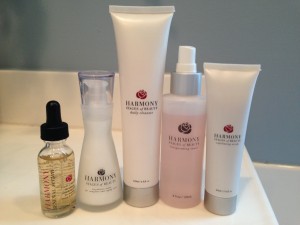 My routine has been as follows:  First I wash with the daily cleanser (morning and night) and I've been using the exfoliator 3x per week, or just about every other day, then I follow with the toner, the serum, and finally the treatment cream.
The only thing this line doesn't include is a separate eye treatment and for that I recommend Elite Serum RX, as it has the same liquidy fluidness as the serum and they blend well.
It's been three weeks that I've been using the full Stages of Beauty Harmony line and my skin is feeling happy and invigorated with a healthy glow. I haven't experienced any side effects or breakouts at all – these products are rather soothing. Stages of Beauty Harmony Exfoliating Scrub is proving to me one of my new favorites!
Stages of Beauty Harmony Exfoliating Scrub Ingredients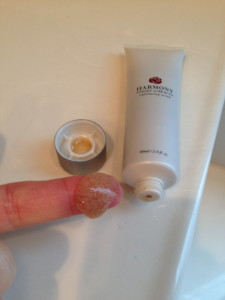 The Stages of Beauty Harmony Exfoliating Scrub has a lovely blend of bamboo micro particles as well as pomegranate seed powder as it's main physical exfoliating agent. The base of the product is chocked full of a blend of fruit extracts and seed oils which are not only effective, but soothing to the skin.
The texture, feel, and even appearance of this exfoliator reminds me very much of Origin's "Never a Dull Moment" exfoliator which I've used in the past which has an apricot seed base.
What I like better about Harmony is that the granules of the exfoliant are smaller and more compact, and it feels like it works on a deeper level and it's also not sticky at all.
Let's talk ingredients, because there are many good ones within the Harmony scrub, each with different bragging rights. One of the main ingredients, Camelina Oil (an oil seed crop), contains essential fatty acids including  linoleic acids and alpha-linoleic acids, neither of which can be produced by the body.
Camelina oil contains ten of those fatty acids which all help to repair the skin's surface and sooth. It also contains glycerin which aids in hydration, as well as sugar and citrus extracts with natural occuring AHA's, reducing the appearance of wrinkling while smoothing and softening the skin.
Helping to retain moisture, a major component of the base includes a form of Hyaluronic Acid (HA), which is a much sought after ingredient in high quality skin care. Applying products with HA topically to the skin provides a remedy for reducing the appearance of wrinkles and rough skin, improving elasticity and creating a barrier for the skin's moisture level.
Perhaps the most notable ingredient within this exfoliant's impressive blend of fruit enzymes is Açaí Fruit Oil, a super berry which contains a powerful combination of Omega 6 and Omega 9 essential fatty acids, minerals, vitamins, amino acids and phenols. Açaí has an ability to heal and moisturize since it's able to penetrate the skin deeply and quickly.
Click here to view Stages of Beauty Harmony Exfoliating Scrub Ingredients
Benefits of Using Stages of Beauty Harmony Exfoliating Scrub
By exfoliating 2-3 times a week with this product, you can expect the following benefits:
Reduction in Fine Lines & Wrinkles
Improvement in Skin Discoloration (dark spots)
A More Even Skin Tone
Removal of dead skin, allowing for cell regeneration
Brighter complexion
An improvement in the effectiveness of your anti-aging treatment
The cost of this product is $34.99 for a 2.0 oz tube. To compare, Dr. Brandt's Microdermabrasion Exfoliator is $75.00 for a 2.0 oz bottle.
Conclusion & Recommendation
After using the Stages of Beauty Harmony Exfoliating Scrub for three weeks, and their entire Harmony line, I have noticed an improvement in my skin, most notably a more evened skin tone.
The exfoliator works gently but effectively to slough away dead skin cells, revealing a fresh layer of skin with a younger, brighter appearance, and a feeling of rejuvenation.
When I apply the treatment cream, it absorbs more fully and my face has a renewed softness. Not having added fragrances means it's well suited for sensitive skin, like mine, and I experienced no side effects from the exfoliator, or any of  the other products in the Harmony line.

While I am now partial to using the other Harmony line of products along with the exfoliator, I would still name this exfoliating scrub as one of my favorites and would use it just as happily on its own or with their other products, and at $34.99 per tube, I don't feel its overpriced like some other brands.
Have you tried Stages of Beauty Harmony Exfoliating Scrub? Leave your questions or comments below!
User Questions and Answers
User Questions and Answers
No Questions Have Been Answered For This Article.