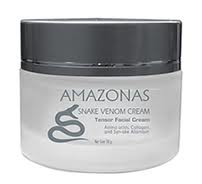 Snake Venom Face Cream Review – Breakthrough or Snake Oil?
While just about everyone could do without wrinkles and other signs of aging, not everyone is willing to endure knives and needles for the cause.  Enter the latest craze – Snake Venom.
Synthetic snake venom, that is.  Celebrities like Gwyneth Paltrow and Drew Barrymore swear by it, and there's a less expensive version that makes it affordable for most of us too.
InkaNatura makes Amazonas Snake Venom Face Cream to treat wrinkles similarly to Botox, by relaxing the muscles and lessening the facial expressions that cause wrinkles.
One study showed that of 45 volunteers using Snake Venom Face Cream, forehead wrinkles were reduced by 45% while muscle contractions around the eyes were reduced by 82%.
Snake Venom Face Cream Ingredients and How They Work
The ingredients in Snake Venom Face Cream work together to fight wrinkles on several fronts:
Syna-Ke is a polypeptide that is similar in structure to actual snake venom.  It works like Botox to prevent facial muscle contraction.
Allantoin sloughs off dead skin cells and stimulates the generation of new ones. It also calms skin irritation.
Collagen is a key structural component of the connective tissue in skin.  It's abundantly present in young skin and is responsible for firmness and elasticity. Aging skin loses the ability to produce enough collagen.  Snake Venom Face Cream helps replace it.
The participants in the study used Snake Venom Face Cream twice a day to achieve their results.  It's recommended that you follow the same regimen.
Snake Venom Face Cream Pros and Cons
Advantages of Snake Venom Face Cream
It works like Botox
It's reasonably affordable
It is based on skincare technology used by celebrities
Clinical studies on its primary ingredient are promising
Disadvantages of Snake Venom Face Cream
We couldn't find any independent Snake Venom Face Cream reviews from actual customers
There is no manufacturer guarantee
Where to Buy
There are several online retailers who sell Snake Venom Face Cream.  A 150 gram pot is available most places for about $30.  Some sites offer small discounts for purchasing multiple quantities.
Conclusion
We're all for trying new anti-aging skincare products designed to hold back the hands of time.  And the idea that you can get results similar to Botox by using a cream, and a fairly inexpensive one at that, is enticing.
If Snake Venom Face Cream does work, we think it's well worth the $30.  We're just a little skeptical because if it really does what it says it does, we think it would sell at a much higher price point.
Read about our Top Wrinkle Creams
Have You Used Snake Venom Face Cream?  Leave Your Review Below!
How Women Found This Review:
and https://www womensblogtalk com/snake-venom-face-cream-review
Click here to submit your review.
---
It works but it won't be what you're sent
Snake Venom Face Cream Review – Breakthrough or Snake Oil?
I was part of a live demo at a Forever Diamond shop in the US. It worked. It was very impressive. They tried to sell it us at 1000 dollars. Eventually we rattled them down but what they gave us didn't work at all. They obviously keep the good stuff for the demos and sell mugs like us useless nonesense

---
Not impressed
Snake Venom Face Cream Review – Breakthrough or Snake Oil?
I have been using this cream for one month now and see no improvement.

---
Hydroluxe
Snake Venom Face Cream Review – Breakthrough or Snake Oil?
DO NOT fall for this. They will offer to send you a free sample for a small shipping charge and then continue to charge your credit card large amounts of money. Bad business.

---
Snake Venom Mask
Snake Venom Face Cream Review – Breakthrough or Snake Oil?
I ordered my snake venom sleep in mask from Korean skin care company. I paid $8.50 for 100g; arrived 2 weeks later. Cleanse face then rinse with warm water which will open your pores, apply the snake venom by massaging all over my face. After 40 minutes my face started tingling for about an hour. The next day 16 hours later I notice that my forehead fine lines was not there. Also, I have to really concentrate on making a frown to see my forehead move. I applied it on my cousin and the next morning she called to inform me that her forehead lines are not there after one night application. I will be using the snake venom sleep in mask every night.

---
User Questions and Answers
User Questions and Answers
---
Q: I ordered and received a trial size of DermaLuxe snake venom peptide cream. With my trial there was a jar of Hydra stem Cell serum. Is this simply another of Christie's products to be used separately? -Karen
A:
Karen, these are not Christie Brinkley skin care products, these are both scams. They use Christie Brinkley's pictures to market their creams. What's happened is you've now signed up for two free trials of products from two separate companies. On day 14 (day 1 is the day you ordered), you'll be charged $92.93 for the DermaLuxe Snake Venom Peptide Cream, unless you call and cancel. I did some digging and the phone number for DermaLuxe is (844) 410-7595. Their email is [email protected].

For the Hydra Stem Cell Serum, you'll be charged $89.95 on the 15th day. The phone number they publish is: (111)111-1111 <--------- THIS IS NOT A REAL PHONE NUMBER. This is a huge scam, this is the only number they have published so don't bother trying to call it. Their email is: [email protected].

Christie Brinkley, and other celebrities are plagiarized....she actually DOES have her own skin care line (called Authentic Skincare) and she has an official website. I'm sorry to be the bearer of this bad news, but if I were you, I would email both companies and cancel your trial. They will just keep billing you and shipping you new product every 30 days. Rachel~WomensBlogTalk.com
Was this question helpful to you?
17 out of 17 people found this question helpful.
---
Q: NOVOLEXA stem cellactive or ALURIS snack Ben peptide creams which goes on frist please answer ThankYou me,jenkins -Maryelizabeth
A:
Maryelizabeth, I wouldn't buy either of these, unfortunately these are scams. Short term free trials that sign you up for a combo cream offer and they'll charge you full price on the 12th day after you place your order to the tune of about $89-$91 EACH, and send new cream every month and charge you again. I looked up both products and they are both anti-aging creams so I don't know why you'd need two. If I use two products the first one is a serum and then I apply the cream. Let me know if you like these.
Rachel, WomensBlogTalk.com
Was this question helpful to you?
9 out of 9 people found this question helpful.
---
Q: does vactive snake venom cream clear dark spots on your skin -juanett
A:
Juanett, I don't see a product called "Vactive Snake Venom Cream" but most of these snake venom creams are scams. They don't actually use snake venom in them, it's just a marketing gimmick. Some do contain argireline which causes the muscles to relax under the skin smoothing wrinkles. This is a good ingredient to look for if you want that effect. My #3 cream Dermology contains it. Rachel
Was this question helpful to you?
6 out of 7 people found this question helpful.
---
Q: Has anybody tried or can recommend roscara the wild irish seaweed cream http://roscara.com ? -geoff
A:
Geoff, I haven't heard of Roscara but I just looked at their website. It doesn't function very well at all and it's based in the UK. If you're in the US, I would recommend Skinception's Rosacea Relief Serum. I've used it and it's a great product. Very soothing, calms redness and inflammation and while I don't have rosacea, I do have redness in my skin and this particular cream feels wonderful on the skin (I tried it for my review). I love all of Skinception's products and use them regularly. This creamy serum is a great moisturizer for rosacea.  Rachel~WomensBlogTalk.com
Was this question helpful to you?
5 out of 6 people found this question helpful.
---
Q: I am concerned for the welfare of snakes.How is the product taken from the snakes ,what is it.? Is the snake killed or harmed in any way? I really want to know before considering buying -maureen
A:
Maureen, this is a scam. They don't really use snake venom. They use argireline which is a skin tightener.
Was this question helpful to you?
3 out of 3 people found this question helpful.
---