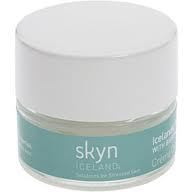 Skyn Iceland Eye Cream Review – Love It or Hate It?
Skyn Iceland Eye Cream Overview
It can be more than just the years that age your skin.  Stress wreaks all kinds of havoc on  your body, including  your skin.  When you're stressed, moisture and nutrients are drawn away from your skin, leaving it dull, lifeless, and wrinkled.  The area around your eyes can also show stress with dark circles and inflammation.  Skyn Iceland Eye Cream, and all the Skyn Iceland products are specifically formulated to address problems brought about by stress.  The idea is that when stress depletes your skin of needed oxygen and nutrients, Skyn Iceland Eye Cream delivers relief, giving you fewer wrinkles, reducing puffiness, and eliminating dark circles.
The company received the Indie Beauty Award from Cosmetic Executive Women Inc. in 2007.  The award is given each year to a small, independent cosmetics company to celebrate their creativity, originality, and entrepreneurial spirit.
Skyn Iceland Eye Cream Ingredients and How They Work
At the core of all Skyn Iceland products is their Biospheric Complex, a proprietary blend made with glacial water, arctic cloudberry and cranberry seed oils, and liposomes containing pure encapsulated oxygen. Skyn Iceland Eye Cream also has a number of other active ingredients. Vitamin K increases circulation to diminish dark circles.  Rice peptides help rebuild collagen and reduce wrinkles.  Orange peel reduces puffiness.  Cotton powder fills in fine lines and brightens skin tone.  And Icelandic kelp revitalizes skin and fights inflammation.
It may also be important to note what is not in Skyn Iceland Eye Cream.  In keeping with the company's commitment to create products using natural ingredients free from harsh chemicals and preservatives, there are no parabens, sulfates, paraffin, formaldehyde, mineral oil, or petroleum products.  All their products are allergy and sensitivity tested.  Because Skyn Iceland uses no animal products and doesn't test on animals, they've also achieved a "cruelty-free" certified designation from PETA.
Skyn Iceland Eye Cream Pros and Cons
Company philosophies and ingredients lists may help, but in order to make the most informed decision about buying a product, you need to lay out the advantages and disadvantages side by side.
Pros
Skyn Iceland Eye Cream contains all natural ingredients and no fillers.
It goes on with a refreshing cooling sensation.
It comes in the form of a lightweight, non-greasy cream.
It is widely available online.
The website offers a 30 day money-back guarantee.
Cons
The cream is somewhat spongy which makes it difficult to get out of the jar.
Skyn Iceland Eye Cream reviews run from love it to hate it and everywhere in between.
At $45 for a small jar, it's somewhat pricey.
Where to Buy
The Skyn Iceland website sells the Eye Cream at a price of $45 for a 1/2 oz jar.  If you would prefer to physically see the product first, the website also offers a store locator.  It's available at most Sephora store locations.  You can also get it through many online retailers ranging from $41 to $51 plus shipping in most cases.
Conclusion
This is a tough call, actually.  The concept is interesting.  If you're environmentally inclined, then  you will appreciate the natural ingredients, the lack of preservatives, and the recyclable packaging.  All of that is a great added benefit, but if you spend money on an eye cream, what you really want is results.  The reviews go from love it to hate it and everywhere in between.  So the only way to know for sure is to give Skyn Iceland Eye Cream a try.  There is a money-back guarantee so you're covered there.  It is, however, on the expensive side so make sure you're willing to spend this much on something that works before you decide to try.  If so, we'd say go for it.
Have You Used Skyn Iceland Eye Cream?  Leave Your Review Below!
User Questions and Answers
User Questions and Answers
No Questions Have Been Answered For This Article.