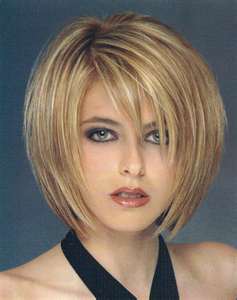 Short Hairstyles for Round Faces and Thin Hair
Cool Ideas For Short Thin Hair and Round Faces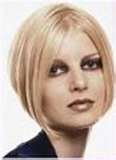 Many women with thin hair see it as both a blessing and a curse. On the up side, their hair is always neat looking. They do not have to worry about looking as if they stepped on a live wire. On the down side, thin hair usually means investing a bit more in hair products that give their hair some volume and body.
It also means finding the right haircut as well. However, if you have a round face and thin hair, your options just increased as a round-shaped face lends itself to some very trendy and stylish haircuts.
When choosing a hairstyle, you want to select one that minimizes your face's roundness. Essentially, you want a hairstyle that makes the face look a bit longer. Some of the best options to choose from are:
Short bob
The bob cut never seems to go out of style and is a great look for women with round faces and thin hair. Their versatility is what makes them so popular. A bob cut is stylish and fun. To achieve a short bob cut, the hair is cut to the jaw line (or the chin) with bangs or without them. The bangs can be cut straight across the forehead or given some layers and angles and worn on the side.
Angled bob
To add a bit more dimension to the classic bob, an angled bob involves keeping the back part straight but with an angled layer that is longer in the front. The angled bob is great in thinning out a round face. It is also one of the best hairstyles for thin and straight hair.
Layered bob
A layered bob is sure to give thin hair the lift it so desperately needs sometimes. The hair is cut to the jaw line or chin and then it is cut into layers starting at the top of the head and continuing all around. The result is a lot of volume both at the top and around your head.
Asymmetrical bob
If you want something that is fun and a bit edgy, an asymmetrical bob is the cut for you. With this type of bob cut, one side will be cut longer than the other and many sections are cut at varying lengths. This type of cut will also add volume and dimension to thin hair that can sometimes look flat and boring.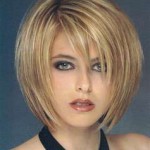 As with all of these cuts, applying gel or mousse to the routes prior to styling will give your hair some height and depth as thin hair often warrants it. And if you are looking for a change, you have the option of adding bangs or even highlights to create an even more chic look. Having a round face and thin hair does not mean you cannot pull off many of today's hottest short hairstyles. It is just a matter of finding the one that looks the best on you.
User Questions and Answers
User Questions and Answers
No Questions Have Been Answered For This Article.