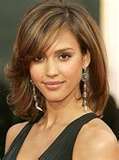 Hairstyles For Heart Shaped Faces
Hairstyles For Women With Curly Hair, Big Noses, and More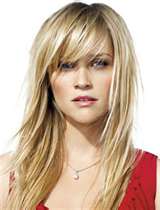 A heart shaped face is as lovely as it sounds, but some women may not necessarily think so. With a more pronounced chin and a wider top half of the face, choosing the right hairstyle is important so that it detracts from these areas rather than accentuating them. Reese Witherspoon is one famous heart-shaped actress who has proven that selecting the right hairstyle can make you look fabulous.
The goal of a hairstyle for heart-shaped faces is to widen the bottom part of your face while thinning out the top part. This may sound like a lot to accomplish in a hairstyle and maybe even near impossible to find, but there are actually quite a few styles to choose from. But be careful as sometimes a slight adjustment in the bangs or length can turn a hairstyle do into a hairstyle don't.
Hairstyling Tips for Heart-shaped Faces
If you like bob cuts, choose only those that are chin length and textured. If you opt for something longer like a shoulder length cut, adding layers that are wispy will work just as well. When it comes to bangs, they should always be swept to the side rather than bluntly cut across your forehead which will make your face appear wider and shorter and they should never be too heavy. Adding height on top of your head only works on shoulder length or longer hairstyles. You also want to avoid any slicked back style that will emphasize the top part of your face.
Short Hairstyles
A great short hairstyle would be any one that uses short layers on top to balance out a wide face shape that is also short. A traditional bob cut for example, where the hair has a heavy bang and long layers that go in towards the face should be avoided as your face will appear much wider than it is.
Medium Hairstyles
Using a heavy bang is fine as long as they are swept to the side to reveal the forehead and give the face some length. Medium length hair work well when the sides and back are layered and then flipped out at the bottom to draw attention away from the chin area.
Long Hairstyles
A simple part down the middle without bangs is a great way to add length to the hair. Some long layers down the side will frame the bottom half of the face which will also help create the illusion of length. You can even add curls or waves for a softer look.
Having a heart-shaped face does not mean you cannot have a hairstyle that is trendy and fun. You can always add color and highlights for a more dramatic effect if you want a change. Consult with a hair professional if you are unsure which haircut will work best for your heart-shaped face.
User Questions and Answers
User Questions and Answers
No Questions Have Been Answered For This Article.