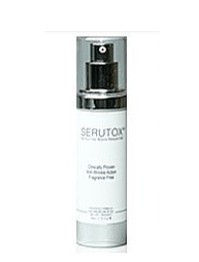 Serutox Review – Does it Work?
Serutox Overview
One of the most obvious signs of aging skin is wrinkles, especially around the eyes.  Wrinkles and lines like crow's feet are caused by the many facial expressions we make over the years and worsen over time if left untended.  There are numerous products available to help us diminish unsightly lines and wrinkles and one of those products is Serutox.  Does it work?
Serutox – Its Ingredients and How it Works
Serutox has been on the market since 2002 and labels itself as a safer, painless alternative to Botox injections.  Its formula is  simple by design because the developer of Serutox, Dr. Bakuric, believes that it is best to limit ingredients in skin care products to reduce the chance of breakouts and allergic reactions.  In fact, Serutox contains only 5 ingredients.
This anti-aging formula has 23% Hyaluronic Acid which has a good reputation for cell reproduction and anti aging properties. The other main ingredient is Acetyl Hexapeptide-3, also known as Argireline. This natural protein has a comparable effect to Botox, although the Argireline relaxes facial muscles rather than paralyzing them like Botox does.  There have been  clinical trials conducted on Argireline showing that it does have a positive effect on lines and wrinkles. Serutox contains 10% Argeireline, which is the recommended amount because higher amounts can cause breakouts. The other 3 ingredients in Serutox are seaweed extract, distilled water, and glycerine.
There is an official Serutox website that is informative and user friendly.  The site includes customer testimonials and complete contact information.  There is a 60-day money back guarantee offered on Serutox, the product that promises to "take back your youth without injections". The website claims you should begin to see results within 15 days of using Serutox.
Where to Buy Serutox
Serutox is available from the official website.  A 3-month supply (50ml) is now $94.99 though the site says it normally retails for closer to $125.  You may also purchase Serutox at select day spas and clinics.
Serutox Pros
User friendly website
Contains two respected anti-aging ingredients in recommended percentages
Simple formula to limit breakouts and allergic reactions
60-day guarantee
Clear and unscented
Positive testimonials
Serutox Cons
Slightly pricy, though you do get a 3-month supply
One of many anti-aging products that contain Argireline and Hyaluronic Acid.
Our Conclusions
There are so many wrinkle reducers on the market today it becomes hard to distinguish between them.  I found Serutox to be intriguing, however, because it does use only 5 ingredients and two of those have been clinically proven to improve the appearance of aging skin.  The small number of ingredients does minimize the chance of an allergic reaction and breakouts.  Though it is a bit expensive initially, you do get a 90-day supply and it is guaranteed for 60 of those days.  Since Serutox claims to begin producing results in as little as 15 days that allows plenty of time to return it if you are disappointed in the results.  In my opinion, Serutox could definitely be worth a try.
Have You Tried Serutox?  Leave Your Review Below!
Click here to submit your review.
---
Serutox
Serutox Review – Does it Work?
Thank you for sharing. SERUTOX is amazing and has kept me looking young for years, I have been using this product for 15 years. I LOVE IT. I highly recommend it. I wrote a letter through FB and got a discount. They are awesome!

---
User Questions and Answers
User Questions and Answers
No Questions Have Been Answered For This Article.