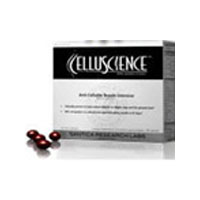 CelluScience Review – A Pill for Cellulite?
CelluScience Overview
Nine out of ten women get cellulite and some men do, too.  Cellulite looks like dimpled skin, giving it an appearance like cottage cheese or orange peel, and is most often found on the hips, thighs, belly, and butt. Researchers have not reached a general agreement about the cause of cellulite, but most agree that it has something to do with estrogen. There are countless creams, gels and gadgets sold to help reduce cellulite, but now  Santica USA Research Labs in Florida brings us an anti-cellulite dietary supplement in a capsule.  Does it work?
CelluScience- Its Ingredients and How it Works
Santica USA  is a subsidiary of Medestea Internazionale, a respected manufacturer based in Turin, Italy.  This company has had a similar product available in Europe for two decades, but CelluScience was only introduced to the US a few years ago.
The official website is informative and user friendly.  It includes contact information, complete ingredients list, a FAQ page, and testimonials.  The site tells us that CelluScience has undergone 9 blind trials and received positive results each time.  It reports that 94% of women could see an improvement in their cellulite in 47 days.
The site also explains that part of the cause of cellulite is the shrinking of connective tissues in the body that allows skin to pull inward and fat to push forward which explains the dimpled appearance of the skin. By using a patented Vascolarys Complex containing:
Fish Oil
Borage Oil (seed)
Grape Seed extract
Ginkgo biloba extract (leaf)
Gotu Kola extract (leaf)
Yellow Sweetclover extract (flower)
Butcher's Broom extract (rhizome)
Olive extract (fruit)
and a proprietary blend of:
Bladderwrack extract (thallus)
Vitamin E
Orange Essential oil (peel)
Rosemary essential oil (leaf)
Vitamin B6
Lipoic acid
Folic acid
KI (potassium iodide)
Selenium
CelluScience says it results in reduction of cellulite and provides other benefits such as toning and firming, improved micro-circulation, a speedier metabolism, and a wealth of antioxidants.
The directions say to take three Celluscience capsules a day, two in the morning and one at night, for 90 days.  You are instructed to do this at least twice a year, with 3 months of maintenance (1 pill a day) in between. The website also allows you to call the company for a personal consultation to determine a customized schedule for taking CelluScience. It is suggested that the gel caps be taken on an empty stomach and that if you are taking prescription medications or are nursing or pregnant you should check with your physician before taking any dietary supplement. The company does offer a 30-day guarantee but the return instructions look rather complicated.
Where to Buy CelluScience
CelluScience is available at the official website, however, I found the pricing to be confusing and a bit deceptive if you don't look closely.  It says get a 3-month supply for $69.93 but if you read it in its entirety it says it will be 3 payments each of $69.93.  It mentions buy 2, ge 1 free, and free shipping, then further down you see a $29.99 shipping charge.  The free club membership is also mentioned and I am always leery of those.
CelluScience was seen at other sites as well.  At Amazon, the capusles sold for $110 for  90.
CelluScience Pros
All natural
Official website informatiave
Complete ingredients list available
Clinically tested
Has been mentioned in major
magazines
CelluScience Cons
Expensive
Contains an ingredient sometimes used as a laxative
Complicated schedule
Complicated return process
Our Conclusions
The clinical trial results for CelluScience are impressive.  The all natural ingredients are rich in vitamins and antioxidants.  The website does not fully explained why these ingredients are effective, but several of them are known diuretics that help drain fluid from the fatty areas and at least one ingredient is sometimes used as a laxative.  If you can afford to spend about $70 a month for an anti-cellulite product, you may want to try CelluScience, though I would avoid joining their club.  That normally involves difficulties if you choose to drop your membership in the future.
Have You Tried CelluScience?  Leave Your Review Below~
How Women Found This Review:
and https://www womensblogtalk com/celluscience-review-a-pill-for-cellulite
User Questions and Answers
User Questions and Answers
---
Q: can i buy -catherine
A:
Hi Catherine, it looks as though the Celluscience pills have been discontinued. Honestly it sounds like a supplement that was here today, gone tomorrow that was just a dud after all. Sorry xo Rachel
Was this question helpful to you?

---
Q: Why can't I order from the website? -Tamara
A:
Tamara, I'm not sure, I only wrote a review on the product. Are you getting an error message?
Was this question helpful to you?

---