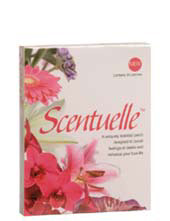 Scentuelle Libido Patch For Women Review
Scentuelle Libido Patch For Women Overview
Can your sense of smell work to reignite your sex life? That is what the makers of Scentuelle claim and what they say is the "engine" inside of their product. Basically, the manufacturer says that they can reawaken all of your senses through just the sense of smell. We also learned that the purchase would include enrollment in a thirty day "course" that would include instructive email communications each day too. Does it work? We rolled up our sleeves and began doing some investigation into this interesting product.
How It Works and Ingredients
What we discovered is that the manufacturer of Scentuelle is the Sense of Smell Lab and they have a whole line of products designed on their premise that smell can really help to change your life for the better. Unfortunately, they do not explain what the Scentuelle product actually contains, nor what you are indeed smelling. They do say that elements of licorice and cucumber are included in the blend, but that is all that is mentioned in their press. The product is a small patch that sticks to your arm throughout the day and which you are encouraged to smell and to use as a trigger for sexual thoughts and moments. As already indicated, the customer gets daily messages encouraging sexual thoughts as well.
User Reviews of Scentuelle
We did not find a lot of feedback outside of the company website, though we did find some news articles about the product. All of these testimonials and Scentuelle reviews were very favorable and seemed to indicate that the brain could be retrained to consider sex as an important part of daily life and to use the patch as a method of focusing energy.
A sample review of Scentuelle we found:
"It's just a patch is what I thought and then the smell began to just make me happy. As soon as I was more relaxed, well…I was much more open to sex."
Andy, PA
Where to Buy Scentuelle
The Scentuelle patches are available exclusively through the manufacturer and they offer a buy one get one free deal for couples to use as a means of simultaneously enhancing their sex lives and all without the risk of any side effects. Unfortunately there are no money back or customer satisfaction guarantees for the $30 product.
Recommendation
We recommend Scentuelle to the open minded people of the world. It is interesting and safe to use this product and it has a lot of positive feedback.
Have You Used The Scentuelle Patch?  Leave Your Review Below!
How Women Found This Review:
and https://www womensblogtalk com/scentuelle-libido-patch-for-women-review
User Questions and Answers
User Questions and Answers
No Questions Have Been Answered For This Article.