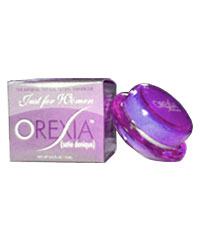 Orexia Overview
We will start this review of Orexia, a female sexual enhancement cream, with a simple fact – we will not be recommending it to you. Why? When we began researching this product, which is manufactured by the makers of orexis, we headed directly to the list of ingredients only to discover that this product is full of parabens. These are dangerous and studies are still being done to determine just how harmful they might be to the human body. Until it is clear that they are not as carcinogenic and destructive as they are believed to be, you will not see any advocacy of their use in these reviews. With that said, this product claims to enhance female sexual desire when applied to the clitoris in the moments before beginning sexual activity. We went ahead and continued the research to learn more.
How Orexia Works and Ingredients
The ingredients in Orexia contain parabens as mentioned, and nothing that would seem to induce any sort of sexual response: Water, Octyl Palmitate, Carbopol, Polysobate 80, Methyl Nicotinate, Aloe Vera, Triethanolamine, Phenoxy Ethanol, Methyl Paraben, Butyl Paraben, Ethyl Paraben, Propyl Paraben. We don't ever recommend compounds that seem to be little more than a pile of chemicals, and this product certain seems to be just that.
User Reviews
Professional testers and consumer reviews also don't speak well of Orexia. Most consumers indicate that it was a rather expensive lubricant and others say that any initial effects seem to have worn off by the time they actually began to engage in sexual intercourse.
A sample review of Orexia we found:
"One of the few things I found appealing about this product was the pretty jar that it arrived in…it didn't do anything for us."
Nancy, VT
Where to Buy Orexia
Orexia is available online, but it is also one of the most expensive of the vaginal topical treatments. It averages at $56 per canister and has no guarantee or discount pricing available.
Recommendation
As already warned, we don't recommend Orexia for daily use. It is ineffectual at best and risky to use at the worst. It has no really beneficial ingredients and is over priced for what little sexual stimulation it offers. There are far more suitable and effective products on the market that rely on natural formulations and ingredients that have a long history of creating sexual stimulation in men and women alike. It is best to use one of those products rather than spending money on something that could potentially lead to health problems.
Have You Used Orexia?  Leave Your Review Below!
Our #1 Choice for Female Enhancement – HerSolution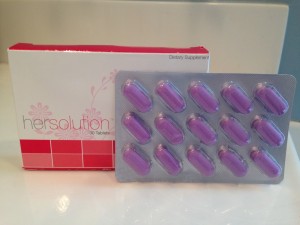 Sometimes we need a little boost in the bedroom. HerSolution is a two part system and is our most effective combo to help with arousal and sexual pleasure. The first part is a daily supplement taken once per day with all the right ingredients (including L-Arginine) to put you in the mood and increase libido.
The second part is the Libodo Enhancing Gel which is used prior to sex to increase blood flow and to enhance the experience. HerSolution contains all natural herbal ingredients that are Dr. approved with no reported side effects. HerSolution is our #1 choice due to its high level of recommendations from professionals and consumers.
Read my official review of HerSolution here
User Questions and Answers
User Questions and Answers
No Questions Have Been Answered For This Article.