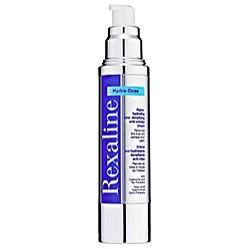 Rexaline Review – Does it Work?
Rexaline Overview
One of the many anti-wrinkle products available today is Rexaline Hydra-Dose Hyper-Hydrating Skin Densifying Anti-Wrinkle Cream. That's quite a big name, so for purposes of brevity, from now on we'll simply refer to this product as Rexaline.  This cream promises to give the face an immediate flood of moisture and, with repeated use, will boost your skin's production of collagen, elastin, and hyaluronic acid synthesis.  Does it work?
Rexaline – Its Ingredients and How it Works
Rexaline products are made by Sephora, a well-known skin care company, but it is possible Sephora has stopped manufacturing some or all of the line.  The Sephora website for Rexaline says the product is no longer available, though it was found at some online retailers available for purchase.
The website does still provide some basic information about Rexaline.  The claims are that it will begin working immediately to hydrate and balance your skin, making it look plumper, firmer, and younger.  After 8 weeks of use, 68% of users said their skin was noticeably more hydrated, that fine lines and wrinkles were significantly less noticeable.  They also claimed their skin's elasticity and firmness had improved.
There is not a lot of information available about the ingredients in Rexaline.  The website tells us that the main ingredient is a Rexaline Complex, consiting of hyaluronc acid, polyglutamic acid, royal jelly, and urea.  This formula is said to reverse the effects of skin's dehydration, quenching its thirst for moisture.
The site also tells us that Rexaline does not contain parabens, which have been connected to accelerated breakouts in some people, nor does it include sulfates or triclosan.
The limited number of consumer reviews found about the product were mainly positive.
Where to Buy Rexaline
Although Rexaline products are no longer available from the manufacturer's website, it is available from some online retailers.  For instance, you can purchase this product at Amazon for $31.99.  Whether it will continue to be available in the future is not yet known.
Rexaline Pros
Contains Hyaluronic Acid
Works quickly
Clinically tested
Rexaline Cons
No longer available at official website
Full disclosure of ingredients is not available
Future availablity questionable
Our Conclusions
Rexaline provides details of clinical testing and the results were impressive.  Most consumer reviews of this product were quite favorable.  Why then, does Sephora, a respected name in the skin care industry, no longer have these products available at their website?  Despite inclusion of hyaluronic acid and the omission of parabens, we cannot recommend Rexaline products because we predict they will not be available in the near future.  There's no reason to fall in love with a product if you won't be able to buy more of it when you want.
Have You Tried Rexaline?  Leave Your Review Below!
User Questions and Answers
User Questions and Answers
No Questions Have Been Answered For This Article.