Femprox Cream Review – Will it Cure FSAD?
Femprox Cream Overview
It is estimated that approximately 47 million women in America suffer from Female Sexual Arousal Disorder (FSAD).  FSAD affects a woman's ability to become sexually aroused, maintain an aroused state, and to reach orgasm.  It may include painful intercourse as well.  These are all issues leading to personal distress and relationship problems.  For several years now, Femprox cream has been under scrutiny as a possible treatment for FSAD.  The evidence is in its favor, so why isn't the product available to U.S. women who are desperate for a solution to their sexual disorder?
About Femprox Cream
Femprox is a topical cream developed by Apricus Bio and made by NexMed Inc.  At this date, there have been nine completed clinical studies done on the potential FSAD treatment.  One study that included 98 women in a Phase II study took place in the United States, while a Phase III study including 400 women was conducted in China.
Femprox cream is said to work by increasing blood flow to the blood vessels in a female's vulva and clitoris.  This stimulates more lubrication and increases sensory feedback, creating a significant increase in sexual arousal. The libido enlarging ingredient in Femprox is alprostadil, described as the chemical title of prostaglandin E1, a substance naturally created by the human body.
The larger study conducted in China included 400 women aged 21 – 65.  The women were randomly assigned to use Femprox cream in one of three strengths or a placebo.  Results showed that when the first evaluation period ended, the mean arousal rate had increased by 38.7% in women using the highest dose of Femprox cream and at the completion of the second phase, 51.5% of women using the strongest Femprox dose had seen significant improvement in their arousal abilities.
Very few side effects were reported and the ones that were mentioned were mild to moderate, reversible, and short-term.
When Will Femprox Cream be Available in the US?
Millions of women are eager to know if and when they will be able to purchase Femprox cream in the United States.  Unfortunately, the answer to that is still up in the air.  The clinical reports have been positive, but research is still being conducted to determine if there are any long-term side effects.
Since studies have been being conducted for well over a decade now, hopefully this new product will be available in the near future.  So many women, both pre-menopausal and post-menopausal, are hungrily awaiting this new pharmacuetical solution to FSAD, we can only hope the wait won't be much longer.  Not only will the women of America be eternally grateful, much of the male population will also be ecstatic about the availability of Femprox cream, a hopeful new treatment for their partners with FSAD.
Have You Heard Any News About Femprox Cream?  Let Us Know Below!
Our #1 Choice for Female Enhancement – HerSolution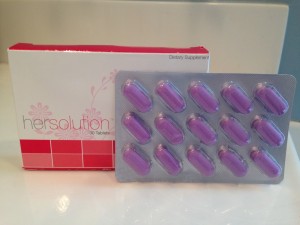 Sometimes we need a little boost in the bedroom. HerSolution is a two part system and is our most effective combo to help with arousal and sexual pleasure. The first part is a daily supplement taken once per day with all the right ingredients (including L-Arginine) to put you in the mood and increase libido.
The second part is the Libodo Enhancing Gel which is used prior to sex to increase blood flow and to enhance the experience. HerSolution contains all natural herbal ingredients that are Dr. approved with no reported side effects. HerSolution is our #1 choice due to its high level of recommendations from professionals and consumers.
Read my official review of HerSolution here
User Questions and Answers
User Questions and Answers
No Questions Have Been Answered For This Article.