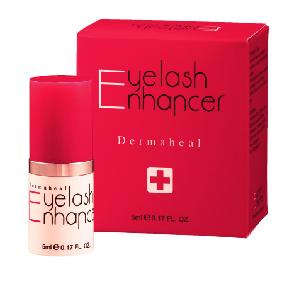 Dermaheal Eyelash Enhancer Review – Does it Work?
Dermaheal Eyelash Enhancer Overview
Have you always wanted long, full eyelashes?  Or have you noticed that your eyelashes are becoming skimpier, breaking off, or falling out?  If so, you are the reason manufacturers are producing eyelash enhancers.  In recent years, several companies have introduced treatments that encourage the growth of eyelashes and brows. They promise your lashes will become longer, lusher, and healthier.  One such product is Dermaheal Eyelash Enhancer. Does it work?  Here's what we found out.
Dermaheal Eyelash Enhancer – Its Ingredients and How it Works
Produced by Dermaheal Cosmeceuticals, which was founded in 2001, Dermaheal Eyelash Enhancer contains no pharmaceutical ingredients so it can be purchased without a prescription.  The formula contains a blend of peptides, hyaluronic acid, multivitamins, and amino acids.
The official website tells us that  Dermaheal Eyelash Enhancer is the only product of its type on the market that is based on Growth Factor technology.  Since the Growth Factors already occur in humans, there are no side effects when you use this treatment.
According to the website, with daily use of Dermaheal Eyelash Enhancer, you'll enjoy longer, fuller,stronger eyelashes that won't fall out as easily.  They say that the effects begin immediately and you should see significant results within 3 – 8 weeks.
The directions say to apply a small amount of the treatment to your fingertip and gently massage it into your upper and lower lashes and across your eyebrows.  The formula should stay on the lashes and brows for at least 4 hours.  For best results, you should use Dermaheal Eyelash Enhancer daily.
Where to Buy Dermaheal Eyelash Enhancer
You may purchase Dermaheal Eyelash Enhancer from the secure Dermaheal website.  The price is $125 for 0.17 fluid ounce.  Dermaheal does not offer a warranty, however, returns are allowed if a Return Merchandise Authorization number is requested within 7 days of receiving your delivery.  You may also purchase this eyelash enhancer at other online retailers, but at the sites I checked the price was exactly the same, so it makes sense to order it straight from the manufacturer.
Dermaheal Eyelash Enhancer Pros
No pharmaceutical ingredients
Contains ingredients that nourish eyelashes
Positive consumer reviews online
No prescription necessary
Dermaheal Eyelash Enhancer Cons
Expensive
No clinical evidence offered
Tricky return policy
No before and after pictures available
Our Conclusions
After examining all the evidence, we've got mixed feelings about Dermaheal Eyelash Enhancer.  We like the fact that it is chemical free and it's not necessary to have a prescription to get this treatment.  There are also some reviews from happy customers available off the Dermaheal website.  We do wish they would have offered more detail on why the ingredients work, though, and we would love to see before and after pictures.  The price of this product will also prohibit many consumers from buying it.  This would be a good product to try, but there are some other good eyelash enhancers available that are more budget friendly.
Have You Tried Dermaheal Eyelash Enhancer?  Leave Your Review Below!
User Questions and Answers
User Questions and Answers
No Questions Have Been Answered For This Article.