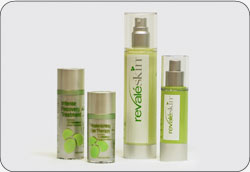 Revaleskin Review – Is it Worth It?
Revaleskin Overview
There's lots of talk about the power of antioxidants these days and skin care companies are getting in on the buzz.  One company says that the powerful antioxidant found in their product is the secret to making skin look younger, less wrinkled, feel smooth and have an even tone. Revaleskin is a line of anti-aging skin care products that they claim "is part nature, part science, all beauty".  So what is this super strength antioxidant and does it make Revaleskin worth the super sized price?
Revaleskin- Its Ingredients and How it Works
According to the official website for Revaleskin, 80% of the effects of aging skin are preventable.  The manufacturer says that the Revaleskin line of skin care products is the best way to treat skin when it first begins to show signs of aging.  They claim that using these products will prevent the skin from suffering further damage and erase fine lines and wrinkles as they begin. Their line includes day cream, night cream, and several other skin care products.
The most promoted ingredient in Revaleskin is Coffeeberry Whole Fruit Extract.  According to the websites and charts provided there, Coffeeberry is the most potent of all antioxidants.  They stress that this is important because antioxidants are the best way to combat the damage done by free radicals when the skin has begun to age and losing its youthful ability to protect itself. Therefore, the more antioxidants you can provide your skin, the less damage is done by free radicals, and the fewer signs of aging will appear.
The website itself is quite informative, providing information about the Coffeeberry, the way skin ages, the power of antioxidants and other interesting topics.  There is an FAQ page and an explanation of why the ingredients were chosen to be in the formula.  Unfortunately, the website only reveals the percentages of the most active ingredients, such as the Coffeeberry and does not specify all the other ingredients other than to use generic terms such as peptides, skin conditioners, and humectants.
Where to Buy Revaleskin
The website states the Revaleskin products are only available through licensed healthcare professionals, but also includes a list of online retailers that offer their goods.  You may also find Revaleskin products on other websites not included on the list, such as Amazon.  These products are expensive with the day cream available at some sites  for around $110, night cream for $120, and the 4 piece system for $220. You can  find Revaleskin at some online retailers for less, so be sure to shop around.
Revaleskin Pros
Informative website
Reported to work well for rosacea
Revaleskin Cons
Expensive
Not available from website
Complete ingredients list not revealed
No guarantee found
Our Conclusions
We found the story of the discovery of Coffeeberry's skin benefits interesting and think the product is probably a good moisturizer and skin care regime.  That being said, it is also on the high end of the price range and there are many effective anti-aging and moisturizing skin care products available that are more budget friendly.  Without a complete list of ingredients available and no guarantee found, we think you would be better off trying some of the more economical choices rather than buying Revaleskin.
Have You Tried Revaleskin?  Leave Your Review Below!
User Questions and Answers
User Questions and Answers
No Questions Have Been Answered For This Article.