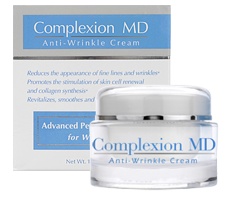 Complexion MD Review – Does it Work?
Complexion MD Overview
This review started out to be about Replexion anti-wrinkle cream but I soon realized that Replexion has a new name.  It is now called Complexion MD.  We don't know the reason for the name change but you may find the two names used interchangeably on the Internet.  Whichever name you call it, you want to know if this product works.  Lets explore the facts.
Complexion MD – Its Ingredients and How it Works
The official Complexion MD website provides a quantity of information about this anti-aging wrinkle cream.  It tells us that the product is formulated to increase the natural production of collagen in the skin, an element that we produce in abundance when we are young but our skin makes less and less of as we age.  By the time we reach our mid-thirties, exposure to sun, pollutants, and stress have degraded the elastin and collagen in our skin.  The website says that Complexion MD will rejuvinate and repair skin, improve skin tone and quality, increase the growth of new skin cells, and protect the skin from further damage.
The Complexion MD formula includes a blend of peptides Acetyl Hexapeptide-3, Palmitoyl Pentapeptide, and Palmitoyl Oligopeptide.  The first of those is to relax the muscles, reduce the visibility of wrinkles, and prevent further development of wrinkles and fine lines.  The other two are more about boosting the production of collagen.
Other ingrediants include Hyaluronic Acid, a powerful moisturizer,Retinyl Palmitate, which is used to slough off dead skin cells and add a healthy glow, Shea butter, another great moisturizer, and Aloe Vera, an excellent skin healer that softens and protects.
The website tells us that Complexion MD is highly concentrated so it is only necessary to use a small dab twice a day. The anti-wrinkle cream should be massaged into clean, dry skin.  Some slight improvement in the skin should be visible within a few days but optimal results require 30 days.  The treatment must be continued to have lasting effects.
There is a money back guarantee offered at the website but there are some strict guidelines which must be followed to get your refund.
Where to Buy Complexion MD
Complexion MD is available from the official website.  It costs $99.95 for a one month supply and there are discounts available for bulk purchases.  You may also purchase the product from several other online retailers.  The official website does have a 30-day free trial available, but beware.  If you take the trial and don't return the product you will be automatically enrolled in their rewards program and be shipped an additional jar of product each month at the discounted price of $79.95.  Unless you are certain you want to continue using this product, I would buy a single jar and forgo the free trial.
Complexion MD Pros
Informative website
Includes some clinically proven ingredients
Bulk purchase discounts available
Testimonials provided
30-day satisfaction guarantee
Complexion MD Cons
Expensive
Complete ingredients list not provided
Strict return guidelines
Must continue using indefinitely for lasting results
Our Conclusions
Complexion MD does contain some of the most popular anti-aging skin care ingredients available today. Many other skin care products do as well, however, and most of them do not cost $100 a month to purchase.  There is a money back guarantee but with the guidelines that must be followed it reduces the amount of time you have to make your decision.  In our considered opinion, Complexion MD certainly has positive possibilities, but is not the most practical choice for the majority of consumers.
Have You Tried Complexion MD?  Leave Your Review Below!
How Women Found This Review:
and https://www womensblogtalk com/complexion-md-review-2
User Questions and Answers
User Questions and Answers
---
Q: What is a comparable product (similar ingredients) that costs less? Or the highest rated alternative by this reviewer -Chris
A:
Hi Chris, I would go with my top cream, Kollagen Intensiv, it's a great anti-aging treatment and the cost is $59. They don't sign you up for an auto ship program which I'm afraid may be the case for Complexion MD (plus they are about $99). I've used Kollagen Intensiv for years with great results, especially when I need extra moisture, it plumps everything up! Thank you, Rachel
Was this question helpful to you?

---
Q: How do i return iy -Patty
A:
Where did you buy it? If you bought from a store, you should be able to take it back. If it was Ebay or Amazon you'll have to get in touch with the vendor.
Was this question helpful to you?

---