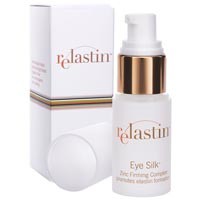 Relastin Review – Is it Effective?
Relastin Overview
One of the first places signs of aging appear is around the eyes.  The development of crow's feet and wrinkles are a not-so-subtle clue that you're getting older.  The makers of Relastin Eye Silk say they can drastically reduce those fine lines and wrinkles along with under eye puffiness and dark circles.  Does it work?
Relasatin – Its Ingredients and How it Works
Relastin is produced by Revance Therapeutics.  There is an official website for Relastin Eye Silk that provides a great deal of information.  At the website you can learn about the repeat awards Relastin has won from Allure magazine for best anti-wrinkle eye cream and find numerous testimonials by dermatologists.  There is an FAQ page that answers some common consumer questions and a page that tells us why the product works.
According to the manufacturer, Relastin focuses on rejuvenating the growth of elastin in your skin.  Elastin is the component that allows  skin to bounce back from various facial expressions we make.  As we age and skin is exposed more to pollutants and stress, the elastin weakens.  This eye cream contains a patent pending Zinc Firming Complex that has reportedly been clinically proven to increase the elastin in skin. This formula is used in the Eye Silk as well as a few other skin care products that Revance is relaunching this year.
The website tells us that though other products may have elastin or protein fibers in them, those fibers are too large to penetrate the skin and make a real difference in the skin's elasticity.  Relastin differs from those products because it is able to penetrate the upper layer of skin and reach the connective tissues in the dermis and therefore is more effective at boosting elastin levels.
The Eye Silk is said to be safe for all skin types, hypoallergenic, and fragrance free. It is recommended that Relastin be applied once or twice a day.  The website reports that in clinical testing the majority of participants saw noticeable improvements in their skin in  30 days or less.
Where Can You Buy Relastin?
The website says that Relastin is available through dermatologists' offices, however, it may also be purchased from online retailers.  The average price was about $69 for a .05 ounce bottle which the website says should last from 30 – 45 days.
Relastin Pros
Informative website
Recommendations from dermatologists
Positive independent online reviews
Some clinical evidence of effectiveness provided
Relastin Cons
Cannot be purchased from official website
Fairly expensive
No guarantee found
Zinc Firming Complex only ingredient explained
Our Conclusions
Relastin provides an informative, helpful website, even providing general skin care tips.  It is recommended by a number of dermatologists and has won 4 awards from Allure magazine.  Although it is a bit pricey, and there is no real explanation of what is in the Zinc Firming Complex, we think that Relasatin has some potential to prove an effective anti-wrinkle eye cream.
Have You Tried Relastin?  Leave Your Review Below!
User Questions and Answers
User Questions and Answers
No Questions Have Been Answered For This Article.