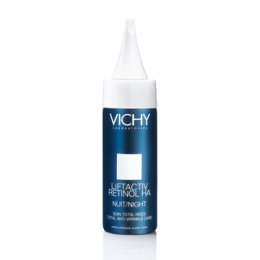 LiftActiv Review – Does it Work?
LiftActiv Overview
The product we're reviewing today has a long name:  LiftActiv Retinol HA Night Total Wrinkle Plumping Care, so from now on I'll just refer to this as LiftActiv, though there are a number of LiftActiv products available. Mady by Vichy Laboratories, this particular product just received The Good Housekeeping Seal.  In the minds of many consumers, that is  an impressive achievement.  Let's take a closer look at why this product may be worthy of that award.
LiftActiv – Its Ingredients and How it Works
Vichy Laboratories is a respected name in the world of skin care.  Their belief is that there are three types of wrinkles: permanent, reversible, and programmed to appear and claim that LiftActiv treats all three types.  Most users who apply the cream at night see a visible effect on wrinkles by morning.  The skin has lifted and filled in the lines and feels soft and hydrated.
The secret to the positive effects of LiftActiv Retinal HA is the triple dose of Hyaluronic Acid and the addition of Retinol A, which quickens the resurfacing effect.  Hyaluronic Acid is one of the most beneficial moisturizers available and Retinol A is a clinically proven anti-aging ingredient. There is clinical proof of the effectiveness of LiftActiv Night on the official website.
The website also contains a complete list of ingredients and numerous testimonials.  Along with the ingredients already mentioned, the cream also contains Shea butter, a well known moisturizer. LiftActiv is safe to use on any type skin, though some consumer reviews report it aggravated breakouts on skin with acne.  It is hypoallergenic and fragrance free.
The directions say that the night cream should be applied every day in the evening. Just massage the desired amount into your skin and avoid contact with the eyes. It dries quickly and is non-greasy.
Where to Buy LiftActiv
You can purchase this night cream and other LiftActiv products from the official Vichy website where it sells for $47 for 1 fluid ounce.  Several other online retailers also offer the products and they may be purchased at select pharmacies.  The best buy was found at Amazon where you get a triple pack (3 oz.) of LIftActiv Wrinkle Plumping Care for just $38.95.
LiftActiv Pros
Contains high dose of Hyaluronic Acid and Retinol
Fast acting
Many positive online reviews
30-day satisfaction guarantee
Informative website
LiftActiv Cons
May not work well with skin prone to breakouts
A little pricey
Some reviewers disappointed with effects
Our Conclusions
The Vichy Laboratories name has been a trusted one for years.  The LiftActiv Retinol HA Night Total Wrinkle Plumping Care seems to get many more positive reviews than negative from consumers and has gone on to win the Good Housekeeping Seal.  We know that award is not given lightly and makes our confidence in LiftActiv rise.  The price is not outrageous and there is a money back guarantee.  These facts along with the clinical evidence presented on the website gives us good reason to believe that LiftActiv is an anti-aging product worth trying. It might now work for everyone, but many consumers say it works for them.
Have You Tried LiftActiv?  Leave Your Review Below!
User Questions and Answers
User Questions and Answers
No Questions Have Been Answered For This Article.