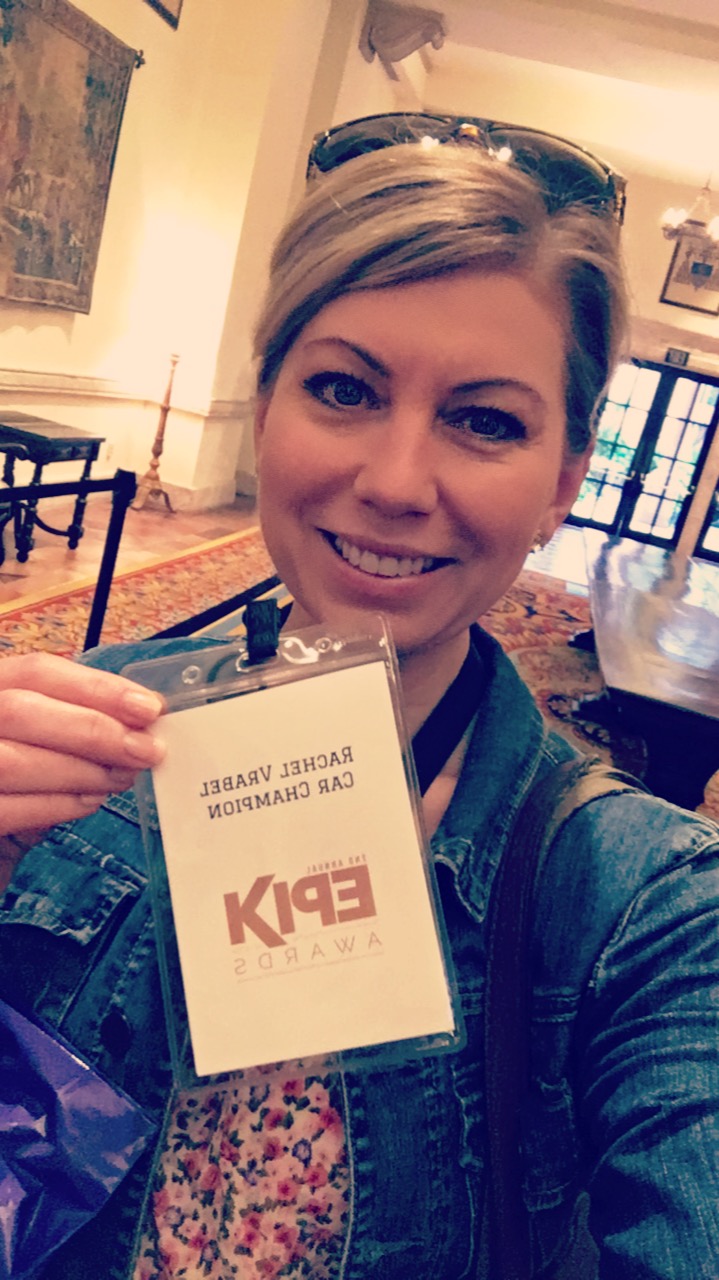 Becoming a Pruvit Promoter – What you Should Know Before Joining!
Becoming a Pruvit Promoter
Being a Pruvit promoter since 2015 has been an incredible journey! Promoting the world's best exogenous ketones supplement is a very rewarding venture.
Pruvit launched the first ever exogenous ketones supplement to the market in Oct. 2015 and I became a customer in Nov. 2015.
One drink and I was hooked; the only flavor they had then was the original Orange Dream flavor. We are surely spoiled now with the buffet of flavors!
After seeing some fat loss and feeling energized, I quickly turned promoter after experiencing the power of this drink!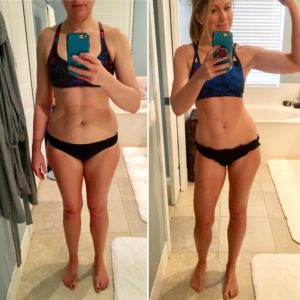 Be sure and read my Pruvit testimonial and review of ketones here.
I was actually skeptical at first since I'd never heard of exogenous ketones, but become a Pruvit promoter has been one of the best decisions I've ever made, but it may not be for everyone.

To become a Pruvit promoter, it costs $37 for the annual promoter membership fee and there's no minimum purchase.
By joining you'll have 5 different links to share and can send people to your own website identical to my Pruvit website.
Often, all it takes is a social media share of your Pruvit links to Facebook to start piquing interest!
Fat loss is sometimes a big reason people are drawn to Pruvit's Keto-OS, but oftentimes, why they continue to drink it is HOW THEY FEEL.
Pruvit is an MLM – Isn't that a Pyramid Scheme?
I actually love this question, and I have many rebuttals to dispel the misinformation some people have on the MLM structure.
An MLM can be a very effective business model, especially when it comes to ketones.  Pruvit has coined the the term "Community Based Marketing."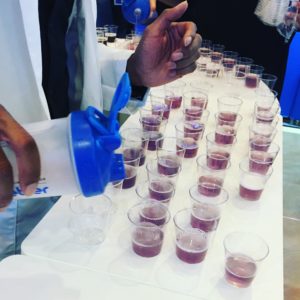 In Pruvit's case, Community Based Marketing is beneficial since not many people know much about ketones and ketosis, and Pruvit promoter's lead with education and sharing stories and experiences.
Imagine if a jar of Pruvit's Keto//OS was sitting on the shelf in GNC. Do you think the kid behind the counter would be knowledgeable about it, along with the other 1,000 products on the shelves?
Probably not, in fact he'd probably confuse it with "raspberry ketones" which is something completely different than exogenous ketones.
Some MLM's can be considered schemes when the focus is on the recruitment of other promoters, and being forced to by a promoter pack. Pruvit does not do this, you can market the way you want and you're not required to make a large up-front purchase.
Some do, if they're ready to sling some ketones into the market place, and it can work to your advantage if you choose to do it that way.
Smartship Benefits and Pruvit Bucks

Smartship is a monthly auto-ship program where you get your ketones 22% off. No catches and  you can change products or cancel anytime.
The Smartship is available to customers and Pruvit promoters alike, and so is the free product program.
Having an active Smartship for a Pruvit promoter is key, since it allows you to earn "Pruvit Bucks" (this is a bonus you earn on top of commissions).
Once you get two people signed up under you on Smartship, your box on Smartship will be FREE – your Pruvit bucks will be swept automatically to pay for your Keto – all you pay is shipping and tax.
Additional Pruvit Bucks you earn can be used for additional one-time orders, or you can beef up your Smartship, up to 500 Pruvit bucks per month.
For example, just this month I had a box of Keto//OS Chocolate Swirl, Keto Max Swiss Cacao charged, and Keto Max Swiss Cacao decaf. It was 100% FREE to me, all I paid was tax and shipping.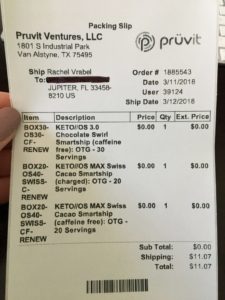 You can also use Pruvit Bucks to generate coupons for interested leads. I often give away $10 or $15 off coupons to new customers, friends and family. You can generate these yourself in your Pruvit cloud. If someone doesn't use a coupon, you can recycle it.
Should you Buy An Experience Promoter Pack?
If you're a go-getter and you'd like to be able to offer 5 or 10 day experiences and have a leg-up to building your business more quickly, this where purchasing an Experience Pack makes sense for a brand new Pruvit promoter.
There are also some financial perks when you come out of the gate with a NAT Experience Pack.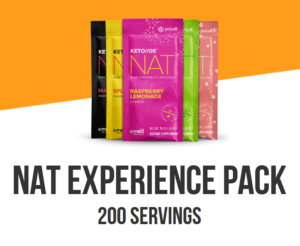 An experience pack is a 200 serving pack that is a mix of flavors, here are my two faves for getting started:
NAT Experience Pack  – 200 OTG servings – 2 boxes each of all the flavors, in all Charged, all Decaf, or a mix.
Benefits of an Experience Pack
Rank 5 pass for 1-year. What this means is that you earn a higher residual commission percentage from sales under you.
The Go Fast Bonus normally pays 20% of the BV (each product has a "Bonus Value") for orders placed during the first 30 days of personally enrolled Promoters. You can DOUBLE this to 40% for 30 days by purchasing an Experience Pack.
Having SAMPLES to sell 5 and 10 day experiences – this is the key to my business. You can take a look at the samples I offer on my Keto Samples Blog to see what I offer.
Earning Money with Pruvit
I'm going to keep things very simple. On customers you sell to (your Level 1), Pruvit promoters make a retailer bonus plus residual commissions.
If your customer sets up smart ship, you receive that recurring commission each month. You will also be paid a residual commission on the team underneath you (that's what I mean by Levels 1-3).
GoPro and GoMVP Bonuses – Focus on These When you Start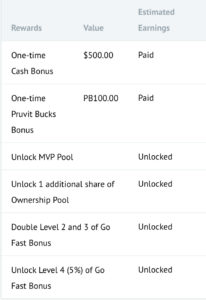 There are also bonuses to hit when you first join as a Pruvit promoter. The first ones you'll want to hit in your first 30 days are the GoPro and GoMVP bonuses.
Check out the Go Challenge FastStart video to understand exactly what is required.
Hitting GoPro in your first 14 days earns you an additional $250 cash/$100 Pruvit bucks.
The GoMVP earns you $500 cash/$100 Pruvit bucks (on TOP of the GoPro $250 bonus) and the accelerated GoFast.
If you'd like to see the full Pruvit Rewards brochure, I'm happy to send it to you.
Pruvit Champion Rank 6

I'm a Rank 6 Champion with Pruvit, which qualified me to earn the car bonus which is awesome! However, you have to remain at level 6 each month to keep receiving that check, so I didn't run out and buy a fancy car the moment I hit Rank 6!
Being a Champion also gives you access to the "inner circle" if you will. Champ-only calls, and champ-only meetings at Epik, Keto Kademy and More.
At the Epik convention in Boca Raton, I won an award for #3 Top Retailer. I was SHOCKED, and pretty sure I shed some tears before this big smile.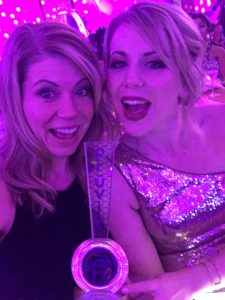 I've grown close with all my promoters and we have an active private Facebook promoter group. I have an AMAZING team leader who does a ton of training so I don't reinvent the wheel when it comes to leading my own promoters.
He's a high ranking Pruver (he just won the Lifetime Achievement award)… he's great! If you want plugging in I can certainly lead you on the right path.
My strength in helping people in this business is the relationships I build, the questions I answer, and always being available to help you if you need it. I've certainly learned a lot over the past 3 years.
Should you Become a Pruvit Promoter?
Becoming a Pruvit promoter is a personal decision. Some people have such an amazing personal experience, that it becomes second nature to want to share. Friends and family start asking, and it doesn't take much to earn some free ketones every month.
I always advise being a customer first for at least 30 days before you decide to promote. Get a feel for ketones, and create a personal story of your own, because that's what sells. If you've only been drinking ketones a week, or you've never even tried it – don't rush into promoting it.
I bust my butt in this business, and customers don't always fall into your lap. Often people have a fiery start and then get complacent and wonder why their businesses don't do better.
You have to work at it constantly just like any other business (because it is your own business after all). You have to step outside the box…you can't just rely on Facebook to build an empire.
What I'm seeing lately is a lot of Keto mixers, simply having a few people over and shake up some ketones for them to try. This is a great way to introduce people to ketones.
If you have questions regarding becoming a promoter, please contact me here or email me directly at [email protected]
Related Pruvit Links:
Pruvit Keto OS Review and Testimonial
This is my personal review. This content is not the opinion of Pruvit Ventures, Inc. Pruvit Ventures, Inc, is not responsible for any of the information, view, or opinions expressed on this page. Please visit their official site for details. You can find links on this page. I am an independent Pruvit Promoter.
Disclaimer: These statements have not been evaluated by the Food and Drug Administration. Prüvit products are not intended to diagnose prevent treat or cure any disease. If you are under medical supervision for any allergy, disease, taking prescription medications or you are breastfeeding contact your medical provider before adding any new supplements to your daily regimen.
How Women Found This Review:
and pruvit, and How much discount do you get on auto ship of Pruvit Keto//OS, and pruvit ventures DITRIBUTOR
User Questions and Answers
User Questions and Answers
---
Q: Can U become a promotor in Belgium (Europe) or do U have to be In the USA? -Diana
A:
Hi Diana, right now Pruvit is only offered in the U.S., Canada, Australia and parts of SE Asia. So, you couldn't sign up at this time to be a promoter because your IP address would be blocked... so sorry! Keep in touch with me because they will be opening new markets all the time, the next one is actually Mexico. I hope we will be in the UK soon though, I know it's in high demand. Thanks!! Rachel
Was this question helpful to you?
2 out of 2 people found this question helpful.
---
Q: I've tried doing a keto diet and couldn't do it. I succumbed to carb cravings and felt so sluggish in workouts I gave up. Is this different? I don't have much weight to lose but my skin is always breaking out, this is why I'm asking. Is this going to help? -Lana
A:
Hi Lana, keto diet is very hard! Drinking ketones make it a LOT easier to follow a low carb diet and you'll get energy from the ketones. When I transitioned to a keto diet when I first started, I didn't have any "keto flu" type symptoms, I felt great. I would definitely give ketones a try and see how that changes your diet and how you feel, it makes it much easier. Ketones can help your skin as well since they are highly anti-inflammatory. I've shown a huge improvement in my skin (not as pink) and it also pretty much cured my blepharitis/rosacea of the eyes (they used to always be red and irritated) which is an issue of inflammation. Keep in mind, you don't have to follow a super strict ketogenic diet to experience benefits from drinking Keto OS. That's the beauty of it! Any healthy eating plan will work. Rachel
Was this question helpful to you?
1 out of 1 people found this question helpful.
---
Q: I would like to be a promoter. I tried it and I love it. How do I go about promoting this product? -Colleen Owens
A:
Hi Colleen, you can join as promoter here. If you've already purchase through someone before through the Pruvit website, then you're already tied to them and you would simply upgrade your account through your Pruvit cloud (adding $37 promoter membership). But if you just tried samples and you're looking for someone to join with, I'm happy to help! Feel free to email me directly

[email protected]

if you'd like to chat or if I can help. Thanks! Rachel
Was this question helpful to you?

---
Q: I started a account and forgot user name and password. Can't seem to find a number to call to retrieve it -Kathy
A:
Hi Kathy, I sent you a private email. You may have to email

[email protected]

and give them your email and phone and ask them for your info. Good luck and let me know if you have any problems.  ~rachel
Was this question helpful to you?

---
Q: Hello, I live in Germany. Ist possible for me to join for promoting the business, what are the benefits like commetion and bonus -Osafile Abigirl
A:
Hi there, not quite yet. We are only available in the U.S., Canada, Australia and parts of SE Asia. We may be opening Mexico next and then the UK. If you'd like I can notify you when it becomes available. I've had a lot of interest coming from the UK lately. I'll email you privately. Thank you! Rachel
Was this question helpful to you?

---
Q: I have been a promoter for a year, just was wanting to buy product but not really get into the business. I was earning a small commission but now that has stopped. Is there a time limit and is that why im not getting a commission from people under me. Im thinking I want to start promoting the product, but is it to late to start since I didn't to the go pro ? -Teresa Bradshaw
A:
Hi Teresa, thanks for your message! Your promoter annual membership should keep you in promoter status for a year. So...unless you did the auto renew on your membership, maybe it dropped off and you've defaulted to a customer. You should be able to see your status if you login and go to your home page (there's a box on the top left that shows membership status). So if you're now a customer that could be why you're no longer getting commissions. You can add it back if you go under supplements/memberships you'll see the $37 promoter fee and you can add it to your cart and check out and they'll resume paying you commissions if you're still making sales or have people on Smartship.

Go Pro and Go MVP are two bonuses you can go after when you first get started, but even if you didn't hit those, you'll still earn retail and residual commissions, and can also earn Pruvit bucks. To earn Pruvit bucks for free product, you'd have to be on Smartship and also have two customers under you on Smartship. You can actually do that as a customer, I'll link the Free Product Program Flyer here. But if you have more than two, it makes sense to become a promoter. Let me know if you need more help or guidance, feel free to email me at

[email protected]

and we can chat privately. I don't think you're under me, are you? I looked but didn't see your name. Thanks and good luck! ~Rachel
Was this question helpful to you?

---
Q: Is it the Keto Diet/drinks that cause weight loss or a personal eating and fitness regimen? -Corinna
A:
Hi Corinna, drinking the ketones suppress your appetite and puts you into ketosis in under an hour... it's a combination of having elevated ketone levels that allow many other things to fall into place more easily. Drinking ketones brings compliance to any healthy eating plan you follow. Most people lose fat when they drink because you'll be creating a caloric deficit and you are energized and feel happy. It's a myriad of health benefits and not a miracle weight loss drink. I suggest you try some samples, take a look at my Keto Samples blog if you'd like to get started. Thanks! Rachel
Was this question helpful to you?

---
Q: I was wondering how do I become a promoter I lost 33 pounds from keto and I would love to help others do the same -Tonya
A:
Hi Tonya, congrats on your success! Sounds like you have an amazing story to share and that'll really give you an advantage. Are you following a ketogenic diet and drinking the ketones? You can join as promoter here on the Pruvit website with or without a pack, or choose to become a customer first by shopping here. If you'd like to chat more, please email me at

[email protected]

I'm happy to help you get started. This is really a business of sharing stories, and introducing people to ketones and ketosis. Having 5 or 10 day experience sample packs is the best way to get people to try before committing.  Thanks! Rachel
Was this question helpful to you?

---
Q: If I choose to become a promoter, where do I start . I don't have a lot of extra money to purchase a lot of product to keep on hand . -Kelly Livingston
A:
Hi Kelly, you could join as promoter and send people to your links to buy. If you have a good success story and can show people your results, friends and family will usually get on board. A lot of people do like to be able to try samples before they commit to a whole box since it's not cheap, but some go straight to buying and will commit. If you're not already a customer, I would start by becoming one and getting some time on the product and get some results going! :) We have some great customer and prospect private groups on Facebook I would hook you up with if you decide to join. Let me know if I can help. You can also email me privately at

[email protected]

Thanks! ~Rachel
Was this question helpful to you?

---
Q: Join as a keto promoter? -Dennis
A:
Hi Dennis, You can visit my Pruvit website and click on Join as Promoter at the top if you'd like to become a Pruvit promoter. Please email me if you have question or need help:

[email protected]

Thanks! Rachel
Was this question helpful to you?

---
Q: Can I add lemon to the drink? They are too sweet -Pam
A:
Yes, I love adding lemon or lime (fresh) it tastes delicious and does cut the sweetness. Add more water and ice as well if you're not already.
Was this question helpful to you?

---
Q: Curious about samples ... not sure what to try first. Want something I can drink at work (not a protein shake). -Jennifer
A:
Hi Jennifer, check out my Keto Samples blog, I offer 5 and 10 day experiences so you can try all the flavors. These are not meal replacements or protein shakes, they are refreshing drinks and so yummy! Let me know if you'd like one, you can email me directly to:

[email protected]



Thanks! Rachel
Was this question helpful to you?

---
Q: Hi, I am interested in trying ketones but am unsure of where to start. I just started slowly cutting carbs and would like to start a keto lifestyle. I think these would help me with the transition and staying in ketosis. -Sarah
A:
Hi Sarah, yes they will absolutely help transitioning to a Keto lifestyle. I think the best place to start is with samples so you can try the flavors. Check out my Keto Samples blog, I would recommend the 10 day NAT, or the 5 day NAT bomb paired with the 5 day Unleashed. If you can't have caffeine then I have a decaf option also. Let me know if you have questions. Thanks! Rachel
Was this question helpful to you?

---
Q: I started an account and forgot email and password. How can I get back to that account -Brenda
A:
Hi Brenda, I'm going to email you. Rachel
Was this question helpful to you?

---
Q: How do I sign up so I can buy product? -Pam
A:
Hi Pam, visit my Pruvit website here and click on products, then add what you'd like to your cart and check out. Let me know if you need any help, you can email me private at

[email protected]

Thanks! Rachel
Was this question helpful to you?

---
Q: Hi I stay in India and I would like to order but I don't know how to get it from u guys so it would be nice if you could help. -Anu
A:
Hi Anu, Pruvit doesn't ship to India just yet. We ship to the US, Canada, Australia and parts of SE Asia. I could ship some to you but I'd have to quote you a price on shipping. Email me your address and phone to

[email protected]

and I can let you know how much it would be to ship a 10 day experience to you if you'd like. Thanks! Rachel
Was this question helpful to you?

---
Q: how did you promote without coming across too salesy? I just started and trying to find the balance of being helpful and share my experience without being overbearing . -Christina
A:
Hi Christina!  I try to just share my personal experience, and how it's changed my life. I'm much more productive, focused, better mood, energized for workouts...at this point fat loss and weight management are just icing on the cake but also both part of my story. I encourage people to try a 5 or 10 day experience because it's very hard to see the value in an expensive product until they experience it and feel it for themselves. Being able to sample all the flavors is key, because everyone's taste is different. And unfortunately, some will try and they're just not ready to commit, or they don't want to pay $100/month for a supplement...even though most people could cut out something to afford it. You'll always have your ups and downs just like any business, but I've never lost my passion for this product and I'm committed to drinking it everyday because of how it's improved my life in so many ways. I still get people coming out of the woodworks who have been seeing my posts for the last 3 years and finally say hey I'm ready to try that stuff! Having my blog definitely makes it easier to reach more people, but I still share ketones with most everyone I come in contact with i.e. hairdresser, friends who I play volleyball with, people who I workout with, family friends. At some point you'll exhaust those and really have to work outside your comfort zone to reach new people in order to grow. Are you working with a good upline who has private FB groups, etc and who can help you? Good luck and feel free to email me if you'd like to chat more privately.

[email protected]

or I'm on IG @womensblogtalk. Thanks!! xo Rachel
Was this question helpful to you?

---
Q: I'm a promoter and hit my go pro 3/12/18. How soon do I receive the $250 plus provide bucks. My wallet is still not green. Thanks. -Sherry
A:
Hi Sherry, congrats on hitting GoPro! Did you set up your iGlobal account wallet? Normally we're paid each month on the 15th, so today is March 15 so we just got paid for the bulk of February. So what you earn during March, you'll get paid April 15th.  You have to hit certain levels to unlock the weekly or daily pay. If you can't click on your wallet yet, that means there's nothing in it yet "officially" although you should see what's pending under the Rewards tab. I'm sure your upline should be able to help you take a look at the details to help you work through this. Thanks and good luck going after MVP! All you have to do is duplicate the Go Pro ;) ~Rachel
Was this question helpful to you?

---