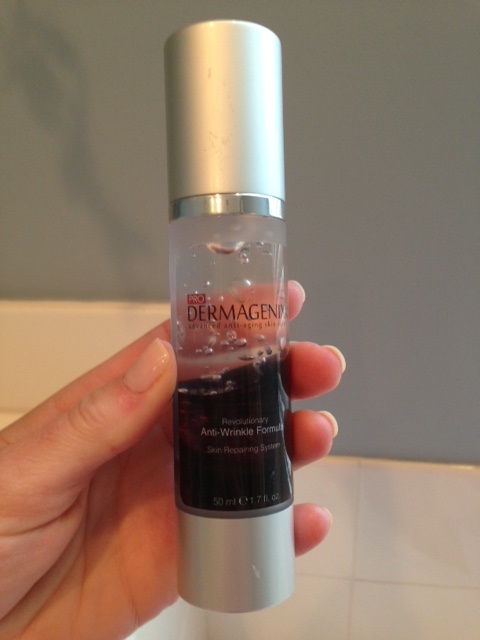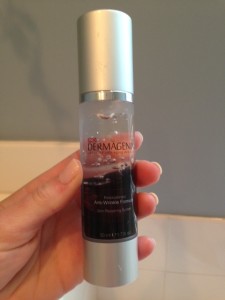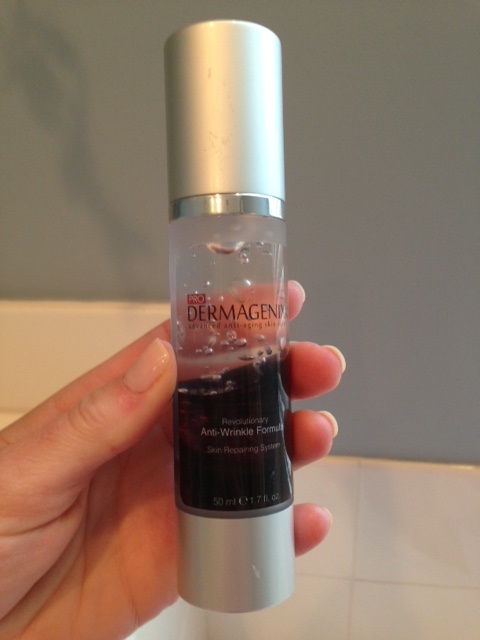 *Update 9/29/2014* I recently discovered some information on Pro Dermagenix that everyone needs to know! See my update below.
Pro Dermagenix labels itself as an effective solution for advanced anti-aging skin care, and has the flashy website to boot.  But does this anti wrinkle "gel" really work?  If you're like me, your highly skeptical about what you read on the internet, and know that there are plenty of fake advertisements and supposed "news articles" talking about women who have had tremendous success combining wrinkle creams for great results.
Let's look past the hype for a minute and examine exactly what Pro Dermagenix has to say. Located on 5th ave in New York, NY, Pro Dermagenix is attempting to position themselves as a market leader in anti-aging creams.  With a sleek design and fancy looking website, they claim that by using their product you can reduce skin roughness by 16%, reduce the appearance of significant wrinkles by 46%, and diminish wrinkle density by 21%.
But how does it work? That's kind of where we hit a roadblock with Pro Dermagenix.  Most companies make it a priority to explain the ingredients in their product, and give a scientific analysis of how it's supposed to work.  According to the manufacturer, we know that it somehow stimulates collagen production, which we all know helps to lessen the appearance of wrinkles.  We can only guess based on these claims that the ingredients in Pro Dermagenix must include Argirilene, which is a natural alternative to expensive botox.  But without any concrete evidence from their website, we are only left to guess.
Reviews of Pro Dermagenix
This is another shortfall for the product, because there simply is very little information about women who have used Pro Dermagenix and their results.  There are a couple of reviews on their official website, but other than that there are no discussions on leading women's websites such as makeupalley.com and beautytalk.com.  It seems that Pro Dermagenix is fairly new to the market, and this would describe why there are very few people talking about their results.
*Update 9/29/14* My Experience with Pro Dermagenix & the Ingredients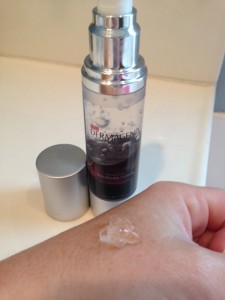 I finally got my hands on a bottle of Pro Dermagenix so that I could give you more first hand information on this product. It has a thick gel consistency which leaves an extremely sticky residue on your face that doesn't go away; it doesn't absorb well at all and feels pretty gross actually, I couldn't wait to wash it off!
It also has an alcohol smell to it. I was finally able to research the ingredients per their label on the backside of the bottle, and what I found was shocking. It definitely does not contain any of the ingredients that we thought this product might based on their website claims. Please read!
Wheat Germ Oil is used primarily as a skin conditioning agent. The Vitamin E contained in this oil benefits the skin.
Glycerin is a sugar alcohol used in many cosmetic products, it's a humectant which slows the release of moisture from a product during use.
Cetyl Alcohol is a fatty alcohol used as an emollient, emulsifier, thickener, and carrying agent for other ingredients.
Trethanolamine is an emulsifier used to control the ph in cosmetics and is used in mascaras, sun screens, hair dyes, etc.
Shea Butter is a well known skin conditioning agent.
FD&C Red #3  is a color additive and according to the FDA's website, it was banned from cosmetic use in 2009! It is only allowed in food and ingested drugs.
Methyl Paraben is a preservative surrounded by some controversy. Check out Livestrong's article on the matter
Click here to see a picture of the Pro Dermagenix ingredients label
Recommendation
This appears to be another free trial scam, designed to skim women out of their hard earned money.  They offer a free trial, but there is a familiar consequence for getting involved in one of these auto-ship, auto-rebills.  According the manufacturer themselves, once you are done with your 21 day trial, you will be billed close to $90 for another batch of the product.  This is great, especially if you are having great results with Pro Dermagenix, but often times we find that women are duped into these programs without knowing this was going to happen.
On top of being yet another free trial scam impossible to cancel, the ingredients in this product are extremely insignificant to anti-aging and it feel horribly sticky and don't absorb. Pro Dermagenix contains a couple of run-of-the-mill skin conditioning agents, along with preservatives and a color additive banned by the FDA! I hope that these facts alone are enough of a red flag for you to make the decision to NOT order this product.
Be sure to protect yourself should you decide to order Pro Dermagenix, and make sure you write down the phone number to cancel, and mark the date on your calendar. Free trials can be great, but only if you fully understand the terms and conditions and 21 days is not a lot of time to receive the product and try it. 30 day trials are better in my opinion.
To learn about our #1 recommended wrinkle cream, check out my personal review on Lifecell Anti-Aging Treatment and see my results after two years!
Have You Used Pro Dermagenix?  Leave Your Reviews Below!
How Women Found This Review:
and yhs-fullyhosted_003, and dermagenix
Click here to submit your review.
---
Beware of Dermagenetix scam
Pro Dermagenix Review
Crooks charged my card without permission
I started ordering a free trial of Derma Genetix face cream. I had to pay $4.95 for shipping with a credit card. However when I couldn't get out without ordering a serum, I cancelled the entire transaction without completing it. I was charged $94 for the free sample cream and $93 for a serum I never ordered. They used the name and address I use for advertisers. They never conformed the order Or its cancellation. They wouldn't refund my money. I called them a few times and talked to the supervisor who was even worse than the phone crooks. She finally accepted to refund half the amount even though I never used their products. My credit card was then used in Mexico and I have a strong suspicion it was from this same dermagenix company. I had to cancel the card.
This company is running a dangerous scam. Never give them your credit or debit cards.

---
Free sample scam
Pro Dermagenix Review
This is definitely a free sample scam.I paid the $4or5 shipping for free samples. Yes, I did not read all the way through the "agreement" and now cant find one to read. When my credit card statement came, it had charges added for ~$98. I called to say I didn't order additional supplies because I can't tell any difference at all but was told this was not for extra supplies but that YOU HAD TO PAY FOR THE SAMPLES if you didn't contact them within the first 2 weeks that you didn't want to keep them. The customer service person was very rude but finally agreed to refund half. BEWARE of this company. The product did nothing a cheap drug store lotion does and obviously this letting them know within 2 weeks was buried deep!

---
User Questions and Answers
User Questions and Answers
No Questions Have Been Answered For This Article.