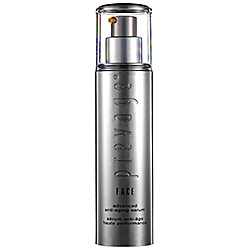 Prevage Review – Is it Worth It?
Prevage Overview
When a prestigious company like Elizabeth Arden produces a line of anti-aging skin care products, you have high expectations and so do we.  Prevage is the result of a collaboration between Elizabeth Arden and Allergan, the pharmaceutical company that brought us Botox and Tazorac.  Prevage is available in a medical grade cosmecuetical by prescription or commercially from Elizabeth Arden.  There are several products in the Prevage collection, including a face serum, a day cream, a night cream, a hydrating fluid, an anti aging serum for eyes, and an eye protection cream.  Elizabeth Arden bills the face serum as the first step in repairing the environmental damage to our skin so we will focus this review on that product.  As you may expect, the face serum is not inexpensive.  The question you have to ask yourself is if it is worth the hefty price tag.
Prevage – Its Ingredients and How it Works
The EA website has a special section for Prevage and a separate page for the face serum. There are glowing customer testimonials there and a list of the key ingredients. The clinical proof of effectiveness provided at the site is impressive, with 94% of participants reporting a significant improvement in the skin's appearance after using the face serum for four weeks.
The most praised ingredient in Prevage Face is Idebenone Ester, an antioxidant that boasts a near perfect Environmental Protection Factor (EPF) rating.  Although there is no explanation as to the origins of this ingredient, there is a quote from Dr. David H McDaniels, the director of the Institute of Anti-Aging Research that states "Idebenone is currently the most effective molecule for use in addressing the impact of oxidative stress on the skin."
The Idebenone is combined with several other antioxidants in the Prevage formula.  They are thiotane, bamboo isoflavones, lipochroman 6, and a green tea blend.  Prevage claims that this formula will dramatically improve damage to the skin from sun, smoke, and pollutants and protect the skin from future damage.  After 8 weeks of use your skin should be more radiant and fine lines and wrinkles should be significantly less visible.
Where to Buy Prevage
Prevage products are only availabe through a physician or from Elizabeth Arden.  You may order Prevage from the website or purchase it at cosmetic counters at fine department stores where you might be able to obtain some free samples.  All the products in the line are expensive.  The face serum costs $159 for 1.7 ounces.  The directions say to use the product day and night, rubbing just a pea-sized drop on to clean skin.  Naturally it is recommended that the face serum be used in conjunction with the other Prevage products, so you might have an idea of what it would cost to follow that suggestion.
Prevage Pros
Clinically proven effective
Glowing customer testimonials
Contains powerful antioxidants
Backed by Elizabeth Arden
Approved for all skin types
Prevage Cons
Expensive
Website fails to provide complete ingredients list
May cause strong allergic reactions in some users
Our Conclusions
With the evidence from clinical trials and positive customer reviews, it is impossible not to be impressed with the Prevage line.  It is disappointing that the full ingredients list is not disclosed and that there is not more information about the origin of Idebenone, Unfortunately, the price places Prevage out of the reach of many consumers. If you are willing to make the investment, however, this face serum could be worth the price.
Have You Tried Prevage?  Leave Your Review Below!
Click here to submit your review.
---
Proof
Prevage Review – Is it Worth It?
I have used Prevage sine Elizabeth Arden started carrying it. I work in a dept with they carried the big 3 cosmetic lines, and over the years have used product ftomvevery line. I am a firm believer in Prevage and have abandoned the other lines, when it comes to skin care. At 65, I have very few lines and wrinkles, and I credit Prevage for it all. I recommend it to anyone who compliments my skin, and will continue to use it for years the come. Prevage Lash has also made a noticeable improvement in my lashes!

---
Prevage works for me
Prevage Review – Is it Worth It?
I've used Prevage for about 10-15 years. I'm 63 in two days and people always ask me about my skin. If I tell them my age, they rave about how incredibly smooth my skin is. Perhaps it's magic in a bottle

---
Prevage
Prevage Review – Is it Worth It?
I have been using prevage for seven years. My daughter says I haven't aged. I've never had anything done to my face, and everyone always comments on how young I look and ask what cream do I use!

---
User Questions and Answers
User Questions and Answers
---
Q: What is best for lines and wrinkles. -Geraldine
A:
Hi Geraldine, my favorite cream for deeper lines and wrinkles is always Lifecell Anti-Aging Treatment! It's like having 7 products in 1, and works instantly to smooth the face, neck and chest. It works as a filler as well as fighting signs of aging long term. Thanks! Rachel
Was this question helpful to you?
1 out of 1 people found this question helpful.
---
Q: Does Prevage serum and day lotions contain silicone? -Tammy
A:
Hi Tammy, some of the high priced skin care we think is the best is the WORST. I just looked up the ingredients and yes it does contain silicone - Dimethicone is actually the 4th ingredient listed so there's a ton of it. It also contains TONS of Parabens (I counted 5 different ones), and added parfum/fragrance (which adds hundreds of unnecessary chemicals and aggravates the skin). My best advice is to avoid it.

Please take a look at my Beautycounter Top 10 list. You don't have to worry about toxics, silicones, Parabens, phthalates, added fragrance or anything like that, they have a never list of 1,500 ingredients they won't use and the skin care is fabulous. If you're looking for an anti aging serum, I would recommend the Rejuvenating Radiance Serum.

Their new Overnight Resurfacing Peel is also an awesome product (you would use 1-2x week). This has AHA's and would help resurface the skin and help the radiance serum work even better.

For an anti-aging moisturizer (you would use on top of the serum), I would recommend the Rejuvenating Night Cream, it's their strongest anti-aging product, lots of Vitamin C and hydrating ingredients.

If you have any questions, please feel free to email me directly at [email protected] - I'm happy to help! For the price you'd pay for the Elizabeth Arden serum ($132) you could have all three of those lovely products for $189 (or just pick and choose what you'd prefer of course). Thank you! xo Rachel
Was this question helpful to you?

---