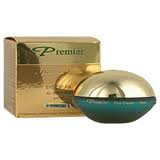 Premier Dead Sea Eye Cream Review – Worth It at Any Price?
Premier Dead Sea Eye Cream Overview
When the time comes to start looking for an eye cream, you have a lot of choices.  They can even sometimes be overwhelming.  What you need to do is determine the individual problems that you have with your skin, and look for products that offer solutions.  The main signs of aging that show around your eyes are usually wrinkles, lines, dark circles and puffiness.  Ideally, you'll find an eye cream that addresses all of these issues.
Premier Dead Sea Eye Cream claims to do just that.  It claims to use the best anti-aging ingredients to moisturize and hydrate the very delicate skin around the eyes.  It helps diminish dryness and fine lines, reduce puffiness, and lighten dark circles.
Premier Dead Sea Eye Cream Ingredients and How They Work
As you would expect from the name, Premier Dead Sea Eye Cream contains Dead Sea minerals for nourishing the skin.  These include sodium, magnesium, calcium, and potassium.  The Dead Sea water and mud is known for having higher concentrations of these minerals than any other body of water.
Also from the Dead Sea, they've added Dunaliella Seaweed for protein, glycerol, and beta-carotein.
Rounding out the formula are antioxidants like Vitamins A and E, and Liposome Complex for hydration.  And it's all combined together in a soothing and healing Aloe Vera base.
To use, gently massage the cream into the skin around the eye and up to the brow line, using soft circular movements with your ring finger.  They recommend you use your ring finger because, being the weakest finger, it applies the least amount of pressure.  Premier Dead Sea Eye Cream can be used twice a day, morning and night.
Review We Received About Premier Dead Sea Eye Cream
"The prices in the stores are 5 to 10 times higher.  Really. purchased in The Westchester in White Plains NY.  For instance on the company's online site (not salons and others that are selling their product) the new Gold line is list for $1000 for the whole package. I was charged $1000 for one part.
For another line that is less expensive I was charge $600 for each item.  Or $1800 for all three that are part of that kit. I was urged to purchase two. I was given one free.  The three sell for $325  on their site. This is price gouging and misrepresentation.  Fraud!
Do I like the products. Yes! But no one should go into any store.
Here is an quote when I email them about the extreme difference in prices. "About your complaint, note that the price of the item from the Gold Element set online varies from $750 to $900 per item. In the store, they are retailed a little higher ($1000 each). This is usual as the store prices in general are higher than the internet prices as the store offers better customer service and benefits than an online purchase. (Of course the costs of a store and the professional personnel who invested time to introducing you to the products and explaining to you how to use the products, these are part of the reasons why there is a price difference between an online purchase and store purchase)."
Now think if Apple charge 5 to 10 times the price of the I-Pad in the store and failed to mention that fact! It would mean the it would be priced at $5,000.  Now they sell you two and tell you that the third one is free. Yes, Premier does that. That's part of the practice."
Now awake!
Holly Crawford
Premier Dead Sea Eye Cream Pros and Cons
Advantages
It is fragrance-free so as not to irritate the delicate skin around the eyes.
It contains high end ingredients such as Dunaliella Seaweed and Dead Sea Minerals.
While it can be pricey, it's not hard to find it for much less than you would expect.
Premier Dead Sea Eye Cream reviews tend to be very positive on the product and its effectiveness.
Disadvantages
Premier Dead Sea Eye Cream is sold at mall kiosks where customers have complained of extremely high prices and high pressure sales tactics by less than ethical sellers.
There is no money back guarantee.
It comes in a pot which can be contaminated by use over time.
Where to Buy
One option, as mentioned previously, is to purchase Premier Dead Sea Eye Cream from a kiosk at many malls.  We would not recommend this, as there are many stories of people paying double or triple the prices they can find online.  That brings us to online prices.  The Dead Sea Premier website sells a 1.2 oz pot for $150.  But don't let that stop you.  It's also available from many other sites online for much less.  Do your research.  We found it for Amazon for $30.99.
Conclusion
While there seems to be some shadiness surrounding the company's sales practices, even the people who felt scammed because of the prices they paid agreed that it's a good product that does what it says.  So as long as you protect yourself by doing your research, finding the best price, and not buying from a mall kiosk, we think you'll like Premier Dead Sea Eye Cream.
Have You Used Premier Dead Sea Eye Cream?  Leave Your Review Below!
How Women Found This Review:
and aurora deep sea skin serum dr oz
Click here to submit your review.
---
Supreme Age Defying aka Dead Sea
Premier Dead Sea Eye Cream Review – Worth It at Any Price?
Bought a product at the kiosk in the mall. Worked fabulous when they put it on me. I get it home and I have zero results. No tingle or skin tightening like in the mall. I go to return it less than a day later and I'm told no returns after verbally being told it's 100% Money Back Guarentee. So now I have a $537 product that's garbage.

---
User Questions and Answers
User Questions and Answers
---
Q: The skin minerals serum and face and neck have burnt my skin servely is there anything I could be allergic to -Gill
A:
Gill, you could be allergic to the seaweed. I would stop using immediately and contact them to see if you can return it. ~Rachel
Was this question helpful to you?
1 out of 1 people found this question helpful.
---
Q: What do you know about Supreme. It is a skin care line supposedly from Israel and used Dead Sea Salt. They also say Dr. Oz speaks highly of these products. -Lori
A:
sounds like a skin care scam 100%. All those Dr. Oz creams are free trial scams. If you have an offer, be VERY careful to scroll down to the bottom and read the terms and conditions. They charge you full price after 14 days and it's impossible to cancel the auto ships.
Was this question helpful to you?

---
Q: Where can I find the premier supreme eye cream. I have not been able to find it on line anywhere. Was it discontinued? -Carma
A:
Carma, I see it on Amazon but I do not recommend buying skin care on Amazon, they have too many issues with heat/storage. I think they may have a website however. I think it's overpriced...
Was this question helpful to you?

---