LibidoMD Review – Does it Work?
LibidoMD Overview
Have you lost your desire to make love to your husband?  Do you feel like your sex drive has disappeared? If so, you are not alone.  At some point in their life, millions of women find themselves feeling differently than they used to, as though their zest for sexual pleasure is slipping away.   Hormonal imbalance, stress, depression, medications, or other catalysts may bring about the change.   Whatever the cause, there are safe, natural products available to help bring the passion back into your life.  LibidoMD is one of the female enhancement remedies available today.  Should you try it?
How LibidoMD Works and Its Ingredients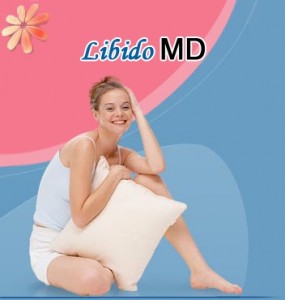 LibidoMD features a carefully formulated combination of herbal ingredients.  The official website informs us that it is a blend of L-Arginine HCL, Mucuna Pruriens L-Dopa, Damiana Leaf, Yohimbe Extract, and Epimedium Sagittatum Extract.  The instructions say you may choose to take 1-3 pills daily.  If you do decide to take more than 1 pill a day, it is recommended that you take the pills several hours apart and accompany it with a calcium or protein rich snack to increase absorption.  The instructions also warn not to exceed 3 pills in 24 hours.
The website tells us that you may begin to feel the effects of LibidoMD within a few hours, but the full effect may not be experienced for approximately a week.  After taking the supplement for several days, you should notice that your interest in sex is returning.  When you make love, you'll find that you are more passionate, that you enjoy the experience more, and that orgasms are more frequent and intense.
Many women also experience other health benefits.  They may find PMS or menopausal symptoms decrease, that they sleep better at night, and that their overall mood has brightened.
Pros and Cons of LibidoMD
Like most herbal products, LibidoMD has both positives and negatives.  Some of the positives about this female enhancement formula includes:
All-natural ingredients
One year money back guarantee
Secure Website
Delivers additional health benefits
Fast acting
Discreet packaging
The negative factors are:
No clinical trials reported
Few online reviews available
Contains Yohimbe
Where to Buy LibidoMD
You can order this product from the official website for $47.99 for 1 bottle that contains 90 pills.  Discounts are available with multiple bottle orders.  Because you select the number of pills you take each day, 1 bottle will last from 1-3 months.
Our Conclusions
LibidoMd manufacturers make some pretty promises and the formula does contain known sexual enhancement herbs.  Because it contains yohimbe, however, caution must be used.  The FDA has issued warnings that this ingredient may be unsafe for people with high blood pressure, irregular heartbeat or other heart conditions, kidney conditions, and other health problem.  It is not recommended for women who are pregnant or nursing or with certain psychological conditions.  Anyone with health issues should consult their physician before using LibidoMd.  That said, there is an excellent warranty and if you don't face any of the health issues mentioned, LibidoMD could help you begin to enjoy a healthy sex life once again.
Have You Tried LibidoMD?  Leave Your Review Below!
User Questions and Answers
User Questions and Answers
No Questions Have Been Answered For This Article.