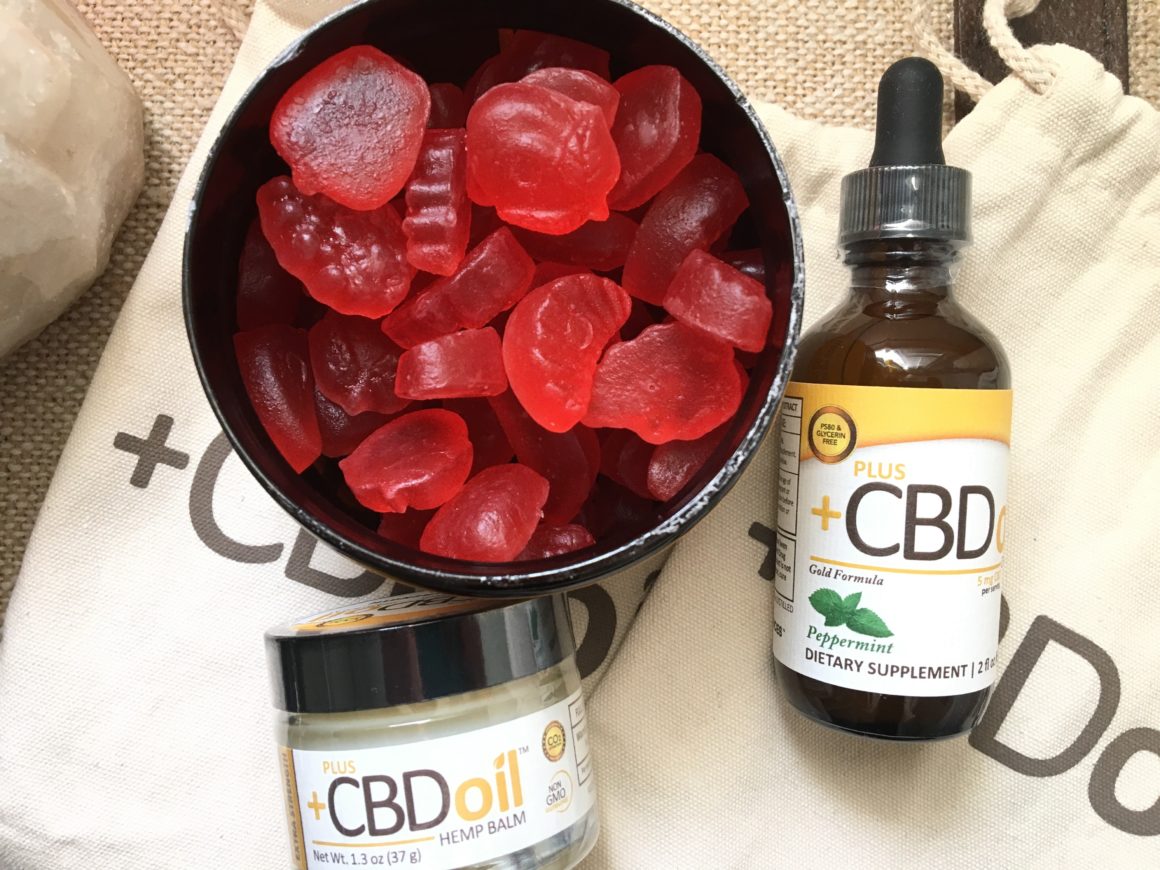 Plus CBD Oil Gummies Review – #OMG I LOVE the Cherry Mango!
This is a review, Visit the Plus CBD Oil website here (15% off and free shipping through Dec. 31st)
Are you new to researching CBD Oils? Or maybe you've tried some CBD Oil brands that you didn't like the taste of? Plus CBD Oil Gummies are a good alternative to CBD Oil drops and they taste just like candy!
I purchased the Plus CBD Oil Gummies Cherry Mango flavor and they contain 5 mg of CBD Oil (Cannabidiol) each serving, a great starting dose for most!
Please note: PlusCBD Oil™ by CV Sciences™ is their trademarked name, referred to as Plus CBD Oil for my review.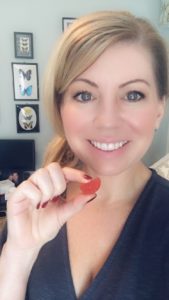 My CBD Use & Study
I have been supplementing with CBD Oil since for about four months now, and up until now have been happily taking the Zilis Ultracell brand.
For my blog, I did a study with not only myself, but 10 other random participants and reported the results we experienced. I encourage you to read my Zilis study. 
I love how CBD relaxes me at night and helps me wind down from the day and get ready for bed. I sleep like a baby and it works quickly to reduce aches and pains and anxious feelings.
Is Plus CBD Oil Legal?
Plus CBD Oil is an all natural, holistic remedy that can be used to treat many ailments and is non-addictive. CBD Oil is made from the hemp plant, which was legalized under the 2014 Farm Bill.
To be classified as hemp, there must be less than .3% of THC, which is why hemp oil is legal in all 50 states. So while the THC content is a negligible amount, there is a still a trace amount since it's in the plant naturally.
CBD can also be made from hemp's sister plant – the marijuana plant – which does contain the psychoactive THC component which is what makes you feel "high."
Many consumers enjoy CBD because it works effectively without making you feel this way and has a favorable safety profile. 
Not everyone wants to feel high. They want to feel chill with less pain, they want to relieve anxiety without altering their personality, and they want to sleep without feeling hungover the next day.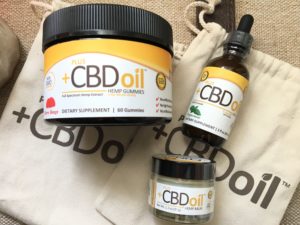 Plus CBD Oil – Why it's a Stand Out Brand
I'm excited to share this Plus CBD Oil Gummies review with you! Many hours of research led me to this brand.
I decided to try the Plus CBD Oil brand because it has all the qualities I learned to look for in a CBD product and more. The quality is there, the strength is there, and it has an affordable price point.
Plus CBD Oil products are full spectrum, meaning they use the whole hemp plant which gives an entourage effect.
The entourage effect phenomenon of a full spectrum hemp oil results when the numerous components within the cannabis plant interact with the human body to produce a stronger influence than any one component alone – a synergistic effect.
The hemp that Plus CBD Oil uses for all its products are organically grown and Non-GMO.
The method of oil extraction is performed by using a the preferred C02 extraction method – not using toxic solvents or high heat processes which can destroy the medicinal qualities of CBD.
The "more" part is that Plus CBD Oil is extremely transparent in their labeling, which I totally appreciate!
I had been doing what seemed like the freakin' Pythagorean theorem to try and determine how many mg of CBD are in these 6 other bottles sitting on my desk!
Consumers should not feel confused when shopping for a CBD – if you are, move on!
With Plus CBD Oils, you know exactly how many milligrams of CBD you're getting in each serving, and they also post all of their third party testing results on their website for strength, quality, and testing for heavy metals and toxins.
Plus CBD Oil Gummies Ingredients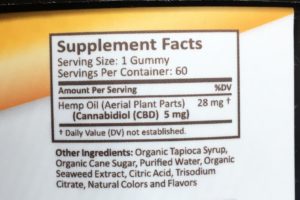 Plus CBD Oils contain:
No artificial flavoring or coloring
No high-fructose corn syrup
No artificial sweeteners
No gluten, dairy or soy
No preservatives
No gelatin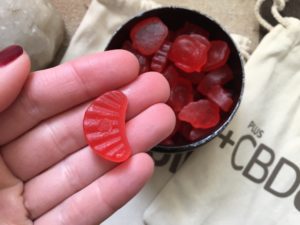 Plus CBD Oil Gummies Review – Cherry Mango Flavor
I purchased the Plus CBD Oil Gummies in cherry-mango flavor, the Plus CBD Oil in Peppermint flavor, and the Plus CBD Oil Hemp Balm in extra strength.
Today I'm going to focus on the Plus CBD Oil Gummies because that's what I've tried so far!
The Plus CBD Oil Gummies come in a sealed tub and I bought the 60 serving gummies at a price of $55. They also offer a 30 serving tub for $33. Not bad at all!!
The taste of the gummies is really, really good. Fruity flavors are my jam, and the cherry-mango did not disappoint.
Yes, you can sort of tell it's a hemp candy, but they are really yummy! Soft and sweet and easy to chew.
Plus CBD Oil Gummies also come in a Citrus Punch so there are two flavors to choose from. Unlike the Cherry-Mango, the Citrus Punch flavor is sugar coated, so if you want even more of a candy taste, maybe try that one!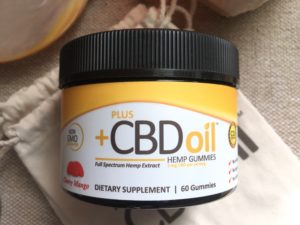 How I Feel on Plus CBD Oil Gummies
Each gummie contains 5 mg of CBD per serving so I had no hesitation popping a whole one my first try.
The Zilis brand I've been taking has about 4.5 mg per 1 ML drops serving so inline with the strength I'm used to.
Within about 15 minutes of taking the gummie I felt relaxed and melted into my favorite spot on the couch. I was exhausted from playing beach volleyball.
My body was aching all over, I'm 46 so all that flopping around in the sand, jumping and running makes every inch of my body sore. Sunday fundays are the best, but they wipe me out completely. I also have bad tendonitis in my right arm (aka tennis elbow).
The gummie worked great to help me feel much better! I was honestly ready for bed about an hour after I took it, and was falling asleep on the couch which I normally don't do. My body pains weren't as noticeable.
I fell asleep with no trouble at all within 3 minutes of my head hitting the pillow, and slept soundly through the night and woke up feeling rested. I've been taking them about a week now and really like them. I no longer need melatonin to get to sleep!
Plus CBD Oil Benefits
Many people are turning to CBD who seek to try a natural method for pain relief, to treat anxiety, reduce inflammation and to help with sleep – and those are the main reasons why I take it.
There are many promising studies with CBD oil helping to relieve seizure activity as well. In fact, having a sister with epilepsy is what fueled my desire to learn more about it.
CBD helps to restore homeostasis in the body and our bodies own endocannabinoid systems are hardwired to benefit from the nutrition it provides.
I am so impressed with the healing and anti-inflammatory benefits of CBD, I even use a CBD skincare combo of drops and a cream (a different brand made for skin care and not oral consumption), and it's shrunk my nose pores, good for wrinkles and even acne.
My Aunt, who's owned an herb shop in Orlando for 20 years told me this recently: "if you would have told me a year ago that little old ladies would be coming in month after month to spend $100 on CBD Oil, I would have laughed. The truth is, it's taking away their pain and it's keeping them off opiates."
That stuck with me, and it's encouraging that CBD is helping so many people in a natural, non-addicting way.
For my purposes today I wanted to give you my Plus CBD Oil Gummies review to let you know they taste amazing, and they are a great quality brand to try at a great price point!
I feel GREAT on the gummies and would happily recommend this brand. I'll post my reviews of the CBD Oil drops and the Hemp Balm once I try those!
*Plus CBD Oil ships internationally and provides free shipping on orders over $99. I received mine in under a week.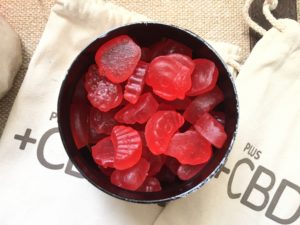 Disclaimer: These statements are my own and should not be misconstrued as medical advice. CBD supplements are not intended to treat, cure, mitigate, or ameliorate diseases or disease symptoms. If you are considering CBD for your health, please consult your physician.
How Women Found This Review:
and plus cbd oil gummies
User Questions and Answers
User Questions and Answers
---
Q: Will you fail a drug test on it? The clinic I go to has a paper posted up on the door that all CBD oils will be counted as a dirty screen -Timber
A:
Timber, to be classified as a hemp oil, the THC count has to be less than .3%. So you can't remove all of the THC in hemp since a little is naturally occurring but it's a negligible amount. I've read on plenty of boards that people do not fail drug tests using CBD. But if you are being required to take drug tests right now, maybe it's a risk you don't want to take. You could use an at home drug test to test yourself to test beforehand to be sure. I wish I could say with certainty you'd pass it, but I don't want to give you bad advice because there must be a random fail here and there for them to post this. It's such B.S. because it's legal! They should test for amounts in blood rather than pass/fail.  Good luck! Rachel
Was this question helpful to you?

---