Philosophy Deep Fill Fix Review – The Quick Fix?
What if you found a skincare product that made wrinkles instantly disappear giving you a smooth, airbrushed appearance and also improved the long-term condition of your skin, so you have fewer wrinkles in a year than you do now?
Would you throw away all the products collecting cobwebs under the bathroom sink?  Well, let's not talk crazy, but it sure would be nice, don't you think?
Philosophy Deep Fill Fix Instant Line Filler and Long-Term Wrinkle Smoother appears as though it may be on to something.  The claim is that it gives you the instant gratification of filling in and smoothing out lines as you brush it on while it supports natural collagen production to help improve your long-term wrinkle situation.
Reviews from actual customers are good and bad.  They almost universally say that Philosophy Deep Fill Fix works, but they also almost universally say that it runs out too quickly, especially considering the price.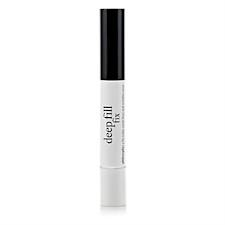 Philosophy Deep Fill Fix Ingredients and How They Work
The base of Philosophy Deep Fill Fix is silicone.  It fills in and smooths over wrinkles as you apply it by sweeping the brush along the lines.  The look of deep wrinkles is minimized while finer lines all but disappear.
This effect is, of course, temporary.  But it can be reapplied throughout the day to renew the results.
But the Philosophy Deep Fill Fix formula also contains a good amount of anti-aging ingredients that include Ceramides, Peptides, Antioxidants, and a particularly powerful anti-inflammatory.
So while you're touching up your wrinkles in the morning and throughout the day, you can feel good that you're also improving your future skin as well.
Philosophy Deep Fill Fix comes in a pen-like applicator.  When you twist the pen, the product fills up a small brush that you use to sweep in onto the lines you wish to fill.
You apply it after cleansing and before moisture and/or makeup.  It's fragrance-free and suitable for the skin around your eyes.
Philosophy Deep Fill Fix Pros and Cons
Advantages of Philosophy Deep Fill Fix
It addresses wrinkles in both the short and long terms.
The unique applicator allows for precise application.
Philosophy Deep Fill Fix reviews seem to indicate that it works.
Disadvantages of Philosophy Deep Fill Fix
There is only a very small amount in the container.
Most reviewers were disappointed in how quickly it runs out (within a week for many).
It's expensive for how long it lasts.
Where to Buy
There are lots of ways to get your hands on Philosophy Deep Fill Fix Instant Line Filler and Long-Term Wrinkle Smoother.  You'll find it at department and beauty stores.  QVC sells it.  And there are plenty of online retail sites, including the Philosophy website, where you can find it.  The .12 oz pen sells for $34 everywhere we looked.
Conclusion
As for the product, we think it serves its stated purpose for most women, and therefore we'd be happy to recommend it.  The problem is the applicator and/or the amount of product in it.
So many reviews mention either trouble getting the product out of the applicator or running out extremely quickly.  Both of which are frustrating problems.  Unless and until these issues are addressed, we can't recommend that you spend money on Philosophy Deep Fill Fix.
Have You Used Philosophy Deep Fill Fix?  Leave Your Review Below!
User Questions and Answers
User Questions and Answers
No Questions Have Been Answered For This Article.