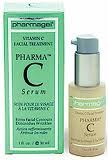 Pharmagel Review – The Best Remedy for Aging Skin?
Pharmagel Overview
Pharmagel was founded in 1987 on the principal that skin care works best when it's infused with vitamins and other nourishing ingredients.  Using pharmaceutical grade components, Pharmagel products are all designed to visibly prevent damage and repair aging skin.
Pharma-C Serum is one of their signature anti-aging products.  This concentrated serum claims to drastically reduce the appearance of wrinkles and fine lines while firming skin by encouraging the production of new collagen.  Collagen is what keeps young skin looking smooth, plump, and firm.  Age and environmental factors cause our skin to produce less and less collagen.  Vitamin C and some of the other active ingredients help stimulate the creation of more collagen.
Pharmagel Ingredients and How They Work
Made specifically to address the anti-aging issues of sensitive skin, Pharmagel Pharma-C Serum is made with the most stable form of Vitamin C, Magnesium Ascorbyl Phosphate.  In addition to encouraging more collagen production, Vitamin C is also a powerful antioxidant that helps stave off skin damage done by free radicals. Pharmagel also includes Hyaluronic Acid in the Pharma-C formula.  This is one of the best hydrators available today.  It effectively binds to water, making skin appear softer, more dewy, and well-moisturized.  Finally, Chamomile and Calendula Extracts calm, soothe, and nourish the skin, leaving it with a healthy glow.
These active ingredients are combined in a concentrated serum that uses a Zinc Yeast Derivative to help it penetrate deep into the layers of the skin.  You'll want to use the serum once a day, either in the morning or evening, under your moisturizer.
Pharmagel Pros and Cons
Like everything else, there are both good and bad points with Pharmagel.  You'll want to consider both before committing to a purchase.
The Good About Pharmagel
It's made with nourishing, pharmaceutical-grade ingredients.
It contains Vitamin C.
The company makes many healthy skin and hair care products.
It is available both online and at select retail stores and spas.
The Bad About Pharmagel
There is no money-back guarantee.
There are no free trials offered online.
While they talk about pharmaceutical-grade ingredients, no clinical tests are mentioned.
Where to Buy
While Pharmagel products are not available in many stores, they're not too terribly hard to find.  There's plenty of online availability, and the Pharmgel website has a store locator feature if you'd prefer to shop locally.  A 1 oz jar of Pharma-C Serum sells for $50 at the website, but you can get it from Amazon for $29, so it would be wise to look around.
Conclusion
Pharmagel Pharma-C Serum seems like a good product from a good company.  We like the use of Vitamins, especially Vitamin C, and we like their take on what goes into good skin care products.  The website is also very professional and informative.  The only reservation we have is the lack of buzz about the company and its products.  If it really performed, we think we'd have found more rave reviews from satisfied customers.  And without a guarantee, it's tough to recommend spending the money to give it a try.  If you're interested, maybe the best way to go would be to find Pharmagel at a local retailer willing to let you try out a sample.
Have You Used Pharmagel?  Leave Your Review Below!
Click here to submit your review.
---
Pharmagel Review – The Best Remedy for Aging Skin?
love these product like the fact it a natural product with collagen that we need to keep our skin healthy and young looking.

---
User Questions and Answers
User Questions and Answers
No Questions Have Been Answered For This Article.