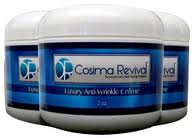 Cosima Revival Review – Is It Effective?
Cosima Revival Overview
Cosima Revival is an anti-aging skin care cream designed to fight signs of aging with the amino acid, L-Arginine.  When skin is young, it produces enough collagen to appear smooth, firm, and plump.  As we age, and our skin and bodies are assaulted by years of environmental damage, our skin's ability to produce collagen is weakened.  L-Arginine helps counter that by stimulating the release of Human Growth Hormone, which has proven to help counter the effects of aging on our skin.
Cosima Revival Ingredients and How They Work
Cosima Revival uses a few different ingredients to accomplish its task of providing healthy, younger-looking skin, without resorting to painful and expensive surgery.
L-Arginine works by stimulating the production HGH.  Human Growth Hormone is abundant when we are young.  As we age, we lose most of our HGH,and it is believed that this has a big effect on the appearance of aging.  L-Arginine helps your body replace some of its lost HGH.
L-Ornithine works on HGH production in much the same way as L-Arginine.
Vitamin B5 heals and nourishes skin helping to create a smooth canvas.
Vitamin B6 works as an anti-inflammatory to soothe irritated skin and improve the tone.
L-Glutamine stimulates the production of collagen.  Collagen is also abundant when we are young, and it makes skin firm, plump, and elastic.  L-Glutamine helps skin replenish lost collagen due to aging.
Cosima Revival is said to minimize stretch marks as well as fine lines and wrinkles.  You should apply affected areas once per day after cleansing.  You'll want to give it time to penetrate before applying other products or clothes.
Cosima Revival Pros and Cons
One good way to help decide whether or not a particular product is the right choice for you is to weigh the pros and cons you're likely to encounter.
Cosima Revival Advantages
It works on stretch marks as well as facial signs of aging.
There is a 30-day money-back guarantee.
Cosima Revival Disadvantages
The "free trial" signs you up for future monthly billing.
We found no independent Cosima Revival reviews from actual customers.
There is no clinical evidence that it works.
Cosima Revival is expensive.
Where to Buy
You can only buy Cosima Revival online, and it is primarily available through the "free trial" offer.  This is a fairly common practice for skincare available online.  You pay only shipping to receive your first jar.  But unless you cancel within 14 days, you will be billed over $89 monthly and you will continue to receive new product monthly until you cancel.  These offers are deceiving as the terms are often hidden in the small print, and they are notoriously difficult to get out of once you've inadvertently allowed them permission to bill you.
Conclusion
We very rarely recommend getting involved with products offered through these "not-so-free" trials.  Cosima Revival presents itself as the ultimate alternative to surgery and expensive spa treatments.  The claims are big, but the proof just isn't there to back them up.  As always, we suggest you find a solid wrinkle cream from a reputable company that doesn't need to use deceptive marketing to get customers to use their products.
Have You Used Cosima Revival?  Leave Your Review Below!
User Questions and Answers
User Questions and Answers
No Questions Have Been Answered For This Article.