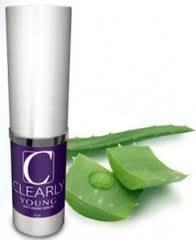 Clearly Young Wrinkle Cream Review – Does It Work?
Clearly Young Wrinkle Cream Overview
Clearly Young Wrinkle Cream claims to be an exciting new solution to prevent the premature signs of aging, such as lines, wrinkles, sagging skin, dark spots, and discoloration.  The secret is in the collagen.  Collagen is what makes young skin look young.  It provides firmness and elasticity.  Skin with plenty of collagen is resilient and remains wrinkle-free.  But as we age, our skin's ability to produce enough collagen diminishes.  So we need anti-aging skin care products to help.  According to the website, if you give Clearly Young Wrinkle Cream 30 days, it'll take 10 years off your face.
Clearly Young Wrinkle Cream Ingredients and How They Work
The official website explains that Clearly Young Wrinkle Cream works by increasing collagen production, but an actual ingredients list is nowhere to be found.  With a little sleuthing, we were able to piece together a few of the active components.
Alpha-Arbutin works by supporting collagen production within the skin.  As a result, you'll find your skin to be more firm, plump, and resilient – more like young skin.  It also helps diminish dark spots, another visible sign of aging.
Aloe Vera nourishes skin while making it softer, smoother, and more supple.
Hyaluronic Acid is a powerful moisturizer.  It attracts and binds to water so skin stays well-hydrated.
Sunflower Oil softens and lubricates skin, reducing the appearance of wrinkles.
You are instructed to apply Clearly Young Wrinkle Cream twice per day to clean skin.  Depending upon which section of the website you read, you should see results immediately, in a few days, or after 2 months of use.
Clearly Young Wrinkle Cream Pros and Cons
One of the best ways to ensure you're making a smart decision regarding almost anything is to list out the good and bad aspects together.
Clearly Young Wrinkle Cream Advantages
It contains anti-aging ingredients.
Clearly Young Wrinkle Cream Disadvantages
The website makes bold, unsubstantiated claims and frequently contradicts itself.
The only way to buy Clearly Young Wrinkle Cream is through a deceptive free-trial offer.
No ingredient list is provided.
We found no independent Clearly Young Wrinkle Cream reviews from customers who've used it.
Where to Buy Clearly Young Wrinkle Cream
The only way to buy Clearly Young Wrinkle Cream is through their online free-trial offer.  You initially pay only shipping and receive a 30-day supply.  If you're happy with the wrinkle cream and do nothing, you'll be charged over $99 and automatically be signed up for their auto-shipping program.  This means you'll receive more product and be charged about $75 each month until you cancel.  This a fairly common, yet somewhat deceptive marketing practice used for certain products sold exclusively online.
Conclusion
The market for anti-aging skin creams is large and growing.  As a result, more and more products are made available.  Some are quality, and some are simply not.  We've had the opportunity to research and try many of these products, and we've developed the ability to spot the phonies pretty quickly.  Clearly Young Wrinkle Cream has a slick website, but a little digging shows that it uses the same basic template as many others that have come before.  It uses the same diagrams and testimonials, and in at least one case, they didn't even change the text to reflect the actual active ingredient in this particular wrinkle cream.  Women with aging skin have many choices.  We recommend you go with something other than Clearly Young Wrinkle Cream.
Have You Used Clearly Young Wrinkle Cream?  Leave Your Review Below!
User Questions and Answers
User Questions and Answers
No Questions Have Been Answered For This Article.