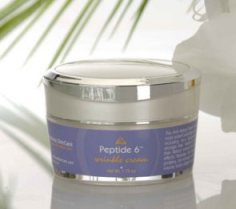 Peptide 6 Wrinkle Cream Review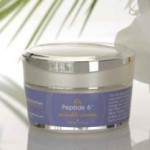 The wrinkle cream industry is huge, with consumers spending over $800 million annually to help turn back the hands of time.  Just when you think there couldn't be another product added to the market, we came across one called Peptide 6.  This anti wrinkle formula was developed by Mango Madness Skin Care, located in West Palm Beach, FL, and aims to target the high end market with an average retail price of around $58.  So does it really work?  Well, we decided to set out on a quest to learn as much as we could about this cream, and give you our honest feedback.
What is Peptide 6?
Almost all anti aging facial creams contain some sort of peptides, but Peptide 6 boasts 6 of them, plus moisturizers.  It is said to help reduce the appearance of wrinkles, as well as prevent future ones from forming.  It is also supposed to act as a very smooth moisturizer, and tightens and firms loose skin, as well as treat under eye wrinkles.
The ingredients are apparently what make this wrinkle cream so effective, and the fact that it contains Argiriline is a positive thing.  Most effective skin creams contain at a minimum these two ingredients, but Peptide 6 doesn't stop there.  It goes on to include 5 other peptides: Pentapeptide-3, Tripeptide, Acetyl Glutamyl Heptapeptide-1, Palmitoyl Oligopeptide, Palmitoyl Tetrapeptide-3.  It also contains Matrixyl 3000, which is an ingredient found in Resvibrant, among others.
User Reviews of Peptide 6
Since this product is fairly new and untested, there are very few reviews of it posted online.  On Amazon, there were only 2 reviews posted, and one of them said it was a piece of junk, while the other one raved about it.  If you have used Peptide 6, please be sure to leave your review below.
Where To Buy Peptide 6
Peptide 6 is only available in 2 places online, on Amazon and on their official site.  The official product site lists the price at $59, which is the same on Amazon.  The only benefit to purchasing on the official site is that you can receive $10 off your order if you buy a 1.75 oz container. If you purchase it on the Amazon site, you will automatically qualify for free shipping because your order is above $50.
Recommendation
There is too little known about this product to give it a good recommendation.  While it does contain very good ingredients such as Argiriline and Matrixyl 3000, without information from real customers, we simply don't know if it works or not.  That being said, it does show promise.
If you have Used Peptide 6, Please Leave Your Review Below!
User Questions and Answers
User Questions and Answers
No Questions Have Been Answered For This Article.