Nu Skin Galvanic Spa Reviews From Real Women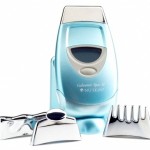 There is nothing more relaxing and better for your skin than a relaxing day at the spa, but this is a cost prohibitive and time prohibitive habit, to be sure.  Many products have offered consumers the promise of a spa experience at home, but most offer very little in the way of results.  The Galvanic Spa is a unique piece of machinery that makes the same promise, but offers a backing by medical science to show why it is designed to work.  The product certainly looks like something new and unique, which was enough to make us curious if it worked.
What Is It?
The Galvanic Spa is a unique device with three different heads.  It can provide a home spa treatment for your face, your scalp, and your body.  The galvanized current that pulses through the heads on the device gets rid of dead skin, smoothes and soothes away cellulite, and helps to get rid of unwanted wrinkles and lines by encouraging healthier skin and tissue development.  The product also works to get rid of impurities in the skin and muscle tissues through the use of this galvanized current.
User Reviews and Feedback
It is always important, no matter how good a product looks online or on paper, however, to find out what users of the product have to say.  There are lots of people who call the device their "favorite skin care product", and there are more than a few people who "can't live without" the device.  All in all, it seems like users are happy.  Many take great comfort in the device's ability to reduce pore size and to help reduce wrinkles, and it even seems that the product has gained high favor among people with thinning hair, as the scalp revitalization seems to offer great benefit in this area.  In total, it seems that users are absolutely satisfied, if not overjoyed, with this product.
"Nu Skin is like having a spa right in your own home, without the price tag.  I recommended it to my friends and they have all said they absolutely love it.  It feels very gentle on your skin, and is very easy to use.  I highly recommend it."
Joan, NJ
Where To Buy and Recommendation
At $325, the Galvanic Spa is certainly a big expense, but user reviews certainly make it out to be a very worthwhile product. It can be easily purchased from the Nu Spa website in white or black.
As to whether or not we recommend the Galvanic Spa, the answer is yes.  The science behind the product actually makes complete sense, and users across the nation have nothing but remarkable things to say about the product, making it a certain winner for people truly looking for an at-home spa experience.
User Questions and Answers
User Questions and Answers
No Questions Have Been Answered For This Article.