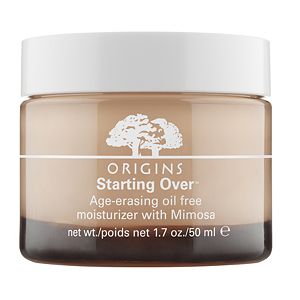 Origins Starting Over Review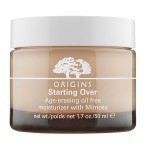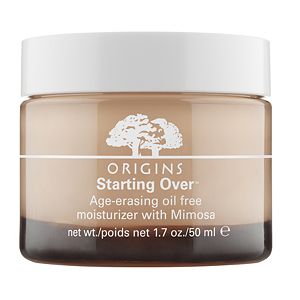 By now, anyone who has ever spent a fortune buying anti aging products knows that not everything on the market is created equal.  In fact, most of the stuff out there doesn't really do much of anything at all.  If you are looking for a great alternative to Botox injections, most people know to look outside of traditional stores, but few know just what ingredients to look for in order to get real results.  Origins Starting Over promises to be an age erasing moisturizer that can provide a significant wrinkle reduction in at least 94% of people.  We decided to take a deeper look.
How It Works, Ingredients, and Side Effects
We decided to take a look to see what was in this product.  Instead of the latest trendy ingredients, Starting Over is packed with botanicals that are actually fairly uncommon in the skin care world..  The key ingredient is a plant known as Mimosa tenuiflora, a plant that is native to Brazil.  The plant is a natural collagen stimulator, and research shows it to be a rather effective one at that.  Starting Over also includes argan leaf, which serves as an antioxidant as well as green algae and horse chestnut extract, which help boost collagen and remove dead skin cells, respectively.
Reviews From Women
The ingredients in Starting Over are great, but what do users think?  Surprisingly, virtually everyone who has used the product has offered a full five star rating, and the reviews are absolutely excellent.  In addition to numerous people who are thrilled that the product smells great and isn't sticky, the simple fact is that this product seems to offer excellent results.  Most comment on the strength of Starting Over as a moisturizer, and words such as "miraculous" are incredibly common in the reviews.
A Sample review we came across:
"I tried out origins starting over after a friend of mine used it for several weeks.  She had absolutely amazing results with it, so i decided to take here up on here recommendation.  While I didn't have the same results as some other women, all in all, it was a great cream that left my face feeling smooth and soft to the touch."
Linda, Utah
Recommendation
When asked if we would recommend Starting Over, the answer is a definitive yes.  While a bit pricier than most of the skin care products found in local pharmacies, it is actually less than most of the products at the high end department stores and is packed with ingredients that are backed by sound research and science.  Available from the Origins website for only $45.00 per 1.7 ounce jar, the price is actually considerably lower than many of the more effective products on the market, and with so many users claiming such incredible results, it seems to be a great fit for anyone looking for firmer, smoother skin.
User Questions and Answers
User Questions and Answers
No Questions Have Been Answered For This Article.