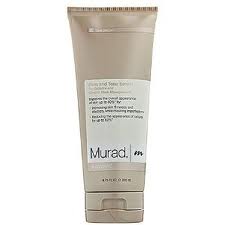 Murad Firm and Tone Serum Review – Is It Worth It?
Dr. Murad may have said it best. He said, "Cellulite is not a fat problem, it's a skin problem." People of all shapes and sizes, mostly women, have cellulite. While it is related to fat, it is not a problem exclusive to fat people. He urges you to "go beyond cellulite cream and use a cellulite solution with the power of science."
Murad Firm and Tone Serum helps firm and smooth the skin all over your body. According to independent clinical testing, it increases firmness and elasticity by up to 80% as determined by study participants after 8 weeks of use. It also claims to be able to mask imperfections including stretch marks and spider veins.
Murad Firm and Tone Serum Ingredients and How They Work
Murad Firm and Tone Serum attacks the appearance of cellulite on a number of different levels with:
Horse Chestnut Extract to stimulate circulation and strengthen blood vessels.
Retinol and Tocopherols to help rejuvenate and renew skin cells as well as protect them from oxidative damage.
L-Carnitine which helps to induce fat burning (thermogenesis) in the body.
Phospholipids to build up the cell membranes to increase the appearance of smoothness.
Caffeine which also helps with thermogenesis.
Cayenne Pepper to help increase circulation which helps minimize the appearance of spider veins, stretch marks, and dimples.
You should apply the gel-based formula to the affected areas twice a day after cleansing. Some women like to keep it in the refrigerator. The added cold helps firm and tighten the skin on contact. It is also recommended that you use the Firm and Tone Dietary Supplement Pack for Cellulite and Stretch Mark Management, and the Body Firming Cream in conjunction with this product.
Murad Firm and Tone Serum Pros and Cons
Advantages of Murad Firm and Tone Serum
It's made by a reputable company.
There are many favorable

Murad Firm and Tone Serum

reviews from customers who've been satisfied with their results.
Disadvantages of Murad Firm and Tone Serum
It is expensive.
Results are not permanent.
Many customers comment on the less than pleasant smell.
Best results may be achieved by using 2 additional expensive products at the same time.
Where to Buy
Murad Firm and Tone Serum is available through several different sources, both online and brick and mortar. The Murad website sells a 6.75 oz tube for $77. That's pretty consistent with the price you'd pay through other retailers as well. Currently, the Murad website is also offering a gift with purchase.
Conclusion
Cellulite is just plain hard to get rid of. Some women have had a measure of success with Murad Firm and Tone Serum. If you ignore the smell, the biggest complaint we have with this product is the price. If we knew it would work, it might be worth it, but the verdict just isn't conclusive. Some people really like it, and some say it does nothing. We'd hate to have you spend $77 on a product that does nothing. Our recommendation is that you keep your eyes open for a free sample opportunity. We know they're out there. That way, you can try Murad Firm and Tone Serum, and if it works, you'll feel more comfortable spending that kind of money.
Fight cellulite from the inside out! Read about our top fat burner supplement HCA Fit Garcinia Cambogia which works as a fat blocker and also suppresses appetite.
Have You Used Murad Firm and Tone Serum? Leave Your Review Below!
User Questions and Answers
User Questions and Answers
No Questions Have Been Answered For This Article.