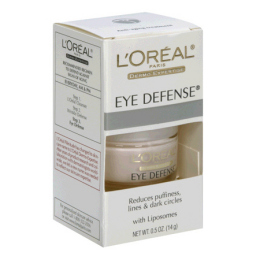 L'Oreal Eye Defense Review
L'Oreal Eye Defense Overview
The skin under the eyes is some of the most sensitive skin on the face, so it requires special care and protection to ensure that it maintains its youthful appearance for as long as possible.  Eye creams that help reduce the appearance of fine lines and wrinkles, as well as dark circles and puffiness are very useful in helping you to protect the sensitive skin under your eyes.  L'Oreal Eye defense is designed to work well for all  skin types in preventing the signs of aging and moisturizing the skin under the eyes to help it maintain its firmness and plumpness.  L'Oreal Paris has been producing cosmetics and skin care products for years, so it should be no surprise that they have a product on the market to help with under eye care, an issue for so many people.
How L'Oreal Eye Defense Works and Ingredients
To maintain healthy skin it is important that the skin be properly hydrated.  To accomplish this goal L'Oreal Eye Defense includes liposomes among the key ingredients. The liposomes allow the cream to penetrate deep into the skin to produce the most effective results.  They also help to restore damaged skin cells and protect the skin from future damage.  The L'Oreal website does not provide as much information as you would like to see with a product that is supposed to produce the kind of results it promises.  The reviews of Loreal Eye Defense all highlight the fact that the product is a very effective moisturizer though, so this is definitely a plus since restoring the moisture content to the skin is a key factor in any eye cream that is effective.
L'Oreal Eye Defense Pros and L'Oreal Eye Defense Cons
When a brand is as well known as L'Oreal Paris many people just assume that the product works well, and while this is true in most cases it is still a good ideal to take a look at the pros and cons of the product to make sure that it is the right product for your needs.  Here are some of the benefits of using L'Oreal Eye Defense:
The price is exceptionally reasonable at $14
The product can be purchased at a number of locations
The product is designed to be effective on all skin types
There is a money-back guarantee if the product does not work for you
Then there are also a couple of drawbacks that you should keep in mind:
Details on the ingredients in the product could not be found; bad for allergy sufferers
Reviews show that the product is not as effective for dark circles as it claims
Where To Buy L'Oreal Eye Defense
At the great price of $14 L'Oreal Eye Defense is closer than you think.  You can head to your local Walgreen's or CVS and pick up a jar, or if you choose to purchase it online from the L'Oreal website you can tack on about $5 to the purchase price for shipping and handling.  The 30 day money back guarantee is valid no matter where you purchase the product from and actually the return process seems fairly straightforward, though very few people return the product at this great price.
Conclusion
You will be hard pressed to find a more effective eye cream at this price point.  L'Oreal has enough faith in their product that they are willing to back it up with a 30 day money back guarantee; a guarantee that you be very unlikely to use.  If you do have sensitive skin and suffer from allergies you do well to visit your local CVS or Walgreen's to pick up a jar of L'Oreal Eye Defense so that you can check out the ingredients list and determine if there is anything that may cause a reaction.  It is hard to go wrong with a product this reasonably priced; by all means add it to your beauty bag if you haven't already done so.
Have you ever tried L'Oreal Eye Defense?  Leave your review below!
User Questions and Answers
User Questions and Answers
No Questions Have Been Answered For This Article.