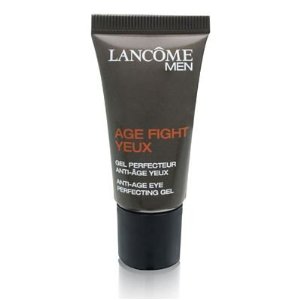 Lancome Age Fight Yeux Review
Lancome Age Fight Yeux Overview
For a long time men were left to fend for themselves when it came to skin care products.  Nothing was designed to help care for the unique skin care needs of men.  Things have come a long way since then and there are now a number of skin care products on the market that are specially formulated to help men combat the signs of aging in their skin as well.  Lancome Age fight Yeux is an eye cream designed to help diminish dark circles and puffiness around the eyes in men.  Lancome has been producing cosmetics and skin care product for decades, so it makes sense that they would move their expertise to the area of skin care products for men and take advantage of this growing market.
How Lancome Age Fight Yeux Works and Ingredients
Guys can fight the first signs of aging if they use the right skin care products.  Now most men may be a bit reluctant to use something besides good old soap and water on their skin, but it can make a big difference if a man is willing to invest in a quality skin care product and use it regularly.  Lancome Age Fight Yeux has a number of natural ingredients designed to help refresh and rejuvenate the skin.  Artemia extract strengthens the epidermis layer of the skin while Vitamin E is included to help refresh the skin.  Terminalia extract helps to drain blood from the eye tissue, which helps to eliminate and reduce the appearance of dark circles.
Lancome Age Fight Yeux Pros and Cons
Most men may not be exactly sure what they should be looking for in a skin care product, so outlining the pros and cons of a particular product in a good old-fashioned pros and cons list can be very useful in deciding if a product is worth the investment.  Here are some of the pros of Lancome Age Fight Yeux:
The product is reasonably priced at $30
The product has been tested and approved by ophthalmologists
The product website cites some results from clinical studies to show that the product does produce results
Then there are also a few drawbacks that you need to be aware of:
Most men are not used to spending any extra money on their skin care, so $28 may seem like a but much to them
The product needs to be applied twice a day, in the morning and the evening, to produce the best results
Where To Buy Lancome Age Fight Yeaux
The man who cares about his skin has the option of buying Lancome Age Fight Yeaux from a number of different locations.  He can head into a physical store like Bloomingdales or Nordstrom and pick up a tube of the product.  In fact, if the product is purchased at a physical store it usually comes with samples of other products from the Lancome Men product line, and depending on the season when you make the purchase there may be additional free gifts as well.  Then there is the option to purchase the product from the Lancome website.  This will make the price jump up to about $35, but it can also be purchased from Amazon for about $28.
Conclusion
Most men are surprised to find that putting a little extra effort into taking care of their skin makes a big difference.  If you are a man or if the man in your life has facial skin that could use some pampering then the Lancome Men line of skin care products is ideal as an introduction to anti-aging skin care for men.  Quite often once a man starts using skin care products he is hooked for life, so get addicted to quality with Lancome Age Fight Yeaux.
Have you tried Lancome Age Fight Yeaux?  Leave your review below!
User Questions and Answers
User Questions and Answers
No Questions Have Been Answered For This Article.