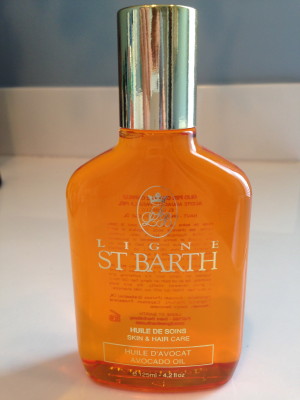 Ligne St. Barth Avocado Oil, Papaya Peeling Cream, and Pink Clay Mask Review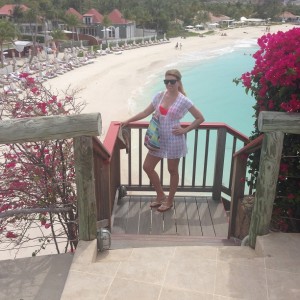 Hello! So I just got back from my honeymoon in St. Barth's (I know, I am feeling very spoiled at the moment), and I must say, the French sure know how to capture pure magic in their beauty products!
The resort where I stayed, Eden Rock, had the Ligne St. Barth's Avocado Oil in my room as a complimentary item and I immediately fell in love with it.
Of course after trying the Avocado Oil, I was eager for more products to try, so this prompted a trip to the Ligne St. Barth's store which was just a short drive down the road.
I was pleasantly surprised when I discovered that they formulate all of their products right there on the island within their storefront boutique.
I wish I could have afforded to try the entire line, but I did choose a few great products to try and wanted to share my experience with you.
The three I've chosen to review are the Ligne Avocado Oil, the Peeling Cream with Papaya (an exfoliator), and the Cream Mask with Pink Clay and Passionfruit.
If you ever travel to St. Barth's – you must stop by the Ligne St. Barth's boutique and treat yourself to a few of these heavenly delights!
Ligne St. Barth Avocado Oil
"Huile D'Avocat"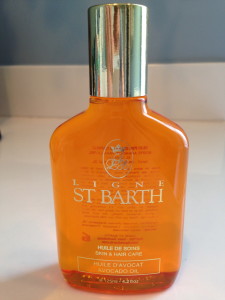 After my first full day of sun in St. Barths, I couldn't wait to try this seemingly glowing, orange avocado oil after my shower. The bottle says that it's "excellent care oil for dry skin, dry hair and very gentle for your babies hygiene."
While I was still damp, I slathered a small amount of the avocado oil all over my body and on my face, and feeling brave I even patted a tad bit underneath my eyes, and ran a little extra through the ends of my hair.
"Yummy" would be one way to describe how it made me feel from head to toe. I just patted dry, not wanting to remove too much of it so it could sink into my skin.
I wasn't sure how the avocado oil would settle into my skin, but it absorbed quickly and left no greasy residue behind, just soft, supple skin with a light fragrance slightly similar to that of baby oil but with a hint of vanilla, and not as slippery or greasy.
As for my hair, the comb glided through my hair with ease – no more tangles! I felt soft, and my hubby agreed and liked the smell of it.
Since I had forgotten to pack any type of hair smoothener, it worked perfectly to fight the frizzies caused by the humid Caribbean climate. I put a tad more in my hair before blowing it dry and was surprised at how well it worked –  it actually gave my hair body and vitality!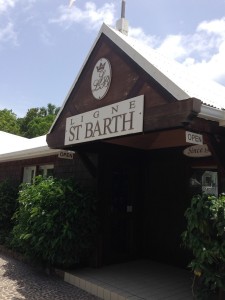 The Ligne St. Barth's Avocado Oil is truly an all-in-one beauty product and worked wonders on my skin, face, hair, and feet.  Head to toe French luxury!
Why is avocado oil good for your skin? As one of the world's "super fruits," avocado's benefits are well known. Avocado contains Omega 3 fatty acids,  along with Vitamins A, D & E which can provide deep moisture.
With it's thin consistency, avocado oil is able to penetrate into the skin well, but it's also thick enough to provide a protective barrier. With it's antioxidant properties, it can help sooth sunburned skin and also reduce itching and inflammation.
After having used it and experiencing no side effects, I can see why they claim that it's gentle enough for babies.
The Ligne St. Barth Avocado Oil is available on their official US website, and is available for shipping to the U.S. and Canada only.
The price is $42.00 for a 4.2 oz bottle plus a $30 delivery fee to the U.S., and  $40 to Canada. They waive delivery fee for orders over $200.
Amazon has a few very limited Ligne St. Barth products and the Avocado Oil was unfortunately not one of them.
Ligne St. Barth Peeling Cream With Papaya
"Crème Gommante A La Papaya"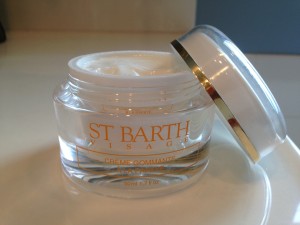 So after having happily using the avocado oil during my entire honeymoon, I decided to try the Peeling Cream with Papaya once I got home and loved the results.
After the honeymoon my face was not happy – multiple days in the sun and constantly applying sunscreen left my skin feeling clogged up and not nearly as refreshed as my skin was for my wedding day just two weeks before.
The friendly girl at the Ligne store recommended that I use the Peeling Cream with Papaya once per week as an exfoliant to remove the skin's impurities and explained that it works by removing dead cells to uncover fresh and new cell growth underneath.
I moistened my face and used the small spoon provided to scoop out a small amount and began the exfoliation process.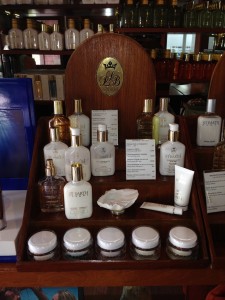 I worked it into my skin using a small circular motion all over my face and neck avoiding my eye area. It felt fabulous and has a refreshing and light, sweet smell of fresh papaya but not overwhelming at all on my sensitive skin.
The small, exfoliating jojoba wax pearls within the cream did their job well to exfoliate my skin and were not harsh at all.
It gave me the deep cleaning I needed to wash away all of the impurities that had built up over the past two weeks. I washed it off with warm water and a washcloth and immediately felt fresh faced – as fresh faced as all the beautiful French girls in St. Barths!
And trust me, they are everywhere down there, but they're all so sweet and friendly!
The enzymes and fruit acids in the papaya combined with Vitamin E help your skin to breathe again. You can also leave this product on for up to four minutes as an "enzyme exfoliator," which means that by allowing it to sit on your skin, the enzymes have the ability to detatch and digest dead protein, which is what rough/dead skin cells are.
I had no side effects from the papaya peeling cream, only the good result of a gentle but deep cleaning.
The Ligne St. Barth Peeling Cream with Papaya is available on their official website for $62.50 for a 1.7 oz container.
Ligne St. Barth Cream Mask with Pink Clay and Passionfruit
"Crème Masque A L'Argile Rose Et Fruit De La Passion"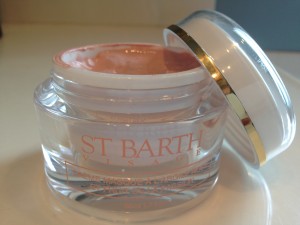 So now that my skin was exfoliated and prepped, I wanted to try the Cream Mask with Pink Clay and Passionfruit.
I was looking for that feeling you get after having a facial at a fancy spa – I wanted the full royal treatment for my post honeymoon skin de-gunking- I wanted my wedding skin back!
As soon as I opened the jar and saw the pink clay and smelled the fresh rosey scent, I knew this mask was going to be amazing. This product smells and feels like heaven in a jar!
This pink clay mask is rich in olio-elements (a potpourri of ingredients) , rich in minerals and works as an astringent and tonic for your skin.
It has absorbent qualities, which allows it to remove the deepest impurities while soothing the skin and increasing circulation. Remember, your skin needs to be able to breath to look and feel it's best!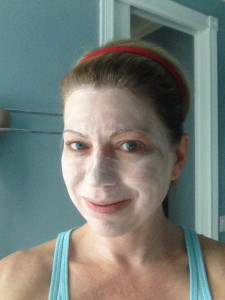 I scooped out a small amount and spread a thin layer over my face and neck. It felt like silk, very soothing and moisturizing and surprisingly very calming to my skin. I left it on for 20 minutes (the directions say to use it once per week and leave it on for 10-20 minutes).
Some clay masks seem to dry up and get hard on your face, leaving your face parched and sometimes red and blotchy, however this mask left my skin feeling moisturized, completely detoxified, soothed and de-stressed.
It was very refreshing and relaxing and felt wonderful on my sensitive skin. Goodbye clogged honeymoon pores!
All three of the Ligne products that I tried fell nothing short of pure French luxury – which is exactly what I expected from this product line.
I will happily use them until I run out and will use this as an excuse for perhaps another trip to the lovely and inviting island of St. Barths. Convincing my husband, on the other hand, will be a different story.
The Ligne St. Barth Cream Mask with Pink Clay and Passionfruit is available on their US website, and the cost is $69.00 for a 1.7 oz container.
As I mentioned above, these products are only available to ship to the U.S. and Canada with additional shipping fees unless your order is over $200.
The Ligne St. Barths official website can be found here: www.lignestbarths.com
Update – Back to St. Bart's and Back to the Ligne Store!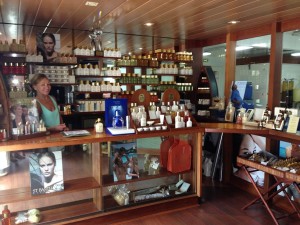 I went back to St. Barth's for our 1 year anniversary in May 2015 and stayed at Eden Rock again (there is no place better on earth!) I was so happy to find the Ligne St. Bart's Avocado Oil just waiting for me!
I took another trip back to the Ligne St. Barth's store and LOADED up this time! I wish I could remember the woman's name who helped me.
She was so sweet and spoke to me all about the products and how they're made, and gave me samples to try and to smell. It was so hard to pick….I seriously wanted one of everything!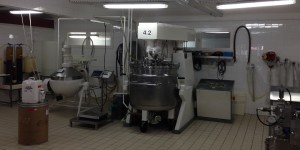 I took a picture through the window of the laboratory setting in which all of the formulas are mixed up and packaged.
It's a sterile environment so you can't go back there for a tour (I asked…lol).
I bought the Creme de Mangue moisturizer (the light mango scent is to die for), and more of ALL of the products I reviewed here, including two of the largest glass bottles they had of the Avocado Oil!
I also bought the Cleansing Milk face cleanser which leaves your face so supple and soft.  I know you can buy their products online, but there's something magical about being right there and just hand picking what you want. It's worth the splurge!
For my family at home, I bought a ton of their gift sets. They have small plastic bottles of everything, so you just pick and choose which ones you want, and they wrap them up in cute little gift bags. Most of mine included the Avocado Oil, Cleansing Milk, Toner, and Vanilla Body Moisturizer.
I can't even express how much I love all of these products, and St. Barth's – I can't wait to go back!
User Questions and Answers
User Questions and Answers
No Questions Have Been Answered For This Article.