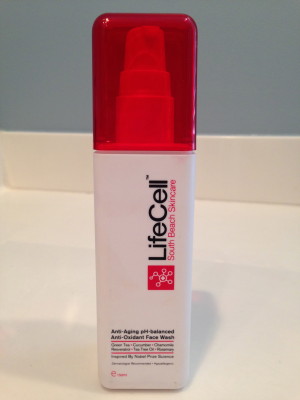 Lifecell pH Balanced Anti-Aging Cleanser Review
A good cleanser is a must in order create a perfectly balanced skin palette to apply moisturizer and make up to, and it also aids in the anti-aging process.
Cleansing serves a very important purpose – it sheds lifeless skin cells and clears out debris so that your skin can breath, paving the way for new skin cells to grow and flourish.
Leaving a layer of dead skin cells on your face and not washing away impurities leaves your skin looking dull and lifeless and who wants that? In order to let your natural glow shine through, and continually boost the anti-aging process, you must cleanse properly.
Lifecell ph Balanced Anti-Aging Cleanser
I was introduced to Lifecell's ph Balanced Anti-Aging Cleanser a little over a year ago when my Lifecell Anti-Aging Treatment VIP shipment came in the mail.
At the time, they had just rolled out the new face wash and provided it free for regular customers to try, and I have been using it every since!  It rinses away the impurities and leaves you feeling fresh-faced with perfectly balanced skin.
I absolutely look forward to washing my face in the morning with this face wash – it makes my skin feel supple and makes me feel perky!
How Does Lifecell ph Balanced Anti-Aging Cleanser Work?
Lifecell ph Balanced Anti-Aging Cleanser gently cleanses your skin of all impurities and makeup while being very careful not to strip your face of its natural oils.
It does a great job of maintaining the skin's natural ph balance while also providing anti-aging benefits.
South Beach Skincare has a reputation for formulating products by using only the best natural ingredients, and their face wash does not fall short. So how does it balance your skin?
A big part of the skin ph balancing act comes from an infusion of Green Tea and Cucumber, which both act as calming agents. Cucumber has a cooling factor, and contains vitamins A, C, and E, and works to reduce irritation and inflammation – which is why it's also great for Rosacea.
It also contains Chamomile Tea, Rosemary and Tea Tree oil which are all alcohol free astringents, helping to prevent blemishes by tightening pores and removing grease and impurities.
The added ingredient of Resveratol works as an anti-inflammatory and anti-oxidant to fight off harmful free-radicals which can destroy collagen production and cause wrinkles, and who wants that?
Click here to see my picture of the Lifecell ph Balanced Anti-Aging Cleanser ingredients
What Skin Type is Best Suited for Lifecell ph Balanced Anti-Aging Cleanser?
This product not only works well for problem skin such as Rosacea or acne prone skin, but it also works well for all skin types, because it's ph Balanced, making it absolutely wonderful for aging skin.
It's unique formula provides the perfect amount of hydration, deep cleansing properties, as well as calming and soothing agents for red or irritated skin.
As a personal note, I have combination skin so I'm prone to being shiny by the end of the day, and using this face wash has helped keep the oil to a minimum.
Since using this face wash, I've noticed an improvement in my skin tone, I've had fewer breakouts, the texture of my skin has improved, and it doesn't irritate or dry out the delicate area around my eyes.
I use this face wash morning and night to wash my face, neck and décolletage and love the results!
Lifecell ph Balanced Anti-Aging Cleanser Pro's & Con's
Pro's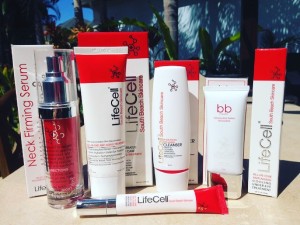 Hydrating
Deep Cleansing
PH Balanced and works well for all skin types
Calms redness and irritated skin
Good for Rosacea
Hypo-Allergenic and Dermatologist Recommended
Anti-Oxidant – protects your skin against free radicals (which causes wrinkles)
Tightens pores
Improves skin tone and texture
Brings out the benefits of your anti-aging treatments or moisturizers
PETA Friendly
Free by becoming a Lifecell VIP Member
Con's
Can't buy in department stores
You might fall in love with the product after one use
What Should I Use After the Cleanser?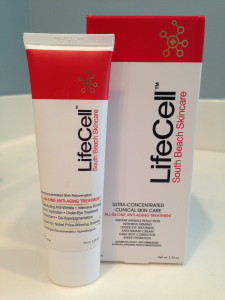 Lifecell ph Balanced Anti-Aging Cleanser does a superior job at creating a clean, balanced palette and prepares the skin for what should be the next step in your skin care regime: a moisturizer.
Pair Lifecell ph Balanced Anti-Aging Cleanser with Lifecell Anti-Aging Treatment for optimal results!
There is a reason that Lifecell Anti-Aging Treatment is my #1 recommended wrinkle cream. I've been using it for over two years and have had remarkable results.
It has drastically reduced the hyper-pigmentation along my jawline, reduced the appearance of fine lines and wrinkles, and improved my skin color and texture making me look and feel years younger.
It creates a perfectly smooth palette for makeup application and has long term anti-aging benefits that don't wash away when you cleanse your face.
Lifecell has been very effective  for me as a moisturizer, wrinkle reducer, and all around anti-aging treatment. It is THE #1 product in my arsenal that has made the most difference in my skin.
Does Lifecell Have an Eye Treatment?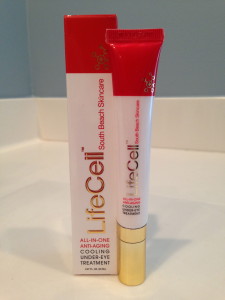 Yes! Lifecell announced their Cooling Under Eye Treatment the same time as the face wash, so I started using the eye treatment along with the face wash a little over  a year ago when I started receiving this product in their VIP Shipments.
The unique metal tip is perfectly contoured for your eye and gives you an instant cooling effect on tired, puffy eyes.
Not only does it cool off and de-puff tired eyes, it minimizes fine lines and wrinkles and restores the delicate skin around you eyes to perk you up. It also has the power to diminish dark under eye circles.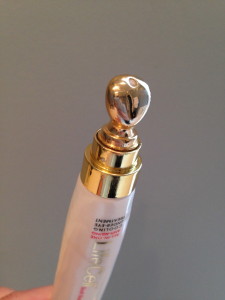 The ingredients in the eye treatment includes skin strengthening Vitamin C, Retinol, and DMAE.
Now if you've read my personal Lifecell Anti-Aging Treatment review, you would know what DMAE is and why it's a remarkable ingredient that you should look for in an anti-aging product.
DMAE (dimethylaminoethanol) is also known as "a facelift in a jar." This powerful substance is known to prevent aging, liver spots and loose and sagging skin. 
It's one of the most potent ingredients in Lifecell's Anti-Aging Treatment which creates that immediate tightening, almost botox effect on your face to lift everything up to give you the instant feeling of a facelift.
The infusion of DMAE within Lifecell's Cooling Under Eye Treatment is exactly how it lifts and firms the delicate skin around your eyes, creating a more youthful and perky appearance!
Read my full length personal review on Lifecell Cooling Under Eye Treatment if you'd like to learn more.

Recommendation
Read my review on Lifecell Anti-Aging Treatment to learn more about their VIP Membership. When you order the Lifecell Anti-Aging Treatment, you automatically become a VIP Member and with each shipment, you will not only receive Lifecell's Anti-Aging Treatment, but you'll also receive the Lifecell Cooling Under Eye Treatment, the pH Balanced Face Wash, SPF 30 Beauty Balm (tinted moisturizer), Firming Body Butter, Neck Firming Cream, and other South Beach Skin Care products – for FREE!  I absolutely love this arrangement. Every two months it's like Christmas!
Become a Lifecell VIP Member Now
Have you used Lifecell ph Balanced Anti-Aging Cleanser? Leave your questions and comments below!
User Questions and Answers
User Questions and Answers
---
Q: after using lifecell anti aging cleanser, Can i use also another whitening facial cleanser??? -michelle
A:
Michelle, I wouldn't use two cleansers in a row, you'll strip your face of its oils too much. If you want to lighten, just use the Lifecell cleanser and then use the Lifecell Anti-Aging Treatment on top of it. If you have another lightning serum, you could use that after you cleanse, and then put Lifecell on top of the serum. Don't over cleanse, it's not good for your skin. :)

Rachel~WomensBlogTalk.com
Was this question helpful to you?
1 out of 1 people found this question helpful.
---
Q: Just got my lifeself South Beach skin care anti-aging cleanser. It smells bad, like expired. Is it normal? -Svetlana
A:
Hi Svetlana, that is not normal. I've used the Lifecell cleanser a ton, and it always had a light, fresh (barely there) scent. Contact Lifecell here and I'm sure they will replace it for you. xo Rachel

Email: 

[email protected]


Tel: +1 954-606-5057 or 866.977.1412
Mon - Fri: 9am - 5pm EST
Was this question helpful to you?

---
Q: When using both Lifecell ph Balanced Anti-Aging Cleanser, and LifeCell Anti-Aging Treatment, should this be applied prior to After Shave Lotion or after? -John
A:
Hi John, good question. I would cleanse the face, apply your after shave, and then apply the Lifecell. That should feel good on your skin... especially if you're shaving first and you're use to using the after shave. Good luck! Rachel
Was this question helpful to you?

---