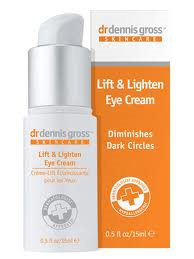 Lift & Lighten Eye Cream Review – Should You Try It?
Lift & Lighten Eye Cream Overview
Lift & Lighten Eye Cream is from Dr. Dennis Gross Skincare, and it claims to address every issue you could possibly think of when it comes to the fragile skin around your eyes.  Lines, wrinkles and crow's feet – no problem.  Dark circles – a thing of the past.  Bags and puffiness – never again.  Your skin will be hydrated, lifted, firmed, lightened, and brightened, and you'll never use another eye cream or serum again.
Dr. Dennis Gross Skincare is a line created by New York City dermatologist, Dr. Dennis Gross.  His mission is to allow access at home to products, treatments, and results that used to only be available through a dermatologist.  He got his start trying to find a way to reverse sun damage, and parlayed that into an impressive line of anti-aging skincare products.
Dr. Dennis Gross products are not cheap.  Lift & Lighten Eye Cream definitely promises to do it all.  So we took a closer look at the ingredients and the claims to see if this is something you should invest in.
Lift & Lighten Eye Cream Ingredients and How They Work
This product, as any eye cream worth its salt, serves several different purposes.  So it should have an ingredient list that reflects that:
Chelators soften tap water to remove calcium from the skin.  They neutralize the impurities left on the skin by tap water.
Arbutin and Chrysin help lighten dark circles by reducing leaky capillaries under the thin skin under the eye.
Genistein and Vitamins A, C, and E help prevent collagen breakdown and act as antioxidants to prevent free radical (environmental) damage.
Peptides helps firm and tone the skin by promoting new collagen growth.
Licorice Extracts soothes skin and acts as an anti-inflammatory to reduce puffiness.
Pearl Powder diffuses light to make dark circles temporarily less noticeable and to provide a smooth, natural looking finish.
Lift & Lighten Eye Cream comes in a pump and is almost more of a serum texture than a cream.  You should pat a few small dots into the under eye area morning and night for best results.
Lift & Lighten Eye Cream Pros and Cons
A quick comparison of the good and bad attributes of a product is a smart way to arrive at a sensible purchasing decision.
Advantages of Lift & Lighten Eye Cream
There are plenty of favorable

Lift & Lighten Eye Cream

reviews from customers who say it really does lighten dark circles.
It covers all the potential issues for skin under the eyes.
The pump dispenser keeps the product clean and the ingredients intact.
Disadvantages of Lift & Lighten Eye Cream
It's fairly expensive.
Several Lift & Lighten Eye Cream reviews mention that it has a very unpleasant smell.
Where to Buy
You can purchase Lift & Lighten Eye Cream online at the Dr. Dennis Gross Skincare website or one of several other online retailers.  The .5 ounce pump retails for $60.  We saw it for less at Amazon, but we're always a little leery of sending you there for skincare products because some customers have had bad experiences with used or counterfeit product.  Sephora carries Lift & Lighten Eye Cream also, if you'd prefer to see it with your own eyes before you buy.
Conclusion
We love that Lift & Lighten Eye Cream tackles all the eye problems.  And the majority of the reviews we've seen are favorable.  We're a little concerned about the talk of the unpleasant smell, but since smell is so subjective, we think you should head to Sephora to check for yourself.  You might even be able to take home a sample so you'll be sure of what you're getting before shelling out the $60.
Have You Used Lift & Lighten Eye Cream?  Leave Your Review Below!
User Questions and Answers
User Questions and Answers
No Questions Have Been Answered For This Article.