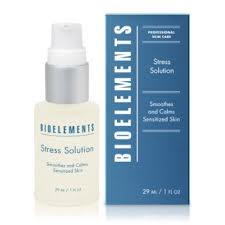 Bioelements Stress Solution Review – Does It Work?
Bioelements Stress Solution Overview
Stress relief for your skin!  What a great idea!  Lives are getting more and more stressful these days, and if you think that doesn't affect your skin, you're wrong.  And with all the aggressive skin care regimens we use today (think peels and scrubs) we need something to give skin a chance to step back and calm down. Bioelements Stress Solution claims to be just that thing.
Bioelements Stress Solution is a silky serum designed to protect skin against the irritation that occurs when you over-exfoliate, use harsh products, or just plain have sensitive or rosacea prone skin.  It calms and soothes immediately, and it also boosts your skin's future resistance to said irritants.  One thing you want to remember about irritation is that it ages your skin.  Red, inflamed, irritated skin is not healthy skin.  And it will cause you to age faster.  So if Bioelements Stress Solution does what it says, it could be worth looking into.
Bioelements Stress Solution Ingredients and How They Work
The Bioelements website very helpfully includes an explanation of how the key ingredients work to soothe and calm your skin:
It starts with skin softening agents, Cyclomethicone and Dimethicone Crosspolymer.  These provide hydration and that protective layer you need between you and environmental assault.
Next is Vitamin E which is an antioxidant as well as a nourishing agent for your skin.
Honeysuckle Flower Extract has a calming effect.
Green Tea is an antioxidant and strengthens skin.
Cornflower and Licorice Root calm skin.
Spearmint Oil cools skin down.
Bioelements Stress Solution should be applied each morning and night for sensitive skin.  If you only need it due to harsh treatments, you can use only when necessary.  According to Bioelements, if you use it once a day in the morning, the one ounce pump will last 2 and a half months.  You should apply it after cleansing and before moisturizing.
Bioelements Stress Solution Pros and Cons
Advantages of Bioelements Stress Solution
A little goes a long way.
There are plenty of positive Bioelements Stress Solution reviews from customers who find their skin calmer and less irritated.
The pump dispenser will keep the ingredients intact.
It's formulated for all skin types.
Disadvantages of Bioelements Stress Solution
Some reviewers complain that the pump dispenser doesn't allow you to use the product at the bottom of the bottle.
Oddly enough for a anti-irritation product, it contains spearmint oil, which can be irritating.
It's pretty expensive.
Where to Buy
You can purchase Bioelements Stress Solution online or in spas.  The 1 ounce pump retails for $50, though we've seen it for less online. Shop around, but make sure that you're dealing with a reputable retailer and you're getting authentic product.
Conclusion
If sensitive skin is a constant or recurring issue for you, Bioelements Stress Solution is probably worth giving a shot.  It works for lots of ladies with regular and intermittent redness.  If you use a spa that carries the brand, ask if you can try some Bioelements Stress Solution at your next visit.  If it helps calm your irritation, then you'll know you have a winner.
Have You Used Bioelements Stress Solution?  Leave Your Review Below!
User Questions and Answers
User Questions and Answers
No Questions Have Been Answered For This Article.