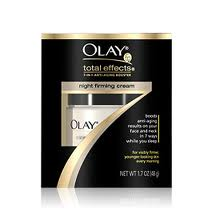 Olay Total Effects Night Firming Cream Review
Olay Total Effects Night Firming Cream Overview
When it comes to drugstore skin care products, Olay is one of the best known, most reputable brands.  They've developed their Total Effects line to be a 7-in-1 solution to provide seven anti-aging benefits in one cream.  With Total Effects, you can improve the look of fine lines and wrinkles, smooth skin's texture, even out skin tone, brighten dull skin, minimize pores, lighten age spots, and of course increase skin's moisture.  All of this with the intended result of more beautiful, younger looking skin.  Olay Total Effects Night Firming Cream is the nighttime product in this line.
Olay Total Effects Night Firming Cream Ingredients and How They Work
Olay Total Effects Night Firming Cream is non comedogenic, and has been tested by dermatologists.  The formula basically consists of 3 active ingredients:
Glycerin attracts moisture to the skin to help it appear more dewy and plump.  It may also improve the natural ability of the skin to protect itself against further damage.
Hydrolyzed Wheat Protein also provides nourishing moisture, but the primary benefit it provides is minimizing pores, giving your skin a smoother, more flawless appearance.
VitaNiacin is a blend of Vitamin E, Vitamin B5 and Vitamin B3 that works to smooth and exfoliate skin.  It has been studied and shown to moisturize, improve firmness, decrease redness, and minimize the appearance of wrinkles and lines.
Olay Total Effects Night Firming Cream comes in a tub, and can be used once or twice daily.  Simply apply gently with your fingertip, and smooth it into your entire face and neck area, making sure to keep it out of your eyes.  It can be used alone or worn under makeup.
Pros and Cons
The Good
Olay Total Effects Night Firming Cream is comparatively inexpensive.
It is widely available online and in stores.
Most customer reviews are quite positive.
People with acne-prone skin say they are able to use this product without breaking out.
The Bad
Several Olay Total Effects Night Firming Cream Reviews mention that the fragrance is strong, sometimes to the point of irritating.
This product doesn't contain many of the more powerful and well-known anti-aging ingredients, such as peptides.
Many people don't like to use creams from a tub because of the possibility of bacteria from your fingers contaminating the unused product.
Where to Buy
You don't have to search very far to find Olay Total Effects Night Firming Cream.  It's available in drugstores like CVS and Walgreens, and  big box stores like Walmart and Target.  It's also easily accessible if you prefer to go the online route which you will probably find to be less expensive.  Amazon carries it, and you can also go to the Olay website, and they'll give you a list of resellers to choose from.  Prices range from as low as $13 to as high as $28, so it's worth looking around for your best price.
Conclusion
For a cheaper alternative to department store brands, customers seem to be pretty happy with the results they've found with Olay Total Effects Night Firming Cream. It may not be the most cutting edge skin cream, but if you're looking for an inexpensive nightly moisturizer, this may just do the trick.
Have You Tried Olay Total Effects Night Firming Cream?  Leave Your Review Below!
User Questions and Answers
User Questions and Answers
No Questions Have Been Answered For This Article.