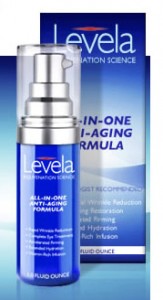 Levela All-in-One Anti-Aging Formula Review
Levela All-in-One Anti-Aging Formula Overview
Think about it.  Practically all women of a certain age want younger looking skin.  The number of women looking for the fountain of youth is staggering.  That's a huge market. It's no wonder that new skin care companies pop up all the time claiming to have found this or that miracle solution.  They know that if they make it, we'll try it. One such new product is Levela All-in-One Anti-Aging Formula.
Levela All-in-One Anti-Aging Formula claims that it will make you look 10 years younger in just days by:
dramatically reducing wrinkles and fine lines
smoothing and moisturizing the skin around the eyes
restoring skin firmness
maximizing hydration and elasticity
infusing skin with vitamins and antioxidants
reversing the damage of sun exposure
tightening and lifting facial tissue around the eyes, cheeks, and mouth
These are big claims.  Let's take a look at how Levela does it.
Levela All-in-One Anti-Aging Formula Ingredients and How They Work
Levela All-in-One Anti-Aging Formula says it uses some of the newest and most effective ingredients available in the skin care market today:
Deanol has been shown in clinical studies to increase skin firmness and improve facial muscle tone.
Methylsulfonyl Methane (MSM) has been shown to increase collagen production when used in high concentrations.
Alpha-Lipoic Acid is an antioxidant to help prevent glycation which leads to aging skin.
Hyaluronic Acid is a powerful hydrator that provides skin with a healthy environment within which to produce collagen.
Resveratrol helps boost collagen production and repairs damaged skin.
Co-Enzyme Q10 is an antioxidant that protects skin against free radical damage which causes premature aging of skin.
Vitamin E is both a moisturizer and protector of the skin.
Jojoba Oil minimizes lines, unclogs pores, and softens skin.
Levela All-in-One Anti-Aging Formula Pros and Cons
Many products make promises trying to impress consumers enough to buy.  Comparing the advantages and disadvantages can help you make the best decision in the end.
The Good
Levela All-in-One Anti-Aging Formula contains some potentially effective ingredients.
It intends to treat multiple signs of aging in one product.
A free trial is available.
The Bad
The website makes some pretty outrageous claims like, "Nearly Every Hollywood Celebrity Swears by the Benefits that Levela All-in-One Anti-Aging Formula Has to Offer!"
Levela's free trial offer is yet another example of a skin care marketer's attempt to to get you to unwittingly sign up for their autoship program.  Here's how it works.  You pay only shipping and handling to receive a "free trial."  If you do not cancel within 15 days of placing your order, you are are charged for the "free" product you received, and you are automatically enrolled in Levela's Auto-Ship program where they send you more product each month and charge you for it.
There are no independent

Levela All-in-One Anti-Aging Formula

reviews by people that have actually used the product.
There is no company information provided about the makers of Levela All-in-One Anti-Aging Formula.
Where to Buy
If you would like to try Levela All-in-One Anti-Aging Formula, you'll need to do so through their official website.  Once there, you'll have two options.  You can either sign up for the free trial, or you can buy a 3 month supply for a discounted price.  If you choose the free trial, you will be charged $4.79 for shipping.  Then, if you don't call and cancel within 15 days of your order (not delivery) date, you will be charged $89.95 for the "free" product and $79.95 each month thereafter for your monthly supply.
If you prefer, you can buy 3 bottles at once at the discounted price of $39.99 each.  This would be a one-time order and would not enroll you in the Auto-Ship program.
Conclusion
Levela All-in-One Anti-Aging Formula may or may not be an effective anti-aging solution.  The problem is that it is yet another product designed to take advantage of unsuspecting consumers by using a deceptive free trial offer to lure them into a monthly billing situation. The free trial gives you only 15 days to try the product starting on the day you place your order, not the day you receive your item.  If Levela is so good, let it stand on its merits, and not use shady, yet legal, marketing tactics to trick customers into repeat orders.  We generally don't recommend products with these kinds of free trial offers, and we don't make an exception for Levela All-in-One Anti-Aging Formula.
Have You Used Levela All-in-One Anti-Aging Formula?  Leave Your Review Below!
User Questions and Answers
User Questions and Answers
No Questions Have Been Answered For This Article.