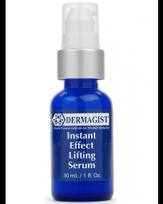 Dermagist Instant Effect Lifting Serum Review
Dermagist Instant Effect Lifting Serum Overview
Sometimes, you just want your wrinkles to go away now.  There are skin care products that can make that happen.  The problem is, many of them leave your skin feeling tight and uncomfortable.  Dermagist Instant Effect Lifting Serum is different.  It provides the instant lifting and smoothing action that you want, but it moisturizes your skin at the same time, leaving your face looking smooth and feeling great.  What's more, it provides nourishment so your skin is actually healing from the inside out.
Dermagist Instant Effect Lifting Serum Ingredients and How They Work
The immediate lifting and smoothing of Dermagist Instant Effect Lifting Serum is provided by Sesaflash, made from sesame seed extract.  In addition to the instant disappearance of lines, Sesaflash goes deep into the layers of the skin to provide moisture.  This has the dual effect of softening the skin to provide comfort now and prevent wrinkles later.
Instant Effect goes a step further toward lasting wrinkle defense with Matrixyl, also known as Palmitoyl Pentapeptide-3.  This is a peptide that goes deep into the layers of the skin to encourage the production of collagen.  Young skin is loaded with collagen to keep it firm, elastic and smooth.  As we age, we lose both collagen and the ability to replace it.  The Matrixyl in Dermagist Instant Effect Lifting Serum works to correct that problem by stimulating aging skin cells to produce more collagen.
Dermagist Instant Effect Lifting Serum can be used by itself for immediate and lasting wrinkle reduction, or it can be used as part of the Dermagist Complete Rejuvenation System to provide an all-inclusive anti-aging regimen.
Dermagist Instant Effect Lifting Serum Pros and Cons
You'll want to compare the advantages and disadvantages in order to make the most informed decision possible.
Advantages
Dermagist Instant Effect Lifting Serum contains two ingredients that have been shown to be effective at reducing lines and wrinkles.
It minimizes wrinkles both immediately and in the long term.
It can be bought individually or as part of a complete system.
Disadvantages
The website does not list all the ingredients.
Dermagist Instant Effect Lifting Serum is only available through the Dermagist website.
It's pretty expensive when you consider that you may also need an overall moisturizing cream as well.
Dermagist (previously known as Dermajuv) has received numerous complaints about not only the effectiveness of its products, but also about its customer service and refund policies.
Where to Buy
Dermagist products are only available through the official website.  If you choose to buy the Instant Lift on it's own, you can get 1 bottle for $78.99 or 2 for $109.98.  Alternatively,  Dermagist Instant Effect Lifting Serum is available as part of the Complete Rejuvenation System of three products for $129.99.  All Dermagist products come with a 30 day money back guarantee, but be aware that you'll be responsible to pay shipping charges as well as a $7 restocking fee for each bottle you return.
Conclusions
Dermagist Instant Effect Lifting Serum has a couple of ingredients that would seem to be effective at both instantly reducing the look of wrinkles and protecting skin from the future appearance of aging.  But with the numerous customer complaints about the company, we cannot enthusiastically recommend entering into a customer relationship with them.  Your anti-wrinkle options are almost endless.  You don't need to settle for less than a great product made and sold by a reputable and completely ethical company.
Have You Used Dermagist Instant Effect Lifting Serum?  Leave Your Review Below!
Click here to submit your review.
---
Horrible Company
Dermagist Instant Effect Lifting Serum Review
I purchased two bottles of the eye serum and when I received it, both my husband and I started to use it and saw absolutely NO RESULTS! When I contacted them to return it they would NOT give me my money back and told me that I could only get a store credit. I did not see this on their website as you have to look very close to the disclaimers to see that that is all they offer if you want to return their product. STAY AWAY! Now I have a credit with them and nothing to show for it. I would not go back and spend the credit because their product doesn't work.

---
Insrant lift
Dermagist Instant Effect Lifting Serum Review
It does not work. They do NOT give money back...only offer a credit. Dont waste your time or money

---
does not work
Dermagist Instant Effect Lifting Serum Review
dermagist is a wasted $100 for 2 bottles not only is it sticky and tacky it DOES NOT WORK AT ALL It lays on top of the skin and never absorbs and shows no signs of tightening or lifting DO NOT BUY

---
User Questions and Answers
User Questions and Answers
---
Q: What is a good face lifting serum to use...not dermagist. -Carole
A:
Hi Carole, have you tried Meaningful Beauty? They have a lifting a firming serum in the kit that is awesome. I'm not sure if you can buy it separately though.... but it's reasonably priced for a set of 5, plus 2 free items. They all leave a very velvety feel and leave you skin soft. I love the texture of the lifting and firming serum! You can read my full review of Cindy Crawford's Meaningful Beauty here. Thank you! Rachel
Was this question helpful to you?

---