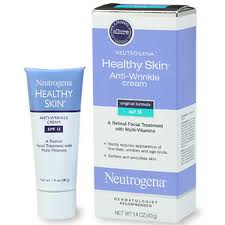 Neutrogena Healthy Skin Anti-Wrinkle Review
Neutrogena Healthy Skin Anti-Wrinkle Overview
There are anti-aging creams to fit every budget.  Some people find more success with the more expensive brands, but not everyone can afford those.  Fortunately, there are some reputable companies that offer more affordable solutions.  Neutrogena is one of those brands.  They make their dermatologist tested skin care products available through drugstores and online, with the hope that beautiful, wrinkle-free skin can be attained by almost anyone.
Neutrogena Healthy Skin Anti-Wrinkle Cream claims to be the #1 Retinol cream recommended by dermatologists.  They say it is clinically proven to treat and help prevent fine lines, wrinkles, and other signs of aging.
Neutrogena Healthy Skin Anti-Wrinkle Ingredients and How They Work
The most important ingredient in this anti-aging product is Retinol.  Retinol is Vitamin A in its purest form.  It penetrates into the skin to promote the production of collagen, which is what keeps skin firm and plump.  It also encourages cell rejuvenation, so new skin is constantly replacing the old dead surface skin cells.
Then they've added lightweight, non-greasy moisturizers for hydration, and Vitamins B5 and E for nourishment.  These work with skin's natural mechanisms to increase moisture and even out skin tone.
Finally, Neutrogena Healthy Skin Anti-Wrinkle Cream contains SPF 15 sunscreen.  This is extremely important for products containing Retinol because Retinol is known to increase skin's sensitivity to the sun's rays.
Neutrogena Healthy Skin Anti-Wrinkle Pros and Cons
It's always helpful to make a list of positive and negative aspects before decided to purchase a product.
Advantages
Neutrogena Healthy Skin Anti-Wrinkle Cream is oil-free.
It is non-comedogenic so it won't clog pores.
It is fragrance-free and hypoallergenic.
It's recommended by dermatologists.
It is inexpensive.
Most reviewers are positive on this product and say they like the non-irritating, fast absorbing formula, and they've seen improvements in the look and feel of their skin.
Disadvantages
A few Neutrogena Healthy Skin Anti-Wrinkle reviews mention that it goes on feeling greasy and doesn't do a thing for their wrinkles.
Where to Buy
Neutrogena Healthy Skin Anti-Wrinkle is available in drugstores like CVS and Rite Aid, megastores like Walmart and Target, and online through several retailers.  The prices vary from $10 to $20 with the most common price at $12.99.  This is for a 1.4 oz tube which should last at least a month with daily use.
Conclusion
Everyone wants to get rid of wrinkles and have softer, younger-looking skin.  But not everyone can afford the high end boutique brands available at department stores, spas, and salons.  That's why it's nice to find a product like Neutrogena Healthy Skin Anti-Wrinkle.  It comes in at a very reasonable price point, and at the same time, it's given many women the results they were looking for.  While nothing works for everyone, this one is dermatologist tested and hypoallergenic, so the risk of irritation is low.  If you're looking for a less expensive way to soften lines and improve the look of your skin, we recommend giving this one a try.
Have You Used Neutrogena Healthy Skin Anti-Wrinkle?  Leave Your Review Below!
User Questions and Answers
User Questions and Answers
No Questions Have Been Answered For This Article.