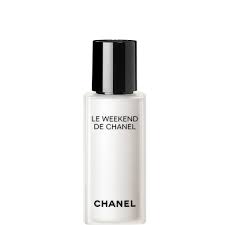 Le Weekend De Chanel Review
Le Weekend De Chanel Overview
Chanel has come out with a mini line of three products that are meant to be used together as a trio. You don't have to use them together, of course, but Chanel would most definitely prefer that you do. All with the De Chanel ending, they are called Le Jour, La Nuit, and Le Weekend. They say the trio "resynchronizes" your skin so it is balanced, hydrated, fresh, and rejuvenated just as it should be. We've decided to take the three products separately, and the one we're checking into today is called Le Weekend De Chanel.
As the name implies, Le Weekend De Chanel is meant to be used just on the weekends. You can use it any 2 days you want, of course, but the weekend was the obvious choice for indicating that this is not a daily use product. Its main goal is exfoliation, so your skin is fresh and ready for the week ahead.
Le Weekend De Chanel Ingredients and How They Work
As an exfoliation product, the primary ingredient in focus is Glycolic Acid at 6%. This is a good, effective concentration that's not too harsh, so you should get the exfoliation you're looking for, without any irritation. Other ingredients to note are:
Glycerin for soothing, non-irritating hydration.
L-Arginine to stimulate blood flow for fresher, more nourished looking skin.
Rose Water to calm and soothe irritation.
Vitamin E to protect against free radical damage.
Salicylic Acid to provide deep pore exfoliation.
Instructions are to apply both morning and night to your face and neck on the 2 days of the weekend. You should avoid your eye area, and use Le Weekend De Chanel in place of your daily skincare products. It is highly recommended that you use a good sunscreen product when you use this, as exfoliation makes your skin more sensitive to the sun.
Le Weekend De Chanel Pros and Cons
Advantages of Le Weekend De Chanel
It's got a good concentration of glycolic acid which makes it both effective and gentle.
Most of the Le Weekend De Chanel reviews I've seen are favorable, mainly commenting on how smooth and fresh skin looks on Monday.
It's available in department stores which means you might be able to get a sample.
Disadvantages of Le Weekend De Chanel
It's expensive.
It contains a fair amount of alcohol.
Where to Buy
You can purchase Le Weekend De Chanel at Chanel counters in your favorite high end department stores. The price of the individual Le Weekend is $115 for a 1.7 ounce bottle.
Conclusion
If you've got the resources, Le Weekend De Chanel and its De Chanel counterparts may be a great routine for soft, smooth, young-looking skin.
Have You Used Le Weekend De Chanel? Leave Your Review Below!
User Questions and Answers
User Questions and Answers
No Questions Have Been Answered For This Article.