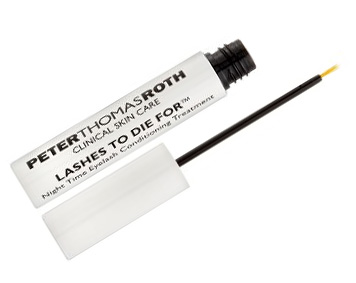 Peter Thomas Roth Lashes To Die For Review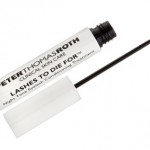 With its hard to ignore name, Peter Thomas Roth Lashes to Die For was clearly a product that would grab anyone's attention. We decided to investigate it for ourselves in order to see if it did indeed live up to that entertaining name. We immediately discovered that it is one of the eyelash enhancement products that is actually equal parts conditioner and growth agent, but we still needed to learn more.
How Lashes To Die For Works and Ingredients
Applied like a liquid eyeliner along the upper and lower eyelids, the Peter Thomas Roth Lashes to Die For product (from Peter Thomas Roth Clinical Skin Care) is both ophthalmologist and dermatologist-tested and approved. It indicates that it works for eyebrows just as much as it does for eyelashes and that it is free of irritants and such problematic materials as parabens and prostaglandins. The ingredients listing including Actiglide, vitamins A, C and E and Pro Vitamin B and a proprietary compound known as PTR Lash Complex, which claims to work at the roots to enhance growth and health. It is, however, not a permanent "fix," and is one of the many formulas that must be used continually in order to maintain optimal results and growth.
User Reviews
We were a bit thrown off by the variety of responses and opinions that we found for this product. While most of the professional and consumer feedback indicated that the formula was reliable, there were also some complaints about its interference with makeup, its mild irritation, and that several people dealt with dry eyes after use.
A sample review of Peter Thomas Roth Lashes to Die For we found:
"This goes on easily and I did see results after three weeks, but it claims to be irritant free and I still had some itchiness the first days I was using it."
Tracy, MN
Where to Buy
Peter Thomas Roth Lashes to Die For is available through the manufacturer's website and in many reliable online venues. It was priced from $150 to $50 depending upon the venue selected. We discovered that the manufacturer is offering the best deal with a $50 price and a guarantee.
Recommendation
We don't recommend Peter Thomas Roth Lashes to Die For simply because there is a bit too much conflicting information available. It claims to be irritant free and yet too many consumers noted irritation. Its pricing varies too widely to know if it is a product that will be around for a long time, and it just doesn't seem to do all that it claims.
Have You Used Lashes To Die For?  Please Leave Your Review Below!
User Questions and Answers
User Questions and Answers
No Questions Have Been Answered For This Article.