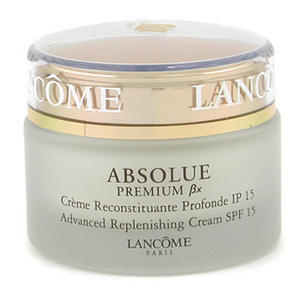 Lancome Absolue Eye Premium BX Review
Lancome Absolue Eye Premium BX Overview
If you have dull skin around your eyes it can take away from how much putting makeup on adds to your overall appearance.  The best thing to do to solve this problem is to invest in a good under eye moisturizer that also restores luminosity to the skin.  Lancome Absolue Eye Premium BX is designed specifically to add extra moisture to the dehydrated area under the skin.  Lancome Laboratories produce a multitude of beauty products designed to help combat all kinds of signs of aging, as well as helping to improve overall skin health.  Lancome uses patented ingredients to help penetrate deep beneath the skin to the root of the problem and restore your skin to its youthful appearance.
How Lancome Absolue Eye Premium BX Works and Ingredients
This particular product has significantly more patented ingredients than you would find in a typical eye cream.  Pro-Xylane is one of these ingredients and it is so special because it helps allow the moisturizer to penetrate deep into the skin.  At the same time it also helps to improve skin firmness and brightness.  The Bio-Network ingredient included in Lancome Absolue Eye Premium BX is also patented and made up of several natural ingredients including wild yam, sea algae, barley, and soy extracts.  This Bio-Network helps to exhibit the enzyme that breaks down the collagen that the body naturally produces.  These patented ingredients work together with the natural moisturizers in this eye cream to effectively improve the appearance of the sensitive skin under the eyes.
Lancome Absolue Eye Premium BX Pros and Cons
It is safe to assume that a product with this many patented ingredients should be quite effective, but it is always necessary with any beauty product to examine the pros and cons.  What may be a priority as far as the benefits of the product for one individual may not be as important to the next person.  These are the main benefits of Lancome Absolue Eye Premium BX:
Lancome offers a number of free sample products, as well as free shipping if you order the product from the company website
A large number of patented ingredients to help improve the effectiveness of the product
The product has been tested and approved by dermatologists and ophthalmologists
You should also be aware of these drawbacks:
The product is expensive at right around the $78 price point
There are no clinical studies cited directly on the company's website
For those with very sensitive skin the patented ingredients may cause skin irritation
Where To Buy Lancome Absolue Premium BX
Lancome beauty products are sold in a number of different locations, which means there is a purchasing option for every kind of shopper.  If you like to purchase your beauty products in physical stores so that you can try free sample and talk to representatives than you can head to your local fine retailers like Norstrom, Neiman-Marcus, or Macy's to pick up a sample and a jar.  If you prefer to shop online you can of course go to the Lancome website to purchase this product.  Lancome Absolue Premium BX can also be purchased on amazon for about $60, which is a significant savings.
Conclusion
In most cases you do well to stick with a product produced by a company that has been the cosmetics and beauty business for a long time.  Lancome Absolue Premium BX is no exception to that rule.  Lancome has been producing high quality beauty products for decades and if you have the room in your beauty budget to invest in this eye cream you definitely should.  For those who still want to try Lancome, but do not have $70 to spend on one eye cream, a visit to the Lancome counter at you local fine retailer may garner you a much better deal on a Lancome product than you think.
Have you tried Lancome Absolue Premium BX?  Leave your review below!
User Questions and Answers
User Questions and Answers
No Questions Have Been Answered For This Article.