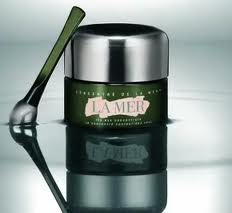 La Mer The Eye Concentrate Review – Worth It?
La Mer The Eye Concentrate Overview
Let's face it.  For most of us, La Mer skincare is either out of reach completely or at the very least a major splurge.  Developed by Dr. Max Huber, a physicist, half a century ago, the famed Miracle Broth is the cornerstone of this very pricy line. Viewing the ocean, and more particularly sea kelp, as a miraculous resource for the nourishment needed to restore youth and beauty to the skin, Dr. Huber and his successors have created top of the line products for very discerning customers.
La Mer The Eye Concentrate is an award winning eye cream that's been known to dramatically reduce the look of dark circles, smooth and tone the skin, thereby minimizing fine lines and wrinkles.  The silver-tipped applicator goes on smooth and cool, soothing and waking up tired eyes and reducing puffiness.  Judging by the customer reviews we found, La Mer The Eye Concentrate may actually be all its cracked up to be, and maybe we'd all better start saving our pennies for this big skincare splurge.
La Mer The Eye Concentrate Ingredients and How They Work
The La Mer The Eye Concentrate formula is built upon a triple concentration of Miracle Broth, which is a precisely formulated blend of ingredients like Eucalyptus, Alfalfa, Sunflower, and of course Dr. Huber's precious Sea Kelp.
In addition to Miracle Broth, La Mer The Eye Concentrate has another unique ingredient.  It's Brazilian Malachite which gives skin the energy to renew itself, thereby reducing the appearance of dark circles.
Then of course there are a host of skin identicals, cell-communicating ingredients, hydrators, antioxidants, peptides, and minerals to round out this all-around healthy skin formula.
One of the special things about La Mer The Eye Concentrate is the silver-tipped applicator.  It remains cool, and feels like a spa treatment every time you use it to apply the cream. The real purpose however, is to get your circulation going to reduce puffiness and dark circles.
La Mer The Eye Concentrate Pros and Cons
Advantages of La Mer The Eye Concentrate
Disadvantages of La Mer The Eye Concentrate
It is very expensive.
Some La Mer The Eye Concentrate reviews show disappointed customers who expected more from such an expensive cream.
The jar packaging invites bacteria and the accelerated breakdown of active ingredients.
Where to Buy
La Mer The Eye Concentrate is available at several high-end department store beauty counters.  The benefit of going this route is that you get to try the tester so you have at least some idea of consistency and feel before you leap into a purchase.  You may even be able to score a sample to take home. Online, you can get it through the same stores or at the Creme de la Mer website.  The ½ oz jar will run you just about $200, sometimes a little over, sometimes a little under.
Conclusion
As skincare aficionados (okay skincare junkies) we think it's always a good idea to try some of the expensive stuff if you ever get the chance.  It's a good way to see what's out there, and in a lot of cases, it can reassure you that you're not actually missing much by selectively choosing from your less expensive options.  So, if you've got some extra cash, or even better, if you can find your way to a sample, we recommend La Mer The Eye Concentrate as something to try.  Just make sure to use the applicator and keep the jar closed tightly so the active ingredients will stay active as long as you need them to.
Have You Used La Mer The Eye Concentrate?  Leave Your Review Below!
User Questions and Answers
User Questions and Answers
---
Q: I have been looking for an excellent eye cream/serum. I have dark circles, some lines and sometimes puffiness. I have bought serums from a dermatologists office/medical anesticians office (Citrix and glycolix elite eye serum. Still not convienced. Do you have any suggestions? Thank you. Have a great day Rachel -Donna
A:
Hi Donna, the two I recommend and use myself are Skinceptions Eyelasticity and Beautycounter Rejuvenating Eye Cream. Both are great, but the Beautycounter one is more on the natural side. Dark circles are really hard to treat, as it is mostly hereditary and thin skin showing the vessels underneath. A clean diet rich in high anti-oxidant fruit, exercising to increase lymphatic circulation, a lot of water, and a great eye concealer is the best way to improve the condition. I also love Beautycounter's Touchup Skin Concealer Pen (I use the Light), it has a really nice creamy texture and if you just dab it onto the dark areas and pat gently it works like a charm and is not cakey at all. I also use it right on my eyelids for an eye shadow base. It brightens my entire eye area. Dab on a little of the Beautycounter Mattifying translucent powder to set and I'm confident you'd love the results. I have an affinity towards Beautycounter because they don't use ANY bad chemicals, they have a Never list of 1,500 banned chemicals they'll never use in their products. You won't miss them, trust me! :) Let me know if I can help or if you have questions once you browse these products. ~Rachel
Was this question helpful to you?
1 out of 1 people found this question helpful.
---