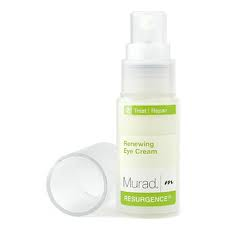 Murad Renewing Eye Cream Review – Does It Work?
Murad Renewing Eye Cream Overview
Murad was one of the first skin care companies created by a dermatologist, Dr. Howard Murad.  They began with mostly Alpha Hydroxy Acid products for acne prone skin, but have branched out to all kinds of skin issues.  Today, their tag line is that "People come to Murad when they're ready to transform the life of their skin."
Murad Renewing Eye Cream, from Murad's Resurgence anti-aging line, is made to address the specific issues associated with that most delicate skin that surrounds our eyes.  Whether it's crow's feet, dark circles, or puffiness, this eye cream claims to have you covered.  They call it the triple threat to eye area aging because it combats all three of the usual suspects.
Murad Renewing Eye Cream Ingredients and How They Work
The Murad Eye Brightening Complex is what claims to minimize dark circles.  Unfortunately, while we have a list of all the individual ingredients, we don't know which are included in this complex.  We did, however, come across a beauty expert review which stated that the lightening ingredients in Murad Renewing Eye Cream are just cosmetic, and therefore temporary.
Natural emollients boost the skin's moisture, helping to smooth out current wrinkles while discouraging future ones.  Some of these emollients are Jojoba Oil and Mango Seed Butter.  Firmness and elasticity are improved with Peptides as well as Wild Yam and Soybean.
Recommended use is morning and night as part of a three step process that includes cleansing, eye treatment and anti-aging face treatment.
Murad Renewing Eye Cream Pros and Cons
Comparing the advantages and disadvantages inherent in a product you're thinking about buying is a sure way to make certain you've thought of everything before you spend your hard earned money.
Benefits of Murad Renewing Eye Cream
It's made by a well-established and respected skincare company.
A little goes a long way.
There are plenty of favorable Murad Renewing Eye Cream reviews from customers.
The pump dispenser maintains ingredient integrity.
It's widely available.
Drawbacks of Murad Renewing Eye Cream
It is expensive.
It contains some potentially irritating botanical extracts.
Some

Murad Renewing Eye Cream

reviewers said that it's moisturizing but doesn't do much for wrinkles and puffiness.
Where to Buy
It's easy to find Murad Renewing Eye Cream both online and at stores.  The Murad website carries the ½ oz pump for $75.  Amazon's got it for $50.  Ulta and Sephora stores also sell it, and it may be possible to try before you buy if you choose to look for it in the store.
Conclusion
Murad may be known for some effective products, but Murad Renewing Eye Cream doesn't seem to be one of them.  $75 is a lot to pay for a dedicated eye cream that may not really do anything except provide moisture.  If you're going to be looking in that upper price range, there are better products to choose from.  And if you just want a good under-eye moisturizer, there are cheaper options than Murad Renewing Eye Cream.
Have You Used Murad Renewing Eye Cream?  Leave Your Review Below!
User Questions and Answers
User Questions and Answers
No Questions Have Been Answered For This Article.